Innovative products and systems may be what ultimately sell The Flex House to a client, but it's the design that gets them in the front door.
The Flex House was conceived as a modular housing design that can meet the needs of a broad range of homeowners. The prototype consists of two modules that come together at a central axis. On one side of this "spine" are the living room, office and bedroom; on the other, the entry, dining room, bathroom and kitchen.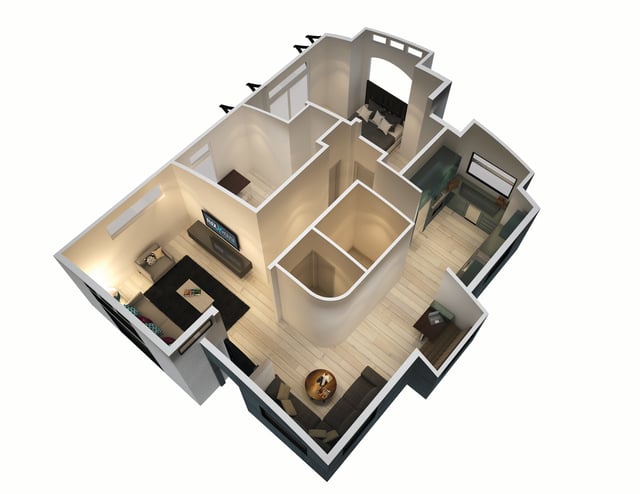 Because the walls are installed on top of the flooring, the floorplan can be altered in later stages of the factory construction. Rendering by Align3D.
Like The Arc House, The Flex House is defined by curves. In each module, a high ceiling arcs away from the center, while arched doorways and rounded corners add customized touches to the factory-built modules. A row of clerestory windows brings in plenty of natural daylighting to the bedroom and office module, and the public parts of the home are largely open, adding to the feeling of spaciousness.
This floorplan, ideal though it may be for a couple or single person, can be customized for each client, even while the home is under construction in the factory. Because the floors are installed first, the configuration of walls can be tweaked to enlarge certain rooms and shrink others, or a wall may be even left out to create a larger living room space.
Modeling Modern
While The Flex House can be adapted to any number of styles, Green Builder® Media and Shelter Dynamics have chosen to present the prototype in a clean, contemporary style. Hence, walls are finished with sheetrock and paint. Casework is painted. Finishes were chosen for their warmth, durability and simple elegance.
Along with quality craftsmanship, The Flex House showcases products and finishes that contribute to good indoor air quality, starting from the ground up. The Silver Ivory laminate wood flooring is part of Mohawk Flooring's Classic Artistry collection. With realistic visuals that emulate subtly distressed, saw-cut planks with a cerused, or limed finish, the flooring adds to The Flex House's warm but modern aesthetic. The 6.25"-wide planks come with a low-maintenance and scratch-proof finish, and the product is certified by FloorScore, ensuring it will not contribute VOCs or other harmful chemicals to the home.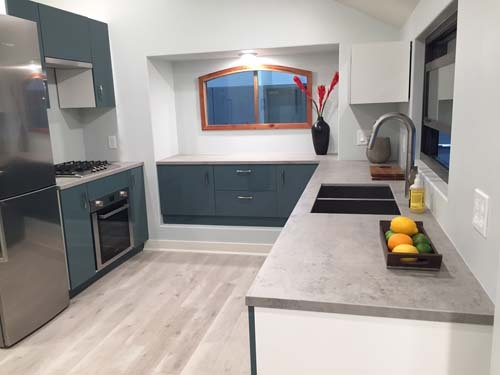 With sleek European-style appliances, adjustable LED lighting and durable, low-maintenance surfaces, The Flex House kitchen makes cooking and entertaining a pleasure.
The Neolith countertops provided by Spanish company TheSize are made from clays, feldspar, silica and natural mineral oxides, treated with extreme heat and pressure and compressed into thin slabs. The resulting surface is durable, stain and scratch resistant and GREENGUARD Gold certified. Part of the Neolith Fusion collection, the Beton style evokes concrete and natural stone with its warm grey tones and subtle marbling.
Daylighting is supplemented by efficient SYLVANIA LED lighting from LEDVANCE. The four SYLVANIA products featured in The Flex House are RGB LEDs, meaning they can blend red, green and blue to create thousands of colors in addition to a range of whites.
These dimmable and tunable LEDs can "do anything," says Glen Gracia, head of media relations, Americas, for LEDVANCE. "You can instantly change the mood or atmosphere. Why paint the walls a different color when you can use light to do the same thing?" These connected smart bulbs can be controlled via a smartphone using Wink or other compatible hub or gateway.
The Flex House is also protected by a home fire sprinkler system. Provided by The Viking Corporation, the Freedom VK494 sprinklers feature a fully recessed design that allows them to blend seamlessly into the ceiling. These sprinklers are also available in both ordinary and intermediate temperature ratings. The intermediate sprinklers allow for greater design flexibility, as they can be placed closer to heat sources and offer the same flow rates as those with the ordinary temperature rating.
Because California requires home fire sprinklers in all new residential construction, even Flex houses destined for locations in other states will still be protected.
A Cook's Kitchen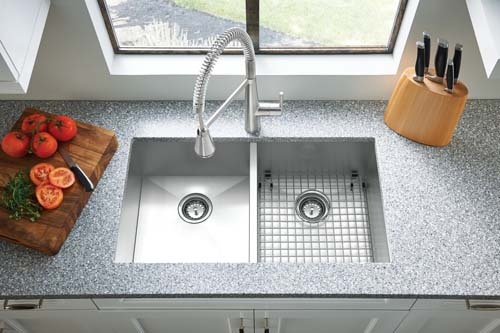 The kitchen includes an Edgewater stainless steel sink and Beale pull-down faucet from American Standard. An integrated sensor in the faucet allows for touchless operation.
The clean modern aesthetic is carried out in every detail of the fully equipped kitchen. The sintered stone Neolith countertops are complemented by the Edgewater stainless steel sink and "touchless" faucet from American Standard, which can be activated by waving a hand in front of the sensor. Recessed SYVANIA LED can lights, set into the curve of the ceiling, can be adjusted to provide soft, even lighting, but like the rest of the home's connected lighting, they can also be programmed for any desired color.
The Flex House features a suite of compact European-style appliances from Bosch Home Appliances, all of which are ENERGY STAR certified. These include a 24"-inch refrigerator, cooktop, wall oven and range hood, an 18-inch dishwasher, and a 24-inch washer and dryer pair.
Aside from their compact size, the sleek design of these appliances allows them to seamlessly integrate into small spaces. The counter-depth refrigerator includes a hidden hinge that allows it to be installed nearly flush into the cabinetry. The cooktop is frameless, with sleek, intuitive controls and four burners of varying sizes, and the convection wall oven offers 10 cooking modes. The pull-out range hood installs flush with cabinetry and can be closed and neatly stored when not in use.
Other features make the appliances ideal for small-footprint homes. Sound-dampening technologies ensure that the dishwasher is near silent, and thanks to its brushless EcoSilence BLDC motor, the washer is extremely quiet, too. The condensation dryer does not require ducting, reducing its footprint and giving it more installation flexibility, and the washer and dryer are stackable.
---
© 2017, Green Builder Media. All rights reserved. This article is the exclusive property of Green Builder Media. If you would like to reprint this content, you are free to extract a short excerpt (no more than 1/4th of the total article), as long as you 1. credit the author, and 2. include a live link back to the original post on our site. Please contact a member of our editorial staff if you need more information.