Featured Product: Whirlpool in VISION House Tucson

Heather Wallace, Guest Columnist
1 min read
Whirlpool Gold® 30-inch Electric Ceramic Glass Cooktop with 12"/9" Dual Radiant Element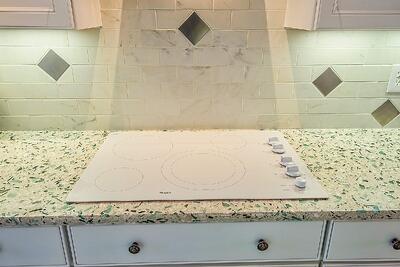 This 30" electric cooktop from Whirlpool features a dual radiant element which allows you to easily adjust burner size to match the pots and pans you want to use. Featuring the AccuSimmer® element for precise temperature control that is perfect for melting chocolate or simmering sauces. When using AccuSimmer®, element power is reduced to deliver better control and lower temperatures.
The 9"/6" dual radiant element provides the space-saving advantage of having two elements in one to handle various sizes of cookware. The inner ring is perfect for simmering or quickly boiling water in small pans. The larger outer ring evenly distributes heat to larger pots and pans for better results. And as a bonus, the eco-friendly Schott Ceran® Glass surface is manufactured without the release of hazardous metals into the Earth.
The white cooktop was used in the VISION House Tucson and was accented by other Whirlpool appliances. Also available in stainless steel and black.
---

Heather Wallace is a freelance writer and problem solver working to create change in industries by connecting relevant stakeholders. She has conducted hundreds of interviews covering subject such as off-site construction, IoT, green building, resilient housing, robotics, technology, energy efficiency, music, education, and food scarcity. Heather is also a photographer and the owner of a boutique branding and marketing company.