Featured Product: Vetrazzo in VISION House Tucson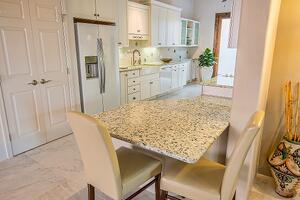 When you recycle your glass bottles they ends up at a facility where they are processed by color and glass type. Once sorted, the glass is crushed and packaged for companies like Vetrazzo to purchase for reuse. Vetrazzo is comprised of 85% recycled glass and 15% modified Portland White Cement (as well as water and other proprietary ingredients).
In the VISION House Tucson interior designer, Robin Motzer, chose Emerald Coast throughout the kitchen and bathroom. Inspired by the glassy green sea of the South's Emerald Coast this product uses green float glass found in construction, oyster shells from the South Carolina Coast and bits of marble from the historic Georgia Marble Quarry. Every Vetrazzo countertop has a unique story.
Vetrazzo surfaces are extremely durable and easy-to-maintain. Comparable to granite in strength, it is also scratch resistance, heat resistance and durable. Caring for Vetrazzo surfaces is easy and comparable to caring for natural stone. And to keep everything coordinated, Vetrazzo launched their accessories line in early 2014 which include beautiful designer knobs. For more information on Vetrazzo visit www.vetrazzo.com/eng.