Featured Product: OneRoof Energy in VISION House Tucson

Heather Wallace, Guest Columnist
1 min read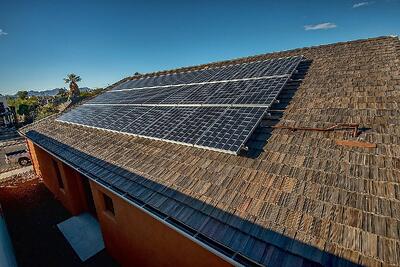 Installing a solar electric system not only saves you money in the long haul but also increases resale value to new and existing homes.
Solar power will lower your utility bills — that's a fact. Just how much you save depends upon a few factors, such as the size of your solar electric system and home, and the amount of electricity your family typically uses.
A solar roof harnesses the power of the sun during the daylight hours and then stores the energy as credits in your electric meter. Kind of like rollover minutes on your cell phone bill. Additionally, solar panels extend the life of the roof by covering and protecting it from the elements. Together, this significantly reduces your home's demand for traditional energy sources, like fossil fuels.
Your solar panels generate clean, renewable power by converting sunlight into DC electricity, which is directed to an inverter located next to your utility meter. That inverter converts the DC current into the AC electricity you use every day. Utility companies have tiered rates, and employing solar means you won't be paying the top-dollar, premium tier rates for the traditional electric you do use.
Solar Leasing
If you don't think you can afford to purchase solar panels you could consider a solar leasing program. Solar leasing is similar to a car lease. Instead of paying for the solar system outright, you instead make affordable monthly payments that are less than what you are currently paying.
---

Heather Wallace is a freelance writer and problem solver working to create change in industries by connecting relevant stakeholders. She has conducted hundreds of interviews covering subject such as off-site construction, IoT, green building, resilient housing, robotics, technology, energy efficiency, music, education, and food scarcity. Heather is also a photographer and the owner of a boutique branding and marketing company.