Featured Product: NFPA in VISION House Tucson
Properly installed and maintained automatic fire sprinkler systems help save lives. Because fire sprinkler systems react so quickly, they can dramatically reduce the heat, flames, and smoke produced in a fire. And they are proven to protect the environment.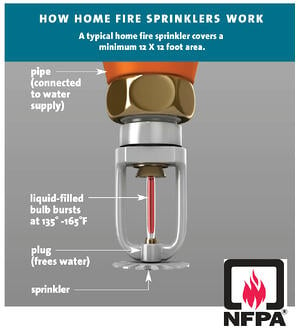 *Research from FM Global and the Home Fire Sprinkler Coalition on the environmental impact of fires finds automatic fire sprinklers can:
Reduce greenhouse gas emissions by 98%
Reuce fire damage by up to 97%
Reduce water usage to fight a home fire by as much as 91%
Reduce water pollution
To learn more about the NFPA click here.