Featured Product: Kohler in VISION House Tucson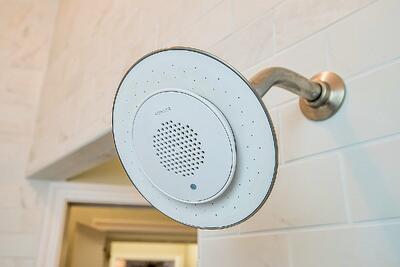 The Moxie™ Showerhead + Wireless Speaker from Kohler Co. gives the statement, "I sing in the shower," a whole new meaning.
When the VISION House Tucson opened in December of 2013 we just couldn't keep people out of the shower. They flocked together like birds, all hoping to see a demonstration of the Moxie Showerhead. Enabled with Bluetooth® technology the speaker pops out of the showerhead so you can carry it with you around the house. It easily connects via your smart phone.
Available with a water-saving 2.0 gpm or a 2.5 gpm spray, Moxie lets you save water without sacrificing performance. And the silicone sprayface of the showerhead makes it easy to wipe away mineral buildup. The speaker is also available in Navy Blue, Chartreuse, Retro Blue, Cherry Red (as well as Original White).p>
And if you're a fan of rainhead spray, Kohler has also introduced t he Moxie rainhead + wireless speaker. The rainhead's silicone 8-inch sprayface is easy to wipe clean and features 80 angled nozzles that deliver an all-encompassing spa-like spray. Thanks to air induction technology, each drop feels bigger and more luxurious.