Featured Product: Beam Electrolux in VISION House Tucson

Heather Wallace, Guest Columnist
1 min read
BEAM Alliance System by Electrolux removes dirt and allergens from your home and helps to improve your indoor air quality.
When thinking about improving the overall indoor air quality in your home, one of the first things that should come to mind is a central vacuum system.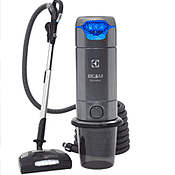 BEAM's Central Vacuum Systems are clinically proven to relieve allergies and help homes meet indoor air quality requirements under the NAHB's National Green Building Standards and the U.S. Green Building Council's LEED for Homes Program. It is the most powerful, quietest central vacuum system ever built
The BEAM Alliance by Electrolux boasts advanced technology such as a high-efficiency motor that uses 30 percent less energy than other central vacuums, two-way communication between the power unit and hose handle that keep you informed how the system is performing; sound suppression technology; a 3-in-1 cleaning tool; the BEAM Alliance HEPA filter; and a collection receptacle that snaps into place to assure a perfect seal to help keep dirt and allergens from re-entering your home.
Electrolux Central Vacuum Systems is the world's leading producer and marketer of built-in central vacuums. The company's BEAM, Electrolux and Eureka Central Vacuum Systems are sold in 50 countries around the world. Electrolux Central Vacuum Systems is a division of Electrolux Home Care Products North America.
---

Heather Wallace is a freelance writer and problem solver working to create change in industries by connecting relevant stakeholders. She has conducted hundreds of interviews covering subject such as off-site construction, IoT, green building, resilient housing, robotics, technology, energy efficiency, music, education, and food scarcity. Heather is also a photographer and the owner of a boutique branding and marketing company.