Extreme Weather Means Costly Future
The physical and financial impacts of wildfires and other climate-related disasters will only get worse in years to come, says a new report from the Environmental Defense Fund.
Wildfires in the United States have destroyed more than 7 million acres and thousands of structures, killed hundreds of people, and resulted in billions of dollars in damage. Things are only going to get worse.
According to a report released by the Environmental Defense Fund, global warming has led to the financial cost of wildfires and other weather-related disasters more than quadrupling since 1980, to a 40-year total of $1.7 trillion.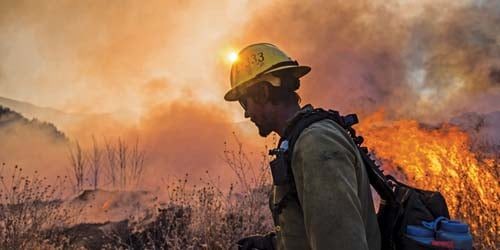 Millions of acres of land and thousands of homes have been destroyed by wildfires and other climate-induced disasters since 1980—and there's even more to come, according to the Environmental Defense Fund. CREDIT: USDA Forest Service
Costs have risen from an average of $18 billion per year in the 1980s to $80 billion annually in the 2010s. At that pace, the economic damage caused by climate change will increase by about 1.2 percent for every 1.8 degrees Fahrenheit warming. This comes to $257 billion—only a little more than California's current state budget of $222 billion, the report notes.
The damage totals are conservative, as the study only included disasters of $1 billion or more. Fires, floods, drought, and tropical storms were the base disasters for the report.
This year, current damage numbers will only go up, as fire season has just begun and winter weather-related flooding is on its way, according to a report by InsideClimate News. "The changes we're seeing are best explained by climate change," says EDF Senior Director Elgie Holstein, a former National Oceanic and Atmospheric Administration (NOAA) official. "All the indicators are moving in the direction of bad news. … There's no denying the trends and the fact this becomes more expensive going into the future."
Interested in building homes that can survive weather and fire? Check out all our resources on our resilient housing site.
---
Alan Naditz is the managing editor of Green Builder magazine. He has covered numerous industries in his extensive career, including residential and commercial construction, small and corporate business, real estate and sustainability.