Half of this season's Atlantic storms may become hurricanes.
Leading weather experts predict heightened chance for major storms making landfall in North America this hurricane season. Meteorologists from Colorado State University predict 16 tropical storms will form, of which eight will become hurricanes. In an average season, there are 12 tropical storms, six of which are hurricanes.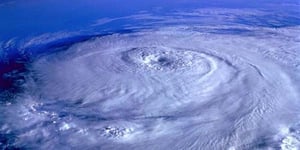 The dire weather pattern predictions compound potential issues for homeowners already stressed and sheltering in place due to the coronavirus pandemic. Experts urge homeowners to line up defenses and be ready for heightened storm activity, including high wind speed and storm surges, ahead of the home improvement center rush.
Insurance companies track these extreme weather events in the United States. They advise homeowners to know what their homeowner's insurance covers and to document their personal property.
"It's common to see images of neighborhoods that show mass destruction after a hurricane. The homes that have been properly fortified are still standing," says Renee Ramey, executive director of the Metal Roofing Alliance (MRA). "It all starts with making the right decisions and choosing more resilient materials and installation processes right from the get-go."
Homeowners should also survey the landscape for dangerous projectiles, have a certified building inspector examine the home, and put an escape plan in place.
---
Watch This: Resilient housing products and preparation in an age of monster storms, raging wildfires and deadly pandemics with Green Builder Media's Editor-in-Chief, Matt Power.
---
Image by David Mark from Pixabay