THE WORD "PASSIVHAUS" is seen around a lot in the green building and sustainabilty construction worlds. Generally speaking, passivhaus design is a building system design that mimics the heating/cooling systems of natural organisms. The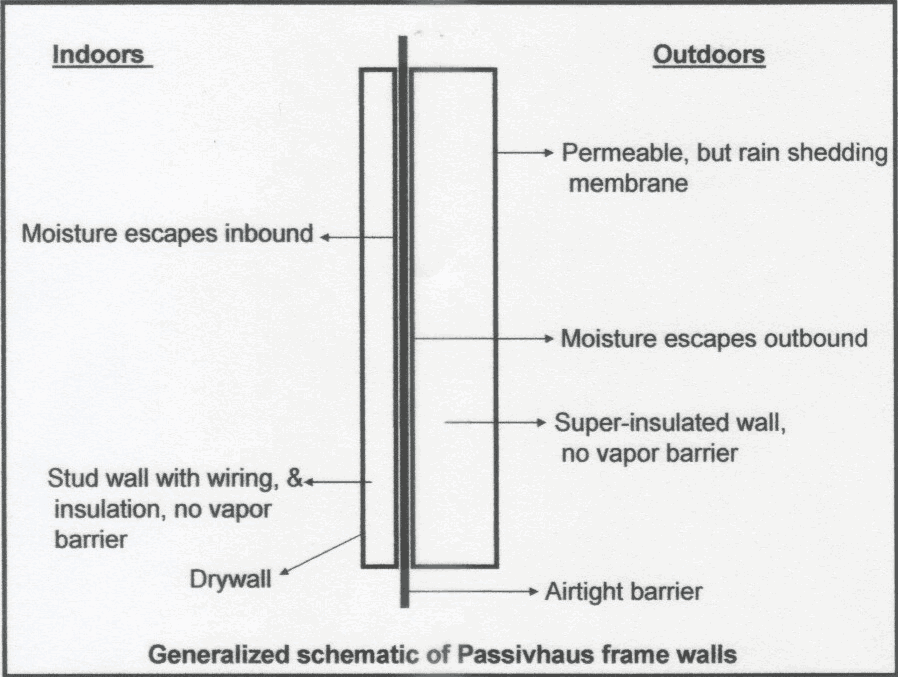 idea is that if a home can adapt to environmental changes in the same way that a person, dog or bird does, it will increase energy efficiency, save the homeowner\ money and decrease the building's carbon footprint.
Passivhaus construction really works because of the super-insulation which is placed on the exterior wall. This, in conjunction with a rain-sheding membrane and super air-tight barrier, makes the home super energy-efficient. We detail the ins and outs of Passivhaus construction here, along with noting some of the better products on the market available when building a passivhaus.
Paul Kando dos a good job in briefly explaining what common two-layer Passivhaus construction looks like:
An inner frame wall, built of 2x4s or 2x6s, accommodates utilities, like wiring, electrical outlets and switches as ususal. The outer surface is structural-grade oriented strandboard (OSB) with all seams sealed airtight with tape. This functions as both a structural element and an air/moisture barrier, which is taped to the air/vapor barriers of the concrete slab or basement and the topmost ceiling or roof to form a continuous barrier around the heated building envelope. This inner wall is left unfinished on the inside, until the air-tightness of the complete structure can be tested with a blower door. Only after any air leaks have been fixed are insulation and sheetrock added.

A superinsulated outer wall is attached to the outside of the inner frame-wall. This may be (a) rigid foam insulation applied to the OSB of the inner wall (or, in place of the OSB, structural insulated panels may be applied to the inner framing, tape-sealed together to form a continuous layer). (b) A second stud wall may be constructed outside the inner wall, creating a cavity between two walls, to be filled with insulation. (c) An outer wall constructed using engineered-wood I-joist as "studs" attached to the outside of the inner wall. The distance between the two walls or the size of the I-joists determines the thickness (and R value) of the insulation, as optimized during the modeling/ design phase. I favor (c) above because it uses the least amount of wood and fossil-derived chemicals. (On the other hand, it results in thicker, more massive walls.)
To read more about the pros and cons of each type of outer wall go here.