EPA's New Clean Power Plan: Are we Collateral Damage?
Albert Einstein astutely pointed out that "We can't solve problems by using the same kind of thinking we used when we created them", an axiom that is apparently lost on the current EPA leadership. How can we possibly address our runaway emissions problems by reversing fossil fuel regulations and eliminating key requirements to clean up coal-fired power plants?
The Environmental Protection Agency (EPA) recently announced the Affordable Clean Energy (ACE) proposal, intended to replace the Clean Power Plan, giving states the authority to craft regulations for coal-burning power plants and eliminate "overly prescriptive and burdensome" requirements on "on-site, heat-rate efficiency improvements."
The ACE rule, which has been labeled by critics as the "dirty power plant life-extension rule," would enable some of the nation's filthiest coal-fired power plants (which have been grandfathered into federal law and allowed to function without updated air-pollution control equipment) to continue running for years without adding scrubbers (an air cleaning device that played a major role in ending the acid-rain crisis of the 1970's) or other pollution controls (approximately 30% of the nation's coal-burning power plants don't have scrubbers, and another 22% don't have nitrogen oxide controls.)
Not surprisingly, the coal industry has vehemently defended ACE, claiming that current environmental rules and regulations discourage power plant operators from spending money to upgrade the efficiency of older power plants because doing so would trigger hundreds of millions of dollars in new requirements for pollution control.
But energy efficiency doesn't translate into clean air, and rolling back emissions requirements will ultimately hurt the American people.
In contrast to the Clean Power plan, which was designed to reduce carbon dioxide emissions by 25% by 2030 (compared to 2005 levels), ACE is expected to only decrease emissions levels by 1.5%.
In the EPA's own report, the agency claims that ACE will result in $400 million in annual net benefits (to whom?), but it also admitted (albeit in the fine print on page 289 of the report) that the rule will lead to steep increases in hospital visits and lost work days, as well as up to 15,000 new cases of upper respiratory problems, 48,000 new cases of "exacerbated asthma", 21,000 missed school days, and 1,400 premature deaths on an annual basis from dirty air (specifically from an increase in PM2.5, a pollutant that has been linked to heart and lung disease.)
Furthermore, every scenario in its situation analysis that the EPA ran found that the proposed ACE rule would cost Americans at least $1.4 billion a year more than it saved the power plants, when compared to savings generated by the Clean Power Plan, and that even the potential $6.4 billion in total compliance cost savings for coal power plants fell short of the projected increase in healthcare costs (borne by the American people), estimated between $16.6 billion to $75 billion.
EPA acting administrator Andrew Wheeler ironically claimed that "The ACE Rule would restore the rule of law and empower states to reduce greenhouse gas emissions and provide modern, reliable, and affordable energy for all Americans." Not surprisingly, he has been blasted by detractors for protecting his friends and former colleagues in the coal industry.
Gina McCarthy, former EPA administrator and pivotal architect of the Clean Power Plan, emphatically asserts that this Administration's approach to energy "is about coal at all costs." She points not just to ACE, but also to other regulatory decisions, a bail-out of struggling coal-fueled power plants (paid for by taxpayers), and a rule announced by the EPA last month that relaxes requirements for storing toxic coal ash.
While the Clean Power Plan faced formidable opposition since its introduction (namely from coal-producing states and fossil-fuel titans who lobbied the Supreme Court to stay the Plan in January 2016), the leap to ACE falls entirely short with respect to appropriately addressing our profligate emissions.
Fortunately, it's likely that the ACE won't see the light of day—at least in its current form, since the EPA's own analysis indicates that it would effectively do more harm than good to U.S. citizens (under the Administrative Procedure Act of 1946, federal agencies are obligated to create policies that function in the public's interest.)
If New York, California, Massachusetts, and 16 other states that have formed a coalition to defend the Clean Power Plan have their way, ACE will be dead upon arrival.
Perhaps the crux of the issue is whether or not the EPA has the influence and authority to transform our nation's energy industry. Which begs the question, should the EPA just address emissions, or does it have a responsibility to craft regulation that drives the accelerated adoption of clean, renewable energy?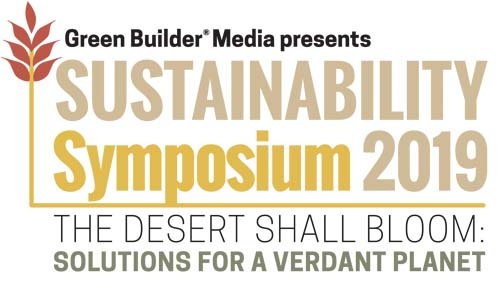 A query worth pondering for sure, but in the meantime, I can't help but wonder—who does ACE, the so-called Affordable Clean Energy proposal, actually profit? Certainly not the American people, since the savings for coal plants are relatively trivial compared to the social, environmental, and health costs that will inevitably come from increased pollution. Is it fair that we, U.S. citizens, taxpayers, and voters, end up as the collateral damage required to line the pockets of fossil fuel executives?
To participate in the development of strategies and solutions that will help us transition to a sustainable, clean energy-powered economy, we invite you to join us at our upcoming Sustainability Symposium 2019: The Desert Shall Bloom on Monday, February 18, 2019 (the day before the show floor opens at Design & Construction Week) at the UNLV campus in Las Vegas.
And, don't miss the celebration of our annual Sustainability Award winners on February 17 at 6:00 p.m. at the exclusive Mr. Chow in Caesars Palace.
Click here to register for the Sustainability Symposium 2019: The Desert Shall Bloom and Sustainability Awards gala. Space is strictly limited and by reservation only, so reserve your seat today! Register for the Symposium before October 1, 2018 using the code EarlyBird and you'll receive a $100 discount.
A sincere thank you to our generous sponsors, Samsung, Ingersoll Rand, Emerson, Andersen, and Caesars Entertainment for helping to make the Symposium and gala dinner possible.
What do you think about the EPA's role in advancing a clean energy economy? Write to me at sara.gutterman@greenbuildermedia.com.
Want to read more? Follow me on Twitter and Facebook. For more information about green building and sustainable living, visit Green Builder Media at www.greenbuildermedia.com, like us on Facebook, and follow us on Twitter for regular updates and breaking news.