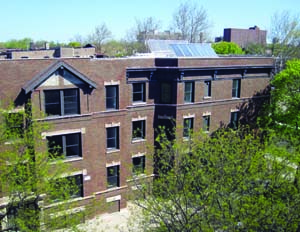 Stacked-Up Savings There are about 800,000 rental units in Cook County alone. More than half of those are in older apartment buildings like this one.
Some of Chicago's leaky old apartment buildings are getting much-needed energy upgrades, thanks to a program created by Elevate Energy, an organization that designs and implements energy efficiency programs in the Chicago area and beyond, and the Community Investment Corporation, a non-profit lender that provides financing to build and rehab Chicago-area apartment buildings.
"We started doing the Energy Savers program because we were interested in preserving the affordable housing stock," says Jack Markowski, CIC's president and CEO. Building new affordable housing is expensive: between $300,000 to $400,000 a unit. At $3,200 per unit, the cost of rehabbing older buildings is a steal.
Elevate Energy performs audits at no cost to building owners, then generates a list of measures and estimates their cost and payback periods. Owners can choose which, if any measures to implement, says Markowski. "There's no risk. Why would you turn down such an offer?"
Improvements focus on making the building envelope more efficient: adding insulation, weather-stripping and sealing; upgrading heating systems with efficient boilers; insulating pipes, and occasionally, replacing windows.
Because most heating systems are centralized, Chicago landlords typically bear the cost of utilities. The improvements slash utility bills by about 30 percent; for a 24-unit building, that works out to an annual savings of $10,000. Most building owners see a payback period of five to seven years, thanks to low-interest financing, including foundation investments with rates as low as one percent.
The program has financed energy retrofits for 18,000 units, and has expanded to include the six-county area.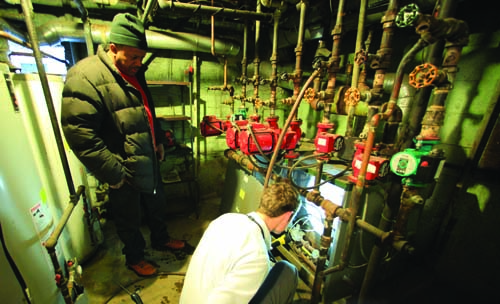 Measuring Efficiency Energy also collects and analyzes data one and two years after the retrofit, to let building owners know how much they've saved and to improve recommendations.