Energy Independence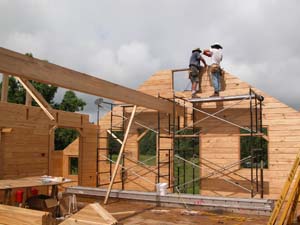 ENERTIA BUILDING SYSTEMS offers numerous floor plans and models, with customizable interiors. What they all have in common is Enertia's unique double-shell building system, which utilizes the heat-storing capacity of solid wood walls and the constant temperature of the soil to turn the house into a "heat pump."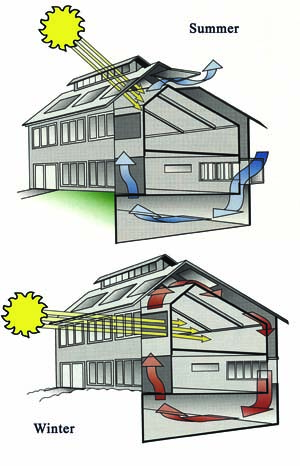 The convective loop moves heat away from the sunspace, distributing it. In summer, heat rises through the roof vents, causing cooler air to be drawn into basement windows on the north façade.


Enertia's double shell mimics the earth's atmosphere and its ability to capture and store heat. The temperature differential between the basement and attic creates a dynamic thermal current in the home's outer shell. In the winter, cooler basement air is heated in the "sunspace" (a sunroom on the south side of the home) and circulates around the inner shell, storing the heat in its walls, ceilings and floors. In the summer, when the angle of the sun is higher in the sky and strikes the roof, hot air is released through an attic vent or through the east and west gables. This causes cool air to be drawn in from the basement's northern windows, effectively cooling the house.

Because of the massive structure, the temperatures in the inner shell—including its walls, ceiling and floor—remain relatively constant, despite abrupt changes in outdoor temperatures. The outer shell, which includes the basement, attic and sunspace, fluctuates more, depending on weather conditions. In sunny climates, such as Colorado and Utah, homes do not require an HVAC system. In climates with less winter sun, a back-up radiant floor heating system is recommended.

Enertia homes use rapidly renewable southern yellow pine for its solid wood walls. The tongue-and-groove wall elements are made by glue-laminating four pieces of wood, which are pre-cut in a factory. There, electric boxes are milled into the wall elements, along with pre-drilled holes for wires. Plumbing lines are in the 2" x 4" partition walls. Extra insulation is added in extremely cold climates.

"The wall elements are numbered, and they go together like Lincoln Logs," explains Michael Sykes, founder of Enertia Building Systems. "People without any building skills can build a home, just using an electric drill. If you have the time, it can save a lot of money. The timbers are 100 percent renewable, and they are put together with screws—so they could be repurposed forever."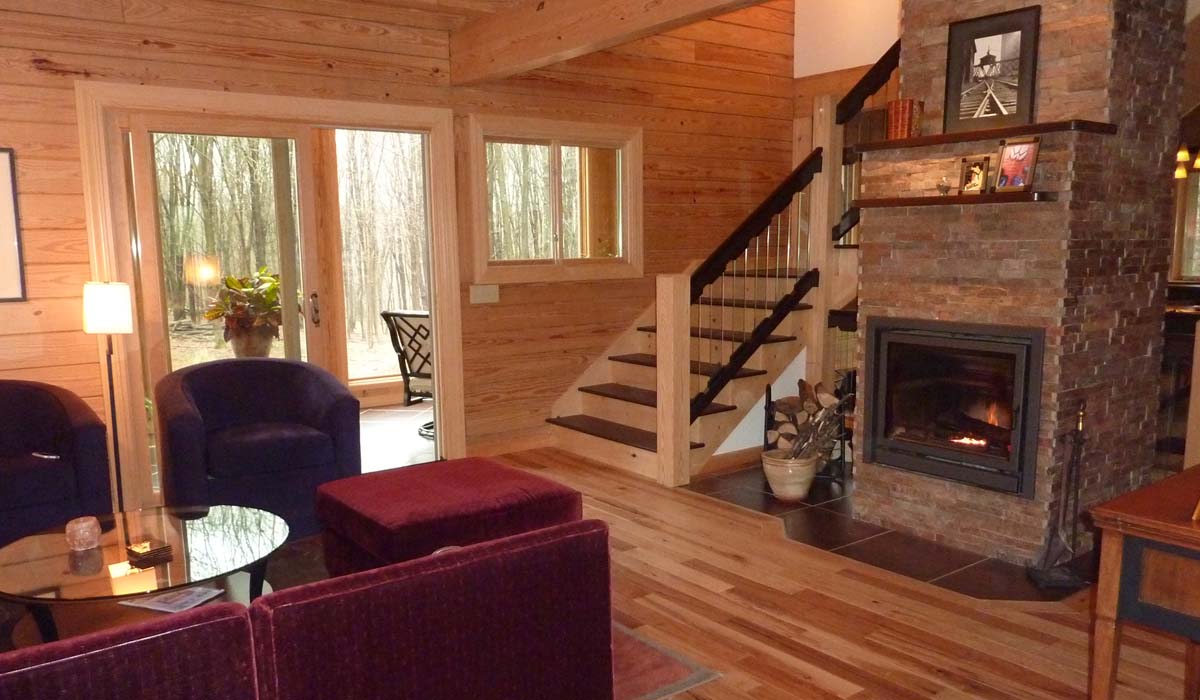 Enertia Double-Shell Building Systems at a Glance
Pros:
Fast, economical construction method.
Wood is pre-cut at the factory, minimizing waste.
Heating and cooling costs are significantly reduced.
Passive heating and cooling do not depend on electricity or fuel.
Homes are constructed using natural, rapidly renewable resources.
Homes offer superior comfort with natural lighting, draft-free construction and constant temperatures.
Homes "breathe," helping ensure high indoor air quality.
Homes are sturdy, long lasting and stormproof.
Cons:
Specialized materials are required that are not stocked at lumber yards.
Solid wood construction is wood-intensive.
Not fire resistant.
The double-shell design boosts the price by 10 to 15 percent (this can be partially offset when an HVAC system isn't needed).
The design must be finalized before construction, and can't be easily altered during construction.
---
---
Sarah Lozanova is a green copywriter and communications professional and an adjunct instructor for Unity College and a regular contributor to environmental and energy publications and websites, including Mother Earth Living, Earth911, Home Power, Triple Pundit, CleanTechnica, the Ecologist, GreenBiz, Renewable Energy World, Windpower Engineering & Development, and Solar Today.