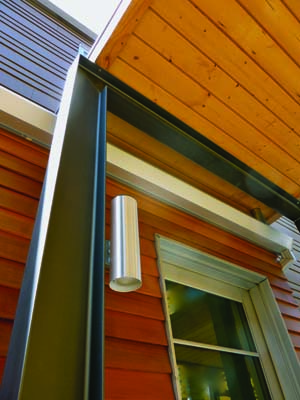 When planning for the construction of a vacation or second home, this list of guidelines will help you minimize its footprint—and even turn it into a "power house."
Super-efficient building shell and windows.
Low-impact HVAC (heat pump or geothermal).
Sufficient photovoltaics or wind turbines to run all mechanical systems.
Safe, low-impact septic systems (composting toilets or the next best thing).
Low-maintenance roofing such as standing seam metal, clay tile, concrete tile or recycled rubber.
Low-maintenance siding, such as fiber cement, stucco, manufactured stone or brick.
LED lighting throughout.
Water-conserving fixtures.
Energy-efficient and appropriately-sized appliances.
Remote control and monitoring of energy systems.
Appropriate size.
Siting that minimizes impact to sensitive habitats.
Low-Impact Landscaping
Drought-tolerant, native plants—no lawns!
Automatic drip irrigation systems.
Rainwater cisterns and/or graywater irrigation.
Porous driveways and walkways.
Natural swimming pools only.
---