Energy efficiency is considered by many to be one of the least expensive, most effective, and bipartisan ways to achieve our nation's economic and environmental goals. But President Trump's FY2018 budget proposes draconian cuts to energy efficiency programs, which would result in job losses, higher energy bills, and a marked decrease in our nation's innovation and global competitiveness.
Experts—from both sides of the aisle—in the energy efficiency sector are petrified by President Trump's recent budget proposal, which calls for a $3.1 billion decrease in funding for energy programs administered by the Department of Energy (DOE), including a dramatic 80% cut in residential energy efficiency programs.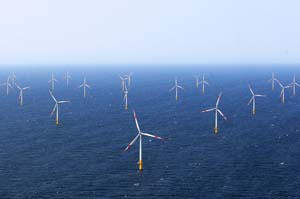 The budget would shutter the widely adopted ENERGY STAR program, and it would eliminate programs like the Weatherization Assistance Program, which provides funding to low-income families to make energy efficiency improvements in their homes, and the State Energy Program, which offers funding and technical assistance to states to "enhance energy security, advance state-led energy initiatives, and maximize the benefits of decreasing energy waste."
Other cuts would cripple the Building Technologies Office, which develops appliance and equipment efficiency standards, the Advanced Manufacturing Office, which facilitates innovation in domestic manufacturing by developing advanced technologies, DOE's National Laboratories, which have helped make the U.S. a global leader in scientific-based research and cutting-edge energy technologies, and the Vehicle Technologies Office, which supports the development of clean transportation solutions.
According to the DOE, the energy programs that are on the chopping block support nearly 2.2 million jobs across the country, not to mention that they save homeowners money, reduce carbon emissions, strengthen grid reliability, and enhance our nation's energy security.
Needless to say, the proposed cuts have energy efficiency professionals reeling. Alliance to Save Energy President Kateri Callahan said, "Our organization has been around since the 1970s and we've never seen anything remotely like this, going back to Republican and Democratic administrations since Jimmy Carter. This would effectively take the U.S. out of the game when it comes to advancing efficiency technology and improving productivity."
Beyond cuts in energy efficiency programs, Trump's budget would eliminate research and development funding for advanced energy technologies, like battery storage for solar systems and electric vehicles, and carbon capture solutions for coal and gas plants. The DOE's role in supporting next generation energy technologies would effectively become defunct.
Critics avow that the budget is short sighted, and that it essentially cedes all global leadership to countries like China that are investing heavily in clean energy solutions and energy efficiency technologies.
Granted, it's impossible that that the proposed budget will be implemented in its current iteration, and it's highly likely that many of the proposed cuts won't come to pass. However, what's most worrisome about the budget is the clear emphasis on the advancement of coal, oil, and gas development to the detriment of the burgeoning solar and wind industries.
Given that energy efficiency and renewables help ensure our national security, economic prosperity, and environmental protection, wouldn't a budget that embraces those solutions be the best way to make America great again?
Your thoughts? Write to me at sara.gutterman@greenbuildermedia.com.
Want to read more? Follow me on Twitter and Facebook. For more information about green building and sustainable living, visit Green Builder Media at www.greenbuildermedia.com, like us on Facebook, and follow us on Twitter for regular updates and breaking news.