This change removes the requirement for tandem wiring of lighting fixtures.
IMPROVEMENTS IN BALLAST DESIGN and cost for single- and multiple-lamp ballasts have made this requirement obsolete. The requirement was intended to eliminate the use of two lamp ballasts with a single lamp.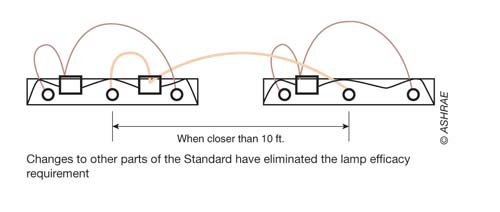 ---
Significant Changes to the International Energy Conservation Code (2012) and ANSI/ASHRAE/IES Standard 90.1 (2010) is a valuable tool for transitioning to the new code and standard. The book lists the Change Type, Change Summary and Change Significance for the most important changes allowing readers to save substantial time learning new requirements. This publication may be purchased by visiting the ICC online store at www.iccsafe.org/changesGB.
---
This content was originally published by the International Code Council (ICC) and has been republished with permission. The International Code Council is a member-focused association. It is dedicated to developing model energy codes and standards used in the design, build and compliance process to construct safe, sustainable, affordable and resilient structures. Most U.S. communities and many global markets choose the International Codes.
---