Corporate sustainability has evolved far beyond a feel-good marketing strategy to engender goodwill and loyalty. It has become an economic and environmental imperative, as companies, policymakers, and financial regulators across the globe recognize the risks associated with the failure to plan appropriately for climate change. Fortunately, corporations in all sectors of the economy are answering the call with innovative approaches to sustainability.
Armed with indisputable data and undeniable science, senior financial regulator and Trump-appointed member of the Commodity Futures Trading Commission (which oversees major financial markets) Rostin Behnam has publicly declared that the risks associated with climate change eclipse those posed by the mortgage meltdown that caused the 2008 financial crisis and ensuing recession.
"If climate change causes more volatile frequent and extreme weather events, you're going to have a scenario where these large providers of financial products — mortgages, home insurance, pensions — cannot shift risk away from their portfolios," he said. "It's abundantly clear that climate change poses financial risk to the stability of the financial system."
Behnam is not alone in recognizing the financial risks of a warming world. The European Central Bank recently issued a warning that an intense round of severe weather could destabilize global markets by negatively impacting the balance sheets of unprepared corporations that have not engaged in appropriate risk analysis and proactive planning.
The Carbon Disclosure Project (CDP) found that the world's 500 largest corporations face approximately $1 trillion in climate change related costs, the majority of which could materialize within the next five years.
It is estimated that the world's largest companies may have to write off or retire up to $250 billion in assets, such as buildings in high-risk flood zones and outdated manufacturing facilities and power plants that can't meet tighter emissions regulations. It's important to note that this estimate only takes into account a fraction of companies worldwide that report their climate risks, and the actual dollar figure associated with these losses will presumably be substantially higher.
In response, companies are stepping up to the climate challenge, implementing comprehensive corporate sustainability plans, making bold carbon neutrality commitments, and exploring the business opportunities that come with a warming planet.
Companies throughout the economy are embracing renewable energy. Schneider Electric, for example has committed to power its operations with 80% renewables by 2020, and Target has pledged to become 100% renewable by 2030.
Other corporations are making big investments in enabling technologies that solve for the risks associated with climate change. For example, Uponor and Belkin have joined forces to create Phyn, an advanced water monitoring and leak detection, to address our growing water availability challenges.
Consumer goods companies are taking a hard look at ways we can tackle our global plastic waste plague. Procter and Gamble, for example, is developing shampoo bottles that utilize recycled plastic harvested from beaches littered with waste.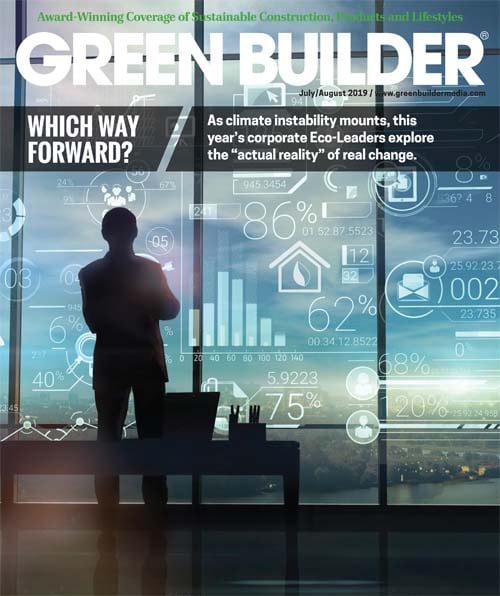 The building sector boasts plenty of Eco-Leaders. Ingersoll Rand—one of our perennial Eco Leaders selections (check out the latest issue of Green Builder magazine to see our 2019 Eco Leaders selections)—has shown the industry how to optimize sustainable operations and supply chain management, is now leading the charge with respect to the circular economy. The company has reduced greenhouse gas emissions by 45% since 2013—two years earlier than their originally stated goal—and increased energy efficiency 23%, water conservation by 38%, and renewable energy use by 32%.
Owens Corning recently adopted a revised definition of sustainability: meeting the needs of the present while leaving the world a better place for the future. After attaining a 49% reduction in greenhouse gas emissions, the company is developing a plan to become net-positive by 2030 through a number of science-based initiatives, including utilizing 100% wind-power electricity, supporting communities throughout the globe where employees live, and working to eliminate jobsite injuries and lifestyle-induced disease.
In the furniture sector, Room & Board is expanding its use of reclaimed wood, planting self-sustaining urban meadows, and supporting American artisans to reduce the environmental impact of overseas shipping and transportation.
Even fossil fuel companies are getting in on the action. Oil behemoth Royal Dutch Shell (which recently purchased Sonnen, a German-based battery storage company) and mining giant Glencore have recently invested in new energy divisions and set environmental targets for the first time in their operating history.
This isn't just because these companies are feeling particularly philanthropic. Rather, they see the writing on the wall—they realize that, at some point, they will need to shift their business models, strand their fossil fuel assets, and make a serious course correction in order to remain in business as governments around the world set ever-ratcheting policy to cut greenhouse gas emissions.
Furthermore, regulators and shareholders alike are demanding that companies disclose climate change related risks. Moody's recently purchased a climate data firm, signaling that companies' creditworthiness will soon be tied to their ability to successfully manage and solve for the challenges of a changing climate. And a recent wave of corporate disclosures confirm that companies in all sectors of the economy are bracing for impact, acknowledging that climate change could substantially alter their business operations and negatively affect their profitability. Disruption of supply chains due to extreme weather and operating restrictions resulting from water shortages are the two concerns that top the list.
Let's hope that the heavy lifting currently being done by corporations today will provide the baseline that we need to bolster our economy and prepare us for the inevitable changes that will come as planet continues to transform.
Read more about the incredible things that companies are doing to solve for climate change in the latest issue of Green Builder magazine, which highlights our 2019 Eco Leader selections.
Interested in learning more about the transition to a sustainable economy? Join us at the Sustainability Symposium 2020: Improving the Human Condition on January 20, 2020 in Las Vegas. Click here for more information—we'll let you know when registration opens!
Want to read more? Follow me on Twitter and Facebook. For more information about green building and sustainable living, visit Green Builder Media at www.greenbuildermedia.com, like us on Facebook, and follow us on Twitter for regular updates and breaking news.