EcoSmart Solution Geothermal Energy System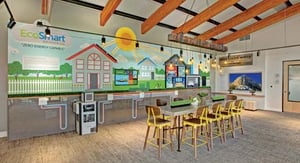 EcoSmart Solution offers an answer to a longstanding question: "How do you build affordable, sustainable homes and communities?" The answer is found in a geothermal energy system. But although geothermal energy is considered a very practical and effective way to naturally heat and cool a home, upfront infrastructure costs make the system cost prohibitive. Many homebuyers are priced out of their ability to participate in sustainable living.
EcoSmart Solution uses an innovative and community-wide geogrid to combine geothermal heating and cooling into a system that cuts a home's power consumption by 60 to 70 percent. The process utilizes a loop field that enables geothermal-generated power to be shared among multiple residences, keeping costs down for owners. It's installed at the start of development as a part of the community's infrastructure, making it possible for builders to add on homes to the system as they are built—instead of installing a separate system for each unit—dropping project development costs dramatically.
High-efficiency appliances, smart home devices and photovoltaics can generate the additional energy needed to power a home. This can make homeownership much more affordable for all potential buyers.