ecoSelect: A Green Building Program by the Numbers
This "entry-level" green building program is attracting builders with its low cost and easy-to-follow checklist.
More and more builders are recognizing the importance of creating a unique "green" identity, but navigating through the myriad of green building programs can be overwhelming. Similarly, even knowledgeable homebuyers are confused by the plethora of options.
A relatively young entry-level green building program called ecoSelect is proving to be a straightforward resource for builders wanting to break into the market. The intent is to provide builders with an "on-ramp" to green building programs, and to help fill in the gap between building/energy code requirements and more complex green building programs. Although it was piloted in 2012 and officially launched in 2013, ecoSelect already has over 1,000 certifications under its belt.
History
In 2001, Bob and Maria Kingery founded Southern Energy Management in Raleigh, NC. They initially focused on becoming solar and energy efficiency experts servicing such programs as Energy Star, the National Green Building Standard and LEED. Based on feedback from homebuilders who were overwhelmed by the perceived complexity of green building certifications, they developed the ecoHOME green homebuilding program.

In 2012, ecoHOME was introduced to a select set of builders as a pilot program, and the name was trademarked. After initial participation and feedback, ecoHOME was rebranded in 2013 to avoid confusion with other products in unrelated markets. The green homebuilding program was also incorporated as its own company called ecoSelect.
As the name implies, ecoSelect users can choose which energy efficiency and green attributes to incorporate into a home, above the base-level, ecoSelect-certified home. Builders and homeowners can build upon their ecoSelect certification by incorporating other green building programs; the home then becomes an ecoSelect+ (ecoSelect plus)-certified home.
Program Overview
Many of the more involved green building programs focus on community connection, site design, water, energy and materials efficiency and indoor air quality. These programs include prerequisites, and allow builders to pursue either a prescriptive or performance path. The common complaint from not-yet-green builders is that none of these programs provide a simple checklist of measures that help them "get it done." Programs often require intensive researching along with an extensive learning curve.
ecoSelect was created to be a simple, affordable and easily marketable new home certification program. The program directly and solely addresses energy, indoor air quality and water through a simple checklist of strategies with prescriptive items that are usually pass or fail. Also, most of the strategies are code required in one variation or another, so it doesn't take building much above code to achieve certification.
The program also integrates RESNET's HERS index, along with RESNET's required inspections and testing protocols, such as the blower door test. Because of the RESNET integration, there are no multiple levels of certification or points to tally, and documentation is simple. All that is needed are the plans, REM file, an ecoSelect performance label, a picture of the home and a completed checklist—which is a far cry from the amount of documentation needed with other green building programs.
How It Works
Currently, ecoSelect is only available for new construction. Associated fees for program administration are minimal. The HERS rater's services make up the bulk of the fee, which for a small volume builder could average between $500 to $600. In states that require energy code inspections, the cost of the rater and ecoSelect can be absorbed into the permit process, so long as the inspector is also a HERS rater.
There are two ways to initiate an ecoSelect certification. The first is through an ecoSelect builder who works with a local HERS rater. Additionally, ecoSelect does have a network of HERS raters across the country, so that any builders who would like to become ecoSelect builders have an experienced resource to assist them with the program implementation.
The homebuyer can also initiate certification by visiting the program website to see if there is a builder or a specific HERS rater in the area who is already well versed in the program. Right now, most of the ecoSelect builders are concentrated in the Southeast U.S., where ecoSelect is headquartered—and where the program has gained the most traction.
Regardless of how ecoSelect is initiated, the HERS rater is the person who manages the process, takes ownership of the checklist and sends ecoSelect the program administration fee. The HERS rater is typically contracted to the builder; however, the homebuyer can contract the HERS rater directly, if desired.
In the rare event that the builder or home architect/designer is a HERS rater, they can administer the ecoSelect program, as long as they follow the RESNET disclosure policy that requires full disclosure of any conflicts of interest. However, if the project were to pursue ecoSelect+, the HERS rater would have to follow the conflict of interest policy of the additional green building program. (In some cases, the HERS rater cannot be a part of the design/project team, and must instead be part of the third-party verification team.)
Comparable to Code
It was important to analyze ecoSelect in comparison to IECC 2009 to see how much further a builder or homeowner would have to go to achieve certification. We chose the IECC 2009 as the basis for comparison, because it has already been adopted by 25 states (another nine states have adopted the IECC 2012). Where the IECC 2009 did not specifically match an ecoSelect strategy, we used the IRC 2009 to continue the analysis. As the chart shows, most of the program's strategies are equivalent to the IECC 2009.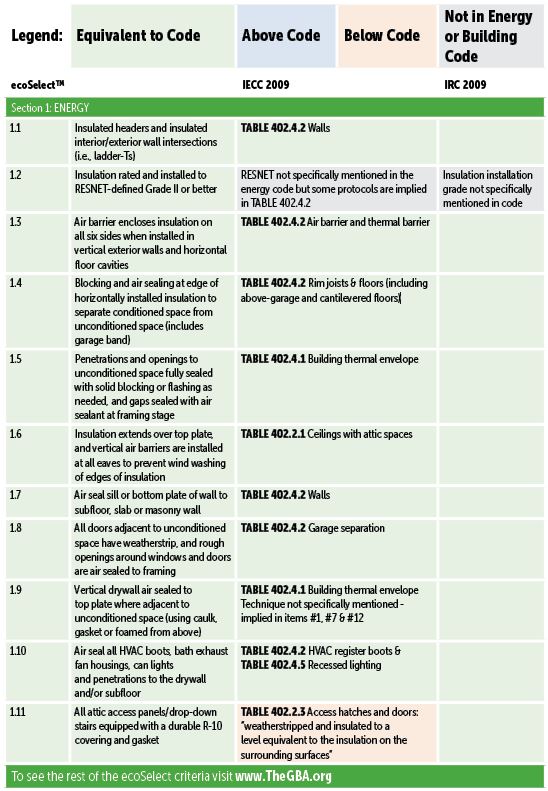 The Market Effect and Relevance
ecoSelect is working toward a strong social media presence to promote their builder and rater partners, along with their ecoSelect-branded neighborhoods and special projects. They also provide a robust set of education and marketing tools for their builder and rater partners to highlight the program and help build their businesses. Due to ecoSelect's support structure, the program already has over 1,000 certifications to date and is quickly approaching 1,500—even though it has only been officially in existence since 2013.
Builder response has been positive. They like the third-party verification aspect and the value it brings; they also appreciate the free training ecoSelect provides to their sales staff, which helps them communicate the right message to potential homebuyers:
"One of the most frequent questions we get from buyers is why our homes are superior to other existing or new construction homes. Our partnership with ecoSelect helps us prove to the buyer exactly that. ecoSelect is a non-biased third-party inspector that analyzes the energy efficiency of a home using rigorous assessments, and supplies the homebuyer with a certification and basis of comparison for existing and other [newly constructed] homes. This certification showcases how an H&H home truly works hard to save the buyer money on their utility bills through superior materials and construction techniques, especially compared to other homes."
--Kristie Meave, SR VP H&H Homes
Statistics show that an overwhelming majority of homebuyers possess some knowledge of green building principles (87 percent, according to the 2008 SmartMarket report by McGraw-Hill Construction), even if they don't understand the specific nuances of a particular green building program. ecoSelect fills the niche between built-to-code homes and the detailed intricacies of existing green building programs. For homeowners, the program's verified performance provides peace of mind. For builders, ecoSelect offers an entry into green homebuilding. Many might find adopting the program is an easy way to shift their business models to more effectively compete in the market.
ecoSelect doesn't really have a direct impact on product manufacturers, since many of the strategies are based on code and incorporate products that are already on the market. However, the program is anticipated to grow by leaps and bounds, due to its simplicity and strong marketing base. It may be prudent for product manufacturers to get on the ecoSelect train, just as many have integrated potential LEED credits within their marketing. GBC


Courtesy of The Green Builder® Coalition
The Green Builder® Coalition is a not-for-profit association dedicated to amplifying the voice of green builders and professionals to drive advocacy and education for more sustainable homebuilding practices. (http://GreenBuilderCoalition.org) For more information, contact Mike Collignon, executive director at mcollignon@greenbuildercoalition.org