As our annual survey of brand awareness reveals, once a manufacturer has earned trust, it's hard for other brands to capture those customers.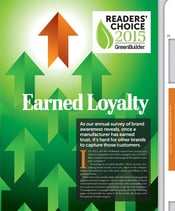 IT'S 2015, and the residential construction market continues to strengthen. So what's changed since last year? Have manufacturers taken advantage of the uptick to earn new customers?
According to our latest Readers' Choice Survey, overcoming brand loyalty isn't easy. Most of the category leaders remained on top, with some minor reshuffling in the positions below. For the second year in a row, BOSCH took the coveted "first place" position as the brand most readers identify with sustainability.
There were some notable shifts: GE and Owens Corning gained ground in several categories; GE was right on the heels of Bosch as the one brand customers most associate with sustainable products and environmental stewardship--a sign that the company's "Ecomagination" campaign might be paying off.