ENGINEERS ARE ENHANCING TRADITIONAL BUILDING MATERIALS in ways considered impossible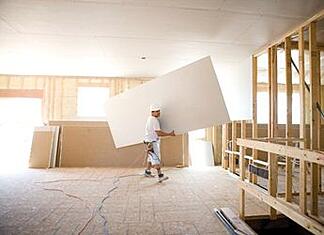 just a few years ago. They're doing so using the science of nanotechnology, which lets them redesign a material's basic properties at the sub-molecular level, on scales as small as a few nanometers, or billionths of a meter. (A water molecule measures less than a nanometer in diameter.) For example, nanotech processes let Aspen Technology develop super insulating aerogels that weigh only slightly more than air. It's also helping researchers at MIT develop a flexible concrete that won't crack under stress.
Now drywall is getting in on the act. To create its Sheetrock UltraLight Panels, USG Corporation used nanotech processes to change the way gypsum crystals bond to one another, creating stronger bonds that made it possible to reduce the amount of gypsum in each board without compromising strength. "We developed this product by applying chemical engineering technology to the gypsum crystals at the sub-molecule level," says Chris Baker, USG's Wallboard Product Manager. "This allowed us to create a stronger gypsum matrix with a higher strength-to-weight ratio than standard wallboard."
The ½ in gypsum board is 30% lighter than standard wallboard, yet meets the same ASTM strength requirements. USG claims that its light weight and low density also make for a cleaner score and snap.
The material's green story is the fact that because the new engineered gypsum is stronger, panels can be made with less of it – in fact, about 15% less raw materials have to be extracted from the ground. The boards also have a recycled content of up to 95%, depending on which of the company's plants produce them. No fly ash is used. These claims have all been validated by UL Environment, a division of Undewriters' Laboratories that certifies manufacturers' green claims.
The panels come in standard lengths, including 8-, 10-, 12-, 14- and 16-foot panels, and in 48- and 54-inch widths. They cost about 10% more than standard sheetrock.