California's drought is putting the concept of unlimited growth under severe scrutiny, and for good reasons.

When it comes to water, California is running out of options—and time. Suffering through its fourth year of excruciating drought...the state's snow pack is at an all-time low... Governor Brown has issued unprecedented water restrictions...surface and ground water is quickly drying up...and crop and pasture losses are escalating.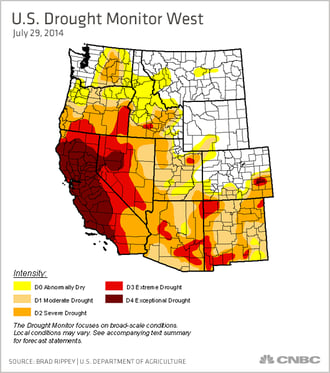 The latest U.S. Drought Monitor map shows that 58% of the state is experiencing "exceptional drought". According to Joshua Haggmark, water resources manager for the city of Santa Barbara, even tougher times are ahead. "Our big water shortage is going to come in 2017 if things don't improve," he says. "This drought is pretty significant and has certainly exceeded our worst drought of record."
Some cities are looking into desalinization to solve local water shortages, such as Carlsbad in north San Diego County, which is investing $1 billion in the nation's largest seawater desalinization planet that, at peak capacity, will only supply 7% of the county's water needs. While desalinization is an expensive solution, it provides some drought resiliency for cities, and is, ultimately, a better choice than running out of water entirely.
If current drought conditions continue, state leaders may have to look at moving entire populations. "Civilizations in the past have had to migrate out of areas of drought," Lynn Wilson, academic chair at Kaplan University said. "We may have to migrate people out of California." Options such as importing water into the state would certainly be explored before drastic action is taken, but, as Wilson says, "migration can't be taken off the table."
While cities and towns throughout the state are feeling the pinch, California's agricultural sector has been hit the hardest, perhaps because it is the State's largest water user. California's agricultural sector uses 75% of the state's water resource, while cities and suburbs use about 20%. According to the Public Policy Institute of California, more water was used in 2013 to grow almonds (the second largest water-consuming crop after alfalfa) than was used by all homes and businesses in San Francisco and Los Angeles put together.
Shockingly, Governor Brown excluded large agricultural operations and oil and gas firms from his recently issued mandatory water restrictions, absolving major farms entirely from the 25% reduction in water use.
"It is disappointing that Governor Brown's executive order to reduce California water use does not address the state's most egregious water abuses. In the midst of a severe drought, the Governor continues to allow corporate farms and oil interests to deplete and pollute our precious groundwater resources that are crucial for saving water," said Adam Scow, director of Food & Water Watch California.
Fortunately, many farmers see the future, and they're choosing to cut back on water use, planting geographically appropriate crops and shifting to "dryer" farming practices.
Nonetheless, water conservation might not be enough for farmers in the Central Valley and other water challenged areas, and it's likely that the production of some water-intensive crops, like certain fruits and vegetables, may shift to states in the mid-west and northeast that have more appropriate climates (does it really make sense to grow lettuce in the desert?) and are actually experiencing increases in precipitation.
The economic implications of California's drought are vast. A report issued by the Center for Watershed Sciences at the University of California forecasted that the drought in California will cost the state $2.2 billion and put some 17,000 agricultural workers out of a job this year, which could have a ripple effect on the entire nation's economy.
To properly address the risk of continued water shortages, smart businesses—like California-based Apple and Google—are implementing widespread water reduction strategies and creating scenario analyses that take drought and other climate-based changes into account.
To augment leading businesses, judicious regulators are seizing the opportunity to create policy that encourages water conservation, watershed restoration, water recycling, and storm water capture for use.
Despite an all-hands-on-deck mentality, the biggest obstacle to change in California's water use practices is the State's ancient system of water rights allocation—an amalgamation of Native American, English, Spanish Colonial, and African water law that allows landholders with senior water rights access to surface water at a low or no cost, whereas newer users, including many of the State's cities and communities, are paying up to 100 times more. But out of lemons can come lemonade, and California's water emergency provides a unique opportunity for Governor Brown to challenge an antiquated and dysfunctional system that has plagued the West for centuries.
If nothing else, the drought in California has urgently elevated a dialogue about our concept of growth, putting our historic view of limitless development under severe scrutiny. "Mother Nature didn't intend for 40 million people to live here," said Kevin Starr, a historian at the University of Southern California. "This is literally a culture that since the 1880's has progressively invented, invested, and reinvented itself. At what point does this invention begin to hit limits?"
It's highly unlikely that California will actually run out of water. However, things will certainly have to change in the water-challenged state, and California will undoubtedly become the test case for other states across the nation for innovative water-saving solutions.
How do you think California can emerge from this water emergency? Write to me at sara.gutterman@greenbuildermedia.com or follow me on Twitter or Facebook.
For more information about green building and sustainable living, visit Green Builder Media at www.greemouildermedia.com, like us on Facebook, and follow us on Twitter for regular updates and breaking news.