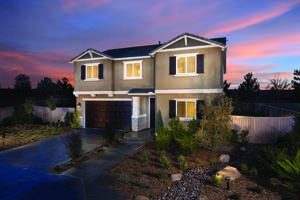 KB HOME RECENTLY constructed a home in Lancaster, California (in Los Angeles County), which earned the company RESNET's award for Lowest HERS Index Score for a Production Builder. Dubbed the Double ZeroHouse 2.0, it's not only net-zero energy, it also requires no freshwater for irrigation. Even without the SunPower solar PV system, this home achieves an impressive HERS score of 42.

Jacob Atalla, vice president of Sustainability, says that KB Home was the first homebuilder to sign up with RESNET as a RESNET Energy Smart Builder. The company has its own Energy Performance Guide, incorporating HERS principles, which allows homeowners to calculate the dollars they can expect to spend and save.

Atalla reported that KB Home obtained a HERS rating for all 7,000 of their new homes in 2013, and achieved its goal of increasing their energy efficiency by 3 percent. The average HERS score for homes built in 2013 was 65.

"On average, homeowners currently save $1,000 per year on energy bills compared to a typical resale home," he says. "It's a big value, and customers are looking for it."

In fact, the HERS Index score is being added to many MLS listings; a home that has a very good (low) score gains an advantage over one that doesn't, even if the homes share many other characteristics.

KB Home builds in communities across the country, from California to Florida to Maryland. The company chose to build the Double ZeroHouse 2.0 in Lancaster because the city strongly supports renewable energy. The high desert, drought-prone location also allowed KB Home to showcase their water conservation mechanism - a new graywater recycling system from Nexus eWater. The system can treat up to 40,000 gallons of water a year for use as landscaping irrigation.

"We also used brand new technology—new to us—that contributed to lowering the HERS score in that house," says Atalla. The Power-Pipe by RenewABILITY is a wastewater heat recovery device that takes wastewater from the shower drains, extracts the heat, then uses it to heat the new freshwater going into the tankless water heater. Atalla estimates the Power-Pipe saves approximately 10 percent of the energy spent on water heating.

As with all of their homes, KB Home focused on the building's envelope and mechanics. The team insulated the attic at the roof deck, upgraded insulation in the walls, tightened air sealing of the house, upgraded windows to argon-filled units and installed a tankless water heater. Another "extra" was a smart garage with an electric vehicle charging station.

Atalla says that RESNET-certified HERS raters are usually on site twice—once during the framing and installation of insulation and then again at the end of construction. But because they were aiming for "double zero," the rater partnered with KB Home early in the design process, helping to identify elements that could make the home more efficient and meet the net-zero-energy target, and visited the site more frequently, as well.
---