IN ANY RANKING of the world's countries from richest to poorest, Bangladesh can reliably be found near the bottom. Yet according to the International Renewable Energy Agency (IRENA), this South Asian nation of 150+ million people is leading the world in the installation of home-based solar systems. Approximately three million residential solar systems have been installed in Bangladesh in the past ten years, and new systems are being installed at the blistering pace of 80,000 per month.
Bangladesh's solar boom is a mostly rural phenomenon. In this delta country of more than 400 rivers and thousands of villages, stringing power lines has long been cost prohibitive outside of major urban areas. As of 2009, less than half the population had access to electricity—but distributed solar power is tailor-made for this situation. In the same way cell phones enabled the rapid dissemination of telecommunications technology by eliminating the need to string wires, solar allows the rapid dissemination of electricity by leapfrogging over the need to build an expensive power grid. Advocates have long touted solar as a way for developing countries to bypass the need for expensive transmission infrastructure; Bangladesh is showing that this strategy works on a grand scale.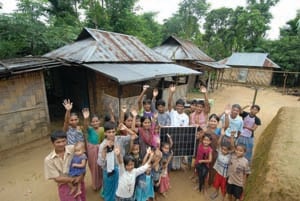 .A village in Bangladesh proudly displays the first solar panel purchased with a micro loan from the Grameen Bank in the rural town of Bogra, which is in the Rajshahi division of Northern Bangladesh.
The Bangladeshi government has adopted the goal of "Electricity for All" by the year 2020, and has developed some innovative financing mechanisms to achieve it. Infrastructure Development Company Limited (IDCOL) is a state-owned development financial institution dedicated to financing infrastructure and renewable energy projects. IDCOL pioneered the Solar Home System (SHS) program in 2003. Under the program, IDCOL pools private donations and public funds, which it then disburses to non-governmental organizations (NGOs). The NGOs, in turn, distribute the funds in the form of small loans—often as little as $400—to individual homeowners. The loans are then paid back over a term of three years.
Most SHSs in Bangladesh are small, usually less than 100 watts. That wouldn't go very far in a typical American home, but it's enough to power a few LED lamps, a small television and a mobile phone charger. For a family that has never had electricity before, these few amenities can be life changing. They allow children to do homework after dark and the family to engage with the world outside their immediate community. Humble as that may be, it is a foundation for social and economic progress.
Beyond the benefits for individual homeowners, solar has brought broader economic benefits to the country, as well. Bangladesh has seen a spike in solar-related jobs, including panel assembly, sales, maintenance and especially, installation. IRENA reports that Bangladesh's "green workforce" reached 114,000 people in 2013—roughly the same size as Spain's—and it is still growing.
Not surprisingly, Bangladesh's success has captured the attention of other developing countries. IDCOL itself has provided information and support to a number of African countries, including Uganda, Sudan, Ghana, Ethiopia and Guinea. Like Bangladesh, these countries need to electrify inexpensively and quickly; like Bangladesh, they are discovering a solution in distributed solar power.
---