Digitization, automation, and robotics are coming—quickly—to the building industry. Venture capitalist Joe Blair explores how technology innovation could transform the sector by increasing productivity and addressing the labor shortage.
Despite huge technological advances in most areas of the global economy, much of the construction industry hasn't changed in decades. In contrast to sectors like communications, transportation, and manufacturing, the building industry has been slow to adopt advanced technology and digitization to transform business models, generate new revenues, and develop enhanced-value opportunities.
"What a lot of people don't know," says Joe Blair, Vice President at San Francisco-based venture firm Obvious Ventures, "is that construction is one of the least digitized industries in the world."
"In the last eight years alone," Blair outlines in Pouring New Foundations in Construction Tech, "the national average cost of construction has increased by 21%, even when adjusted for inflation. While other industries have leveraged technology to realize significant productivity gains, the construction sector actually has experienced negative productivity due to a spectrum of factors, for example enhanced safety protocols, heightened OSHA compliance requirements, and an aging workforce."
Blair and other technology pundits argue that, by enabling enhanced tracking, measurement and monitoring of projects, the digitization and automation of the building industry will increase transparency, productivity, and profits, while providing solutions to the crippling labor shortage.
With that said, incorporating technology into the sector is not an easy proposition. "Industries that are easy to digitize are non-physical and highly repetitive" confirms Blair. "The construction sector is extremely difficult to digitize since each building project is unique and nearly impossible to replicate in high volumes with consistent results. This is compounded by the fact that shifting budgets, schedule conflicts, and other unforeseen factors like accidents, failed deliveries, or weather events force changes to requirements and specifications during the course of a project."
Despite the challenges, Blair is optimistic about the road ahead.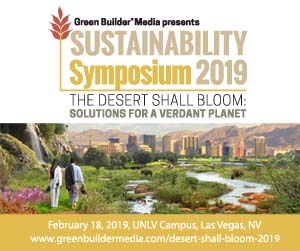 Not surprisingly, Blair is an advocate for prefab construction (to learn more about small-footprint, prefab homes, check out The Align Project that Green Builder Media is developing with Austin-based builder Kasita), as well as 3D-printing.
He also embraces robotics. "Construction is a difficult and dangerous job. Workers' compensation insurance is often the second largest expense for contractors after payroll. Collaboration between human workers and intelligent machines can create a safer work environment while also dramatically increasing productivity."
Blair's colleague, 3D Robotics CEO Chris Anderson, concurs. "Automation is coming to construction not because the industry is super hungry for robots," asserts Anderson in a recent episode of Blair's Epic Human podcast, "but because of the chronic labor shortage."
"Given that the aging construction workforce is at least 600,000 people short in the U.S., with few prospects of younger people jumping onboard anytime soon, there needs to be an evolution in the role of the construction worker to something that is more integrated with technology," says Blair.
The argument is worth pondering: What would happen if certain roles within the construction industry shifted from manual labor to robot-trainer-operator? Would younger generations see that has a sexier, safer, more stimulating job that would attract them to the sector? Could this kind of automation increase profits for builders and provide solutions for the labor shortage? And would homebuyers ultimately benefit from enhanced predictability and performance?
Anderson and his team at 3D Robotics are exploring another piece of the technology puzzle, using drones, sensors, cameras, and other technologies to accurately image building sites to create what they call "living models".
"Living models can enhance the measurement and management of certain types of construction projects," Anderson avows. "The building industry is very schedule-based. When things run smoothly and on plan, projects are like a very efficient supply chain. But, in reality, things go wrong all the time. With a living model, a project manager can seamlessly update all of the scheduling, planning, ordering, and other aspects of the job at a granularity that is actually useful, making sure that the right people show up at the right time with the right supplies."
While robots and living models may seem like a sci-fi reality that is lightyears away, individuals like Blair and Anderson are working assiduously to ensure their speedy development. So, don't be surprised when living models or even a handy robot shows up at a jobsite near you.
To learn more from Joe Blair about how technology will transform the building industry, attend his presentation at the Sustainability Symposium 2019: The Desert Shall Bloom on Monday, February 18, 2019 (the day before the show floor opens at Design & Construction Week) at the UNLV campus in Las Vegas. And join us for a gala dinner celebrating Green Builder Media's annual Sustainability Award winners on February 17 at 6:00 p.m. at the exclusive Mr. Chow in Caesars Palace.
Click here to register for the Sustainability Symposium 2019: The Desert Shall Bloom and Sustainability Awards gala. Space is strictly limited and by reservation only, so reserve your seat today! Register for the Symposium before October 1, 2018 using the code EarlyBird and you'll receive a $100 discount.
A sincere thank you to our generous sponsors, Samsung, Ingersoll Rand, Emerson, Andersen, and Caesars Entertainment for helping to make the Symposium and gala dinner possible.
How do you think digitalization, automation, and robotics will transform the building industry? Write to me at sara.gutterman@greenbuildermedia.com.
Want to read more? Follow me on Twitter and Facebook. For more information about green building and sustainable living, visit Green Builder Media at www.greenbuildermedia.com, like us on Facebook, and follow us on Twitter for regular updates and breaking news.