Designing Homes with Wildfire Safety and Mitigation in Mind
Homes and communities built with Firewise principles can be environmentally friendly and life-saving.
Green Builder Media announced the release of its newest e-book, "Design with Fire in Mind: Three Steps to a Safer New Home," produced with the National Fire Protection Association (NFPA) to help educate home owners, builders and developers on ways to build, design, site and maintain homes with wildfire safety in mind.
The 8-page e-book is based on principles from NFPA's Firewise Communities Program, which addresses site design, construction and landscaping, as well as property maintenance and wildfire safety education of residents. The information is rooted in principles based on solid fire science research into how homes ignite, and comes from the world's leading fire experts whose experiments, models and data collection are based on some of the country's worst wildland fire disasters.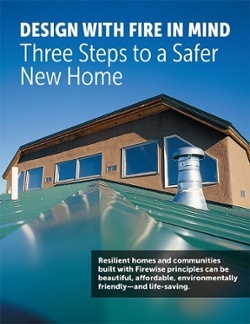 "How we build, design and maintain homes can make them less vulnerable to a fire," said Lorraine Carli, Vice President, Outreach and Advocacy, for the National Fire Protection Association. "This project has afforded Green Builder Media and NFPA with a wonderful opportunity to provide important, actionable steps to planners and developers as they build safer places to live for residents."
In addition to links to educational resources and videos that can easily be downloaded and shared for free, e-book readers will be able to get a more in-depth look at the e-book's three main topics:
Creating a Firewise landscape, including limiting the amount of flammable vegetation and materials immediately surrounding the home
Considering fire, embers and radiant heat when building homes
Understanding the role of home and property maintenance in reducing damage from wildfire
"While there are more communities in the West and South impacted by wildfire than in other areas of the country, increasingly everyone is susceptible [to fire]," adds Carli. "It's important that community members work together to develop fire-smart practices for their homes and neighborhoods. We've seen the results in many areas around the country and the future looks promising."
Download this free e-book resource on wildfire mitigation, or visit www.nfpa.org for more information.