The VISION House Seattle Cascades debuts. In this welcome blog get a project overview of the "House the Experts Built."
Did you know that it's possible to build a high-performance, ultra-green, resilient home using off-the-shelf materials and systems readily available and affordable to average consumers? Were you aware that more thoughtful choices in the initial design and materials can significantly improve the health, comfort, and durability of a home? Did you know that a sustainable home can be breathtakingly beautiful while staying within budget.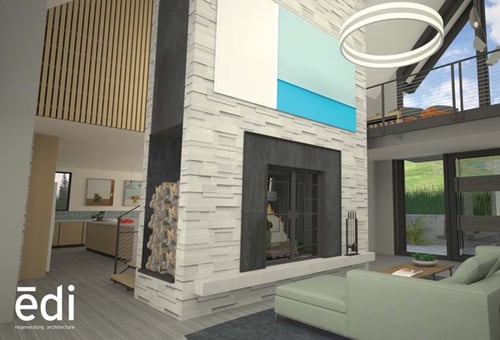 The VISION House Seattle Cascades project is designed to show how these lofty building goals can be accomplished. A template for building pros and consumers alike, the project will showcase cost-effective sustainable design and advanced products, systems, and tech. It will show how homeowners with virtually any budget can get more for every dollar spent to design, build, and operate their new home.
The project partners include Green Builder Media, the nation's leading media company focused on sustainable living; C.R. Herro, VP Innovation and Sustainability for volume-builder Meritage Homes; and internationally renowned architect Stace McGee, the founder of Environmental Dynamics, Inc.
The 20-acre VISION house site is located 30 minutes southeast of Seattle near Enumclaw, Wash. Its hilltop location features an infinity view of the Pacific Ocean. While the site is stunning, it also presents environmental challenges typical of this part of the country: The area experiences above-average rainfall but is still threatened by forest fires in the summer, and the area has the potential for earthquakes. Because of these regional realities, the project addresses fire safety, water scarcity, durability, and structural support for seismic events.
In this blog series, Herro and McGee will show you:
how to design and build an off-the-grid, climate-driven house

design and building strategies for living comfortably and safely off the grid

ways to reduce your electric and water consumption without compromising lifestyle

ideas for using innovative materials, maximizing smart home controls, and making every square foot count

how to incorporate resiliency and low-impact design, while considering location and climate
Herro and McGee have worked on many highly sustainable custom homes over the years. "We enjoy the shorthand of this technology; we know what works, what's overkill, and what we'd buy for ourselves," they jointly state.
Herro is not only the builder of this project, but also the client. He will share how the journey of building his dream house was impacted by his experience addressing building science as a high-production builder and as part of a collaborative partnership representing some of the best minds in green building today.