Statistics show that Europe's demand for renewable energy is on a serious rise with Germany leading the way.
THE DEMAND FOR RENEWABLE ENERGY SURGED 26.5% IN EUROPE from 2013 to 2014. According to statistics released by the Association of Issuing Bodies, the demand surpassed 300 TWh for the first time and is comprised of nearly one-tenth of all electricity demand in Europe and one-third of all electricity from renewable sources in Europe. Read more about the report here.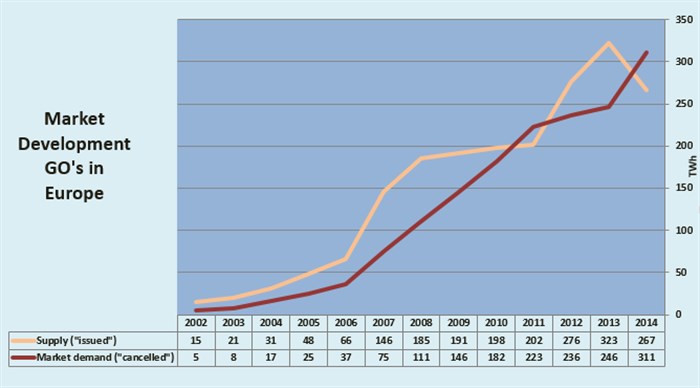 What makes the figures even more interesting is that they only partially include, and totally exclude, data from several member states – Slovenia, Spain and Sweden. If the results from these countries -- who all have working systems for supplying, purchasing and trading of renewable energy certificates -- are added into the AIB's statistics, the percentage increases to an even higher 28%.
"These encouraging statistics suggest a breakthrough for Guarantees of Origin, and an increasing momentum for renewable energy consumption overall", said Tom Lindberg in the release. Lindberg is managing director of ECOHZ, a company that provides renewable electricity from a wide range of sources, regions and qualities, in the news release.
Leading the way in the European market is Germany whose own demand for renewable energy has increased an impressive 65% from 2013. Just behind Germany, Sweden is a clear number two followed by Holland, Italy, Switzerland, Finland, and Norway all showing strong signs of growth. Norway is the leading country supplying Guarantees of Origin, supplying approximately 130 TWh of Guarantees of Origin from Hydro in 2014. As the rest of the market grows, Norway's share of the total supply continues to decrease.
The good news is that last year there were four new countries -- Croatia, Czech Republic, Cyprus and Estonia – that took steps to get into the market and will be fully vested in it later this year.