Delta Electronics BreezIntegrity Ventilation System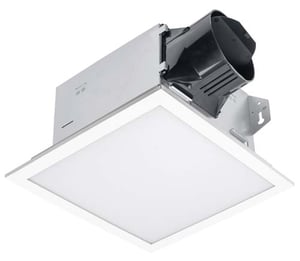 As the industry's first dimmable LED flat panel light fixture with ventilation, the BreezIntegrity ITG100ELED from Delta Electronics complements other edge-lit LED lighting in the home, while the 100-CFM exhaust fan maintains proper indoor air quality in bathrooms up to 100 square feet. The fixture is Energy Star certified and quietly operates at just 1.5 sones to eliminate homeowner noise complaints. It's also UL listed for installation over the tub or shower when installed with a GFCI-protected branch circuit.
Utilizing brushless DC motor technology, the BreezIntegrity lasts up to two-and-a-half times as long as AC motor alternatives. The self-compensation feature of the DC motor senses static pressure and adjusts its speed to assure optimal CFM output and proper air movement over long duct runs.
BreezIntegrity's lighting is also designed to last, with the homeowner-preferred 13-watt dimmable LED light capable of maintaining an output of 1,000 lumens for up to 30,000 hours—three times as long as CFL alternatives. Color temperature of 3,000 K emits a soft, warm white light. Wiring with a dimmer switch allows homeowners to adjust the intensity of the lighting for added ambiance.