Deck Durability

Alan Naditz
4 min read
After a bumpy start, composite decking is gaining market share.
COMPOSITE DECKING WAS INTRODUCED in the early 1990s with great promise: Despite the fact that it can cost two to three times as much as a wood deck, composite decking was promoted as a low-maintenance, longer-lasting alternative that would resist scratches, stains and fading. It also could be greener, made largely from recycled materials.
Learning from Failure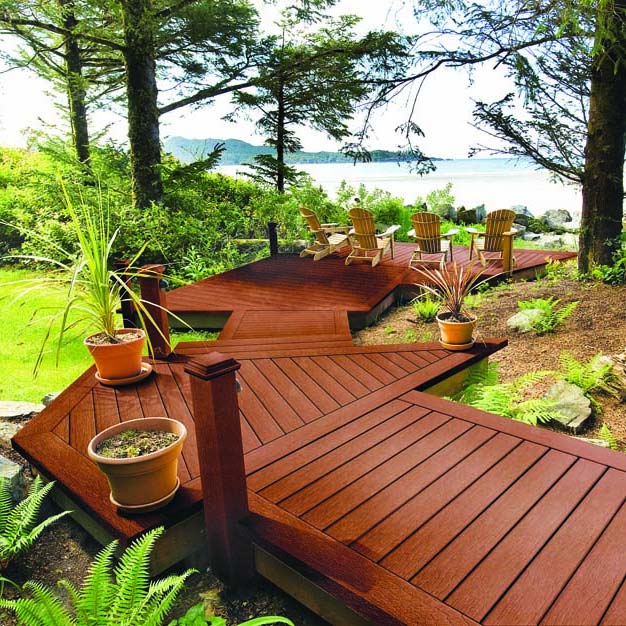 But composite decking hasn't always lived up to its potential. Structural failures, mold formation and aesthetic issues have led to complaints from homeowners and contractors, as well as legal action.
Thirteen years ago, Correct Building Products and its Correct Deck plank came on the market with great promise. The company developed one of the first capped products, called Correct Deck CX.
By 2009, though, the company had filed for bankruptcy protection, and its assets were sold to what became GAF Decking Systems. Two years later, the parent company shut down the decking business, citing a decision to focus on roofing and other lines. Left in the wake are consumers complaining about mold, cracking and discoloration problems with their decking. Law firms, meanwhile, have been casting about on the Internet for participants to join a possible class action lawsuit.
But the industry can survive early product failures and thrive, as Trex has shown.
In 2010, Trex announced a settlement of a class-action lawsuit filed in California. At issue were flaking problems that Trex had earlier found to be linked to its manufacturing plant in Nevada. Trex has been making good on its warranty by replacing decks, an ongoing obligation that is costing tens of millions of dollars.
And Trex has moved forward. Customer interest in premium capped products, such as the company's Transcend collection, helped push its share of the composite decking and railing market in 2010 to 35 percent, Imperial Capital says, more than double its closest rivals—TimberTech, Fiberon and Azek. Worth noting: Last year, Azek's parent company signed an agreement to acquire TimberTech.
"It has really evolved in the last three years," Adam Zambanini, vice president for marketing at Trex, says of the industry. "It's a different product."
Composites On the Rise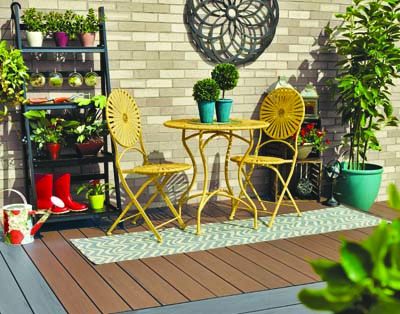 In 1999, only 3 percent of residential decking was made from wood alternatives. But the latest figures show that wood alternatives have jumped to 34 percent of the home decking and railing market, according to research cited by Imperial Capital, LLC—an investment bank that covers Trex, the only major composite company with publicly traded stock. Wood retains 61 percent of the market, while metal deck and rail systems have grabbed 5 percent.
Today's growing market share coincides with a major technological upgrade, which the industry calls capped composites. Older products typically had only their top surface sealed, leaving pathways for moisture. The wood-composite core of many next-generation planks is fully encapsulated with a protective shell during the extrusion process. TimberTech's Earthwood Evolutions uses what the company calls HydroLock Technology, an olefin-based protective shell. NewTechWood's UltraShield features a plastic compound used to make golf ball covers.
Not all makers go with four-sided coverage. Trex leaves the underside open—for breathability. The capping technology has another perk. It allows makers to offer more colors and high-definition, wood-like grain variations.
Capped composites are so good that many manufacturers have upped their fade and stain warranties to 25 years. That's a prime selling point that has helped to boost market share, according to Richard Paget, senior vice president at Imperial Capital.
"What's driving the market is someone who doesn't want to stain their deck every season and doesn't want to worry about splinters," he says.
Much of the composite decking is sold in the residential sector, often to replace an older wood deck or add a deck to an existing home. A recent survey of building material dealers by the Principia Partners marketing consulting firm found that 8 in 10 saw decking sales grow in 2012, and they expected continued growth expected this year. The study projected that composite makers could gain another 5
percent of market share—worth $320 million—through home deck replacement.
Green Benefits of Composite Decking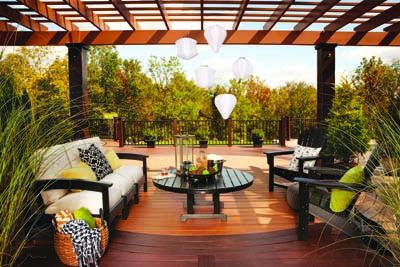 New technology and raw material costs have raised prices a bit. Transcend, Trex's premium product, is priced at $3.25 a linear foot. Enhance, with a 20-year warranty, is priced at $2.80 LF. But Zambanini says customers are getting greater value, with a 25-year fade and stain warranty and what the company calls ultra-low maintenance.
Trex, as do many other makers, also has a green story to tell that resonates with some consumers and contractors.
Trex uses 95 percent recycled material, including sawdust, wood pallets and polyethylene bags. The company says 70 percent of all recycled grocery bags end up in a Trex product, making it the country's largest plastic bag recycler.
TimberTech boasts that the wood flour it uses is 100 percent post-industrial and keeps millions of pounds of waste out of landfills each year. Its plastic is a mix of consumer-recycled and virgin high-density polyethylene, or HDPE.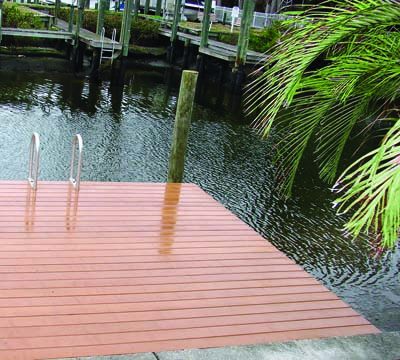 NyloBoard moves beyond wood and HDPE, with a decking product made from recycled carpet and a VOC-free resin.
Although not technically a composite, Perennial Wood offers many of the durability benefits of composite decking. Its TruLast Technology uses heat, pressure and an organic compound to expand the wood's cell walls and minimize water absorption and make the deck last longer, the company says.
Favored by Environmentalists
On the Jersey Shore, where Hurricane Sandy turned many of the area's fabled boardwalks into driftwood, oceanfront communities are rebuilding, and some are choosing composites over wood. Belmar, N.J. initially planned to use Ipe, a tropical hardwood found in the Amazon rainforest. But environmental groups including the Sierra Club encouraged the towns to go with composite decking. After the decision, some critics noted that Ipe can be sourced from sustainably-harvested forests, and they offered the opinion that it will outlast composite decking. That's why these seaside boardwalks will be under the building industry's microscope in the years ahead.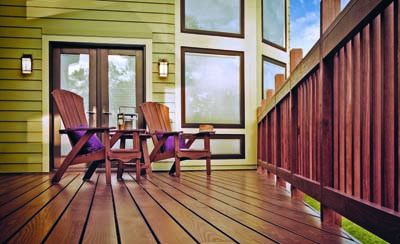 In the backyard, though, composite decking is clearly gaining acceptance. Manufacturers are looking to capitalize by introducing complementary products. Trex has an integrated line of porch components, including railing and LED lighting. It recently introduced a cellular PVC pergola that comes in kit form.
"We're trying to create the total outdoor experience," Zambanini said.
---

Alan Naditz is managing editor of Green Builder Magazine. He has covered numerous industries in his extensive career, including residential and commercial construction, small and corporate business, real estate and sustainability.