For the past decade, Green Builder Media has bestowed Home of the Year awards upon a wide spectrum of remarkable projects. But our annual awards program isn't just limited to amazing green homes. We also celebrate impactful innovations, sustainable municipal programs, and, my favorite, Sustainability Superheroes. Do you, or someone you know, qualify for this prestigious distinction?
Since its inception over a decade ago, Green Builder Media's Home of the Year Awards program has set the standard for recognizing excellence in residential performance, quality, intelligence, and sustainability.
In the beginning, our Home of the Year award entries often highlighted energy efficiency, building science, and sustainable design. But as the green building market advanced, so too did the submissions. Today, the award-winning projects encompass a broad gamut of important sustainability concepts like intelligent water, renewable energy, smart home technology, resiliency, clean mobility solutions, efficient design, health and wellness, and sustainable materials.
Always a fountainhead of ideas and inspiration, our Home of the Year award winners never disappoint (click here to see last year's selections), showcasing innovative applications of pioneering green products, advanced technologies, and forward-thinking design strategies.
But our awards program doesn't stop at incredible projects. It also includes categories like Most Sustainable Community/Development, Green Innovation of the Year (designed to recognize impactful products, systems, and technologies), Best Small Footprint Living Project, and Best Green Municipal Program.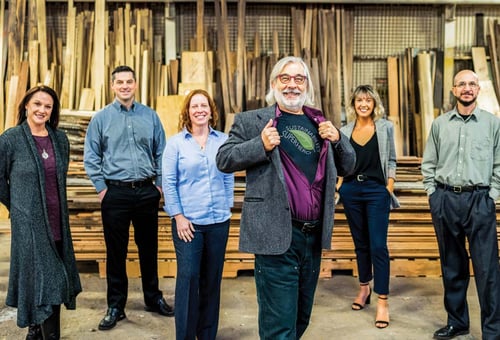 Nathan Good, who heads Nathan Good Architects, was Green Builder's 2019 Sustainability Superhero.
And then there is my favorite, Sustainability Superhero of the Year. What does it mean to be a Sustainability Superhero, you may ask? Well, that's up to you. As long as an individual has participated in some kind of sustainable activity to enhance the built environment, they're eligible.

I love the idea of selecting a Sustainability Superhero not just because its fun to imagine being imbued with magical powers, but, more importantly, because the world is in dire need of all the Sustainability Superheroes we can muster.

With a vast litany of scientific reports desperately pleading for immediate and dramatic action to prevent the total collapse of the planet's ecosystems, it's vital that we move quickly. We're at a tipping point, and we cannot have a legitimate conversation about managing the impacts of climate change unless we include a discussion about transforming the built environment.

We could continue to ignore the science and suffer the consequences of more frequent and extreme superstorms, heatwaves, wildfire, drought, flooding, and other natural disasters.

Or you could enter yourself and every other Sustainability Superhero that you know into our awards program, so that we can meet you, learn about your important work, and determine how we can bring all of our Superhero colleagues together to achieve the breakthrough change we so desperately need.

To that end, we invite you to join us at our upcoming Sustainability Symposium 2020: Improving the Human Condition on Monday, January 20, 2020 (the day before the show floor opens at Design & Construction Week) at the UNLV campus in Las Vegas, where we hope to gather all of our Superhero friends for an incredible day of education, inspiration, and networking.

And, don't miss the celebration of our annual Home of the Year and Sustainability Awards winners at a special gala dinner on January 19, 2020 on the Zappos Campus.

Click here to register for the Sustainability Symposium 2020: Improving the Human Condition and Sustainability Awards gala. Space is strictly limited and by reservation only, so reserve your seat today! Register for the Symposium before November 22, 2019 using the code EarlyBird and you'll receive a $50 discount.

A sincere thank you to our generous sponsors, Ingersoll Rand, Mitsubishi Electric Trane, and Zappos, for helping to make the Symposium and gala dinner possible.

To learn more about the Sustainability Symposium 2020: Improving the Human Condition, visit the event microsite.

Have questions about our annual awards program or Sustainability Symposium? Write to me at sara.gutterman@greenbuildermedia.com.

Want to read more? Follow me on Twitter and Facebook. For more information about green building and sustainable living, visit Green Builder Media at www.greenbuildermedia.com, like us on Facebook, and follow us on Twitter for regular updates and breaking news.