Dandelion Geothermal Digs In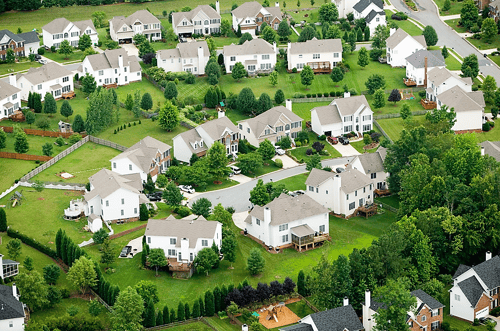 NEW YORK STATE HAS BEEN BUSY implementing technologies that will reduce greenhouse gas (GHG) emissions by 40% as part of "REV" (Reforming the Energy Vision) by the year 2030. Elimination of combustion heating in buildings is an essential part of the plan and has been a significant focus of the New York State Energy Research and Development Authority's (NYSERDA's) efforts.
This is fertile ground for growing a special kind of start-up. Please see the press release from Dandelion below. After the press release, stay tuned and I'll share some inside information—
Dandelion Announces its First Installer Partner, Aztech Geothermal; Aztech to Install Indoor Portion of all Dandelion 2017 Installations
September 7, 2017, Upstate New York –Dandelion, a geothermal startup that recently graduated X, the research and development lab at Google's parent company, announces the selection of its first installation partner, Aztech Geothermal. The companies will complete all of Dandelion's 2017 installations.
Dandelion is making geothermal heating and cooling affordable by introducing a number of process and technology innovations, including analytics-based marketing, fixed system pricing, a low monthly payment option and an innovative drilling method. Dandelion's business model is based on "taking care of everything," including system design, and installation of home geothermal heating and cooling systems. The indoor portion of the installation will be subcontracted to regional installers, decentralizing this function and helping regional companies grow their business. Aztech Geothermal will be Dandelion's first installer for its initial regions of the Capital Region and Hudson Valley.
"Aztech has installed geothermal for hundreds of homeowners in the area, many of which we've spoken to and who couldn't be happier about their installations," says James Quazi, CTO of Dandelion. "We're thrilled to have them as our first installation partner."
"The introduction of Dandelion will be a real boost for our business and the whole industry," said John Ciovacco, President of Aztech Geothermal, "Their marketing capabilities, innovative business model and technology innovations will make the best heating and cooling system also the most affordable for homeowners. We are thrilled to be selected as the first regional installation partner."
Under the partnership, Aztech Geothermal will be responsible for all home inspections, system designs and installation of the geothermal heat pumps to homeowners with ductwork.
###
About Dandelion Energy Inc.
Dandelion is a home geothermal company, started at Alphabet's X, that offers heating, cooling and hot water for a lower cost than the geothermal industry has seen to date. Dandelion has a proprietary, low-cost installation process that allows homeowners to save money by switching from conventional heating fuels to geothermal heating and cooling. To learn more, visit: www.dandelionenergy.com. Installers who want to partner with Dandelion can sign up at www.dandelionenergy.com/installers.
About Aztech Geothermal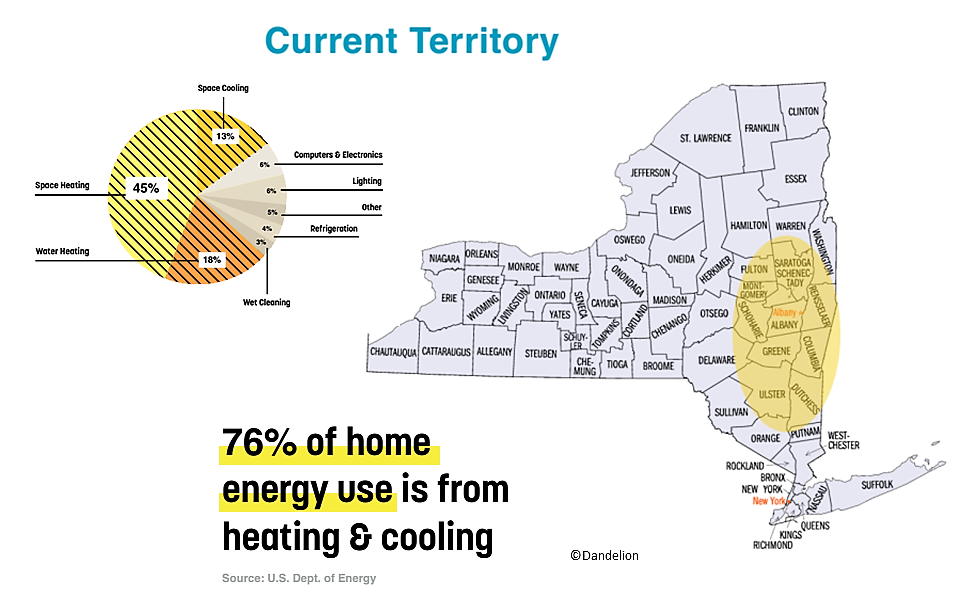 Aztech Geothermal is a regional leader in the design, installation and service of environmentally friendly geothermal heat pump systems. Aztech's staff of engineers and experienced technicians have successfully installed hundreds of geothermal systems in Upstate New York. Four of our team members are International Ground Source Heat Pump Accredited (IGSHPA) Installers and the company is a Building Performance Institute (BPI) Accredited Contractor. To learn more visit: www.aztechgeo.com.
Media Contacts:
Katie Ullmann
VP of Marketing, Dandelion
katie@dandelionenergy.com
John Ciovacco
President, Aztech Geothermal, LLC
info@aztechgeo.com
INSIDE INFORMATION
Like the Google name, Dandelion's involvement in the geothermal HVAC industry provides significant validation for many people. Certainly there are questions about expansion, and how more consumers and contractors can and will become involved. Here's what I was able to dig up—
First, the areas of expansion in the Hudson Valley area of New York will likely be the surrounding counties shown on the map below. Dandelion's website has pages for consumers as well as contractors to sign up. Like Aztech Geothermal, you can be certain that contractors chosen will meet similar high standards. Consumers that do not yet have access to services from Dandelion may be able to find help from other local IGSHPA & NYSERDA accredited installers.
In the last two months, Dandelion has signed enough geothermal customers to remove 6750 tons of CO2 emissions, or the equivalent of removing 1500 cars from the road. That's a remarkable start.
Once Dandelion has a solid footing in the Hudson Valley, I have it on good information that they'll expand to Western Upstate New York (Ithaca and Rochester area) and then south towards Westchester County.
New York is just the start. If I were a contractor, I'd be either riding this wave of geothermal industry validation, or working for Dandelion as an authorized contractor (or both).
SOME SPECULATION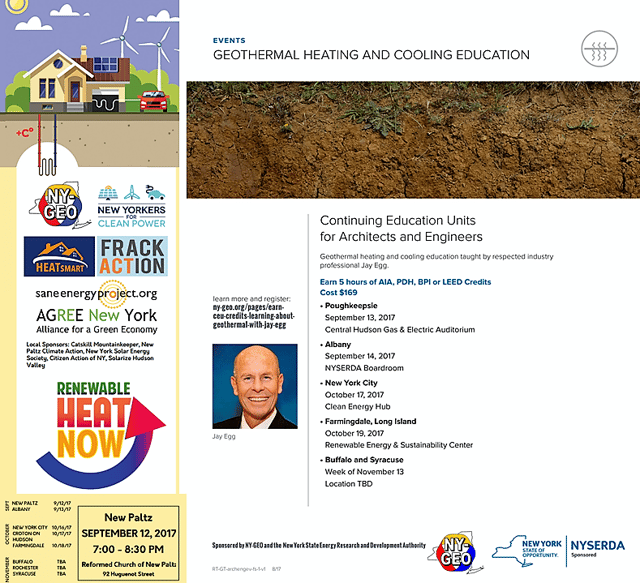 As forward thinking and "green" as California is, they have not embraced geothermal HVAC systems, especially at a residential level. I'd place my bets that California will be in the proverbial "crosshairs" of Dandelion execs in the future. The big picture includes the opportunity to collect loads of thermal data that can help us in ways we can't yet imagine, similar to the way Google Maps has become indispensable to many of us.
GEOTHERMAL: COMING TO A THEATER NEAR YOU
For New Yorker's, the fall of 2017 is going to be filled with educational opportunities in the geothermal sector starting next week (September 11 – 15, 2017). NY-GEO, Dandelion, NYSERDA, Heat Smart, Renewable Heat Now, and New Yorkers for Clean Power are just a few of the organizations that are putting on public educational event for everyone from consumers to architects, engineers, and contractors. Sponsors of these events include power companies, private non-profit and for-profit entities, and government agencies. Go on to the NY-GEO or NYSERDA websites for more information
…AND ONE MORE THING; STORMS
With Hurricane Sandy a recent memory, Texas in the midst of recovery, and powerful storms bearing down in the tropics, architects, engineers and professionals of all kinds are taking notice that geothermal systems are the most resilient and stormproof air-conditioning and heating systems available. New York Times wrote in the aftermath of Sandy, "Geothermal Systems Arise as a Stormproof Resource". More recently, Renewable Energy World published, "Design Professionals Spec Geothermal for Storm Resilience". At the end of this last article, you can find links to town meetings for consumers and technical meetings for designers taking place throughout the fall in most areas of New York.
In summary, I think the Dandelion geothermal effort is the start of something that will spread like solar has. That's good news for everybody.
Jay Egg is a geothermal consultant, writer, and the owner of EggGeothermal. He has co-authored two textbooks on geothermal HVAC systems published by McGraw-Hill Professional. He can be reached at jayegg.geo@gmail.com