Crossville, Inc.
Instead of being tossed into the landfill, discarded porcelain tile gets a second life in homes and offices.
Crossville Inc. is a U.S.-owned and operated manufacturer of award-winning tile collections for residential and contract applications. The company's collections are sold through traditional distribution nationwide. The company, with manufacturing facilities in Crossville, Tenn., only produces porcelain tile. Crossville, Inc. is a wholly owned subsidiary of Curran Group, a privately owned holding company.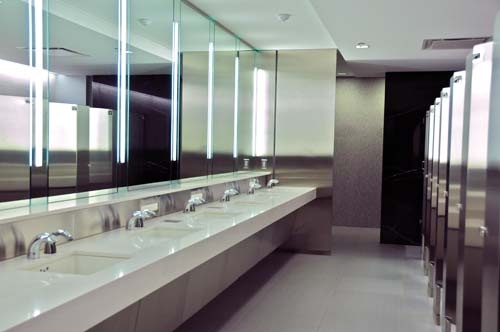 The John C. Kluczynski Federal Building, designed by Mies van der Rohe in the late 1960s, is an epic Crossville project in Chicago: It marks the time the company determined it could recycle fired porcelain materials that were previously installed—including porcelain fixtures, such as sinks and toilets.
Crossville was selected as tile manufacturer for the redesign of the 45-story building's 78 public restrooms that hadn't been updated since 1974. The project required a portion of existing porcelain tile and all existing porcelain fixtures to be recycled to create new porcelain tile. These would be installed in the restrooms from which the materials had originally been harvested.
Ultimately, more than 57,000 square feet of recycled tile were installed in the toilet room floors and floor-to-ceiling along the rooms' wet walls. An estimated 200,000 pounds of porcelain material were diverted from landfills to create new tile for this project.
Upon learning of its capabilities to recycle fired porcelain fixtures, Crossville launched a recycling partnership with sanitary ware manufacturer TOTO USA, thus achieving status as a net consumer of waste. The company has since recycled more than 114 million pounds of fired porcelain waste that would have gone to landfills.
They're an Eco-Leader because...
As the only large-scale tile manufacturer capable of recycling fired porcelain, Crossville can recycle previously installed tile harvested from demolitions and tile scraps that result from samples cutting and trimming during installation. It can also recycle other porcelain items, such as toilets.
Crossville produces its Sustainability Report, the only such report by a tile-only manufacturer in the U.S. This third-party, GRI- and ISO 2600-based report meets requirements of LEED V.4 MRc3 Credit.
The report provides a full GRI Index, enabling readers to easily access key data and details, in adherence with G4 requirements as defined by GRI.
All products by Crossville hold Green Squared certification. Green Squared is the industry standard developed by the Tile Council of North America to denote products that are responsibly manufactured and that hold necessary technical specifications to be certified as green.
Crossville is the first U.S. tile manufacturer to achieve production of large-format tile on site, manufacturing of tile with certified recycled content, certification for waste recycling programs, distribution of a complete line of large format gauged porcelain tile panels, and designation as a net consumer of waste in the domestic tile industry.