As we race towards the COP 21, anticipated to be a landmark series of negotiations resulting in a global agreement to curb carbon emissions, both the public and private sectors are making bold commitments to take climate action.
It's an exciting—and pivotal—time for the environment. The upcoming COP 21 United Nations conference on climate change taking place in Paris in December (considered to be the last realistic chance for the world to take action that will prevent global warming beyond a 2 degree Celsius increase) is compelling nations across the globe to announce concrete commitments to solve the critical issues of carbon emissions reductions, clean energy adoption, resiliency, and climate adaptation.
To date, 90% of countries around the world have submitted plans that will facilitate the transition to a clean global economy (with the remaining 10% expected to follow along in the next few weeks). And with India and Pakistan's recent declarations, all of the world's major economies seem to be supportive of a global agreement.
But it's not just the public sector that is gearing up for action—the private sector is also hopping on the bandwagon, driven by passionate corporate executives who want to "do right by doing well", as well as encouragement from the White House.
The Obama administration has been actively recruiting CEOs from Fortune 500 and smaller trend-setting companies, urging them to express their support for a breakthrough international agreement on climate change and enlisting their help in developing a framework for national policy development that is aggressive enough to be meaningful, but realistic enough so as not to harm business growth.
Doug Kramer, CEO of spray-foam insulation company Lapolla recently attended a round of meetings at the White House, during which the CEOs were "asked for input about how we, collectively, can expedite the process of finding out what's practical from a technology and cost standpoint to set deadlines for the phase out of harmful chemicals without jeopardizing business."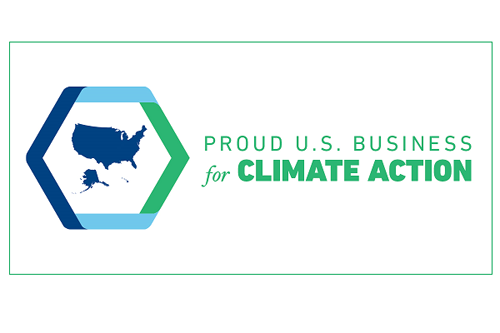 81 major companies have now joined the "Act on Climate" pledge, making specific commitments to clean themselves up, promising to decrease pollution, waste, and resource use, and to phase out harmful material inputs and chemicals.
Nike has pledged to power 100% of its facilities with renewable energy by 2025. Levi Strauss has committed to reduce greenhouse gas emissions by 25% and purchase 20% of its energy from renewable sources by 2020. Procter & Gamble has promised to promote cold-water detergents and produce all of its fabric care products in North America with 100% wind power. And computer chip maker Intel, which is already the nation's largest consumer of clean energy, has vowed to triple its use of on-site renewable energy by 2030.
Ingersoll Rand (IR) is also leading by example—the industrial company is actively phasing out harmful chemicals such as hydrofluorocarbons (HFCs) and utilizing lower impact material inputs. "IR is showing regulators not only that it is economically feasible to create more sustainable products without a negative impact to business, but that the transition can happen sooner than any of us anticipated—in 4-5 years, rather than 10-15 years," said Scott Tew, Executive Director of IR's Center for Energy Efficiency and Sustainability.
Much like Tew, Jack Truong, former CEO of Electrolux, believes that we should push to transition to cleaner technologies immediately, and that strong regulations should be imposed as quickly as possible. "When we impose high standards," Truong says, "then real breakthrough innovation occurs—we shift from evolutionary ideas to revolutionary thinking."
In stark contrast, fossil fuel companies, utilities, and special interest groups from Exxon to the Koch Brothers are digging in against proposed business strategies and progressive policies that involve even the faintest hint of climate action. Some groups are waging an outrageous war on solar, while others, like Exxon, are being accused of hiding evidence for decades that clearly shows the role that fossil fuels play in climate change and stymieing political action that would have prevented global warming in what has been called "one of the worst corporate crimes in U.S. history," by climate action group 350.org (Congress is now pushing for a federal inquiry into Exxon to determine if the corporation broke the Racketeer Influenced and Corrupt Organizations (RICO) Act and other laws protecting public health, truth in advertising, and consumer safety by "failing to disclose truthful information" about climate change.)
It will be interesting to see what kind of influence these groups have at the COP21. Climate denying Senator James Inhofe has already threatened to hijack the meetings, "just to let them know that there's another branch of government in addition to the executive branch." Inhofe launched a similar attempt to crash the 2009 climate talks in Copenhagen with an anti-science campaign, which failed horribly, with several attendees calling him "ridiculous."
Ultimately, the success of the Paris talks depends on how convincing the committed countries and their steadfast private sector partners can be in making the economic case for climate action, proving to each other and the world that climate action will be beneficial for both business and the planet, and decoupling strategies for economic growth from carbon emissions.
Fortunately, there is plenty of evidence that backs up the need—and benefits—of climate action, including a new study published in Nature earlier this month that points to a 23% reduction in projected global output by 2100 if we don't take action. This projection is based on expected land and worker productivity, which both decline as the temperature rises (in case you're wondering, the optimal temperature for economic productivity is estimated to be 55 degrees F.)
It's all but certain that some kind of an agreement will be reached in Paris. But the nagging question remains, will it be enough? And if not, what happens then?
What is your company doing to address our changing climate? Write to me at sara.gutterman@greenbuildermedia.com or follow me on Twitter or Facebook.
For more information about green building and sustainable living, visit Green Builder Media at www.greenbuildermedia.com, like us on Facebook, and follow us on Twitter for regular updates and breaking news