Between the World Health Organization's declaration that COVID-19 has reached levels of a global pandemic, President Trump's European travel ban, CDC's projection that up to 45% of U.S. citizens will contract COVID-19, and the NBA suspending the rest of its season, yesterday was rough. But, the human psyche is resilient, and it's only natural to grasp for even a sliver of silver lining.
Let me be perfectly clear—there is nothing good about the COVID-19 global pandemic. The impact of yesterday's announcements left me speechless, and almost hopeless.
But I am nothing if not an eternal optimist, so I find myself clinging to even the most remote possibility of a positive outcome.
On a purely temporary scale, satellite data collected by NASA shows a steep decline in pollution levels in China since early January, when the Coronavirus forced an economic slowdown.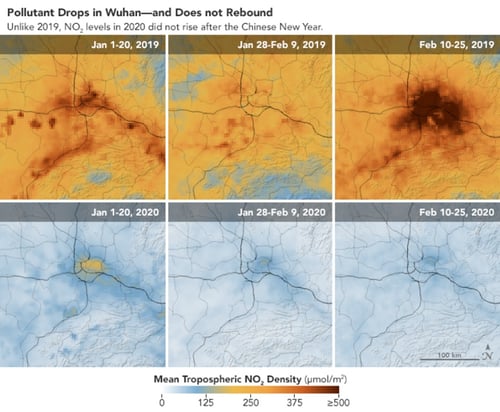 Fei Liu, an air quality researcher at NASA's Goddard Space Flight Center, asserted, "This is the first time I have seen such a dramatic drop-off over such a wide area for a specific event."
In fact, NASA reported that nitrogen dioxide levels in eastern and central China were 10-30% lower than the average levels for this time of year between 2005 and 2019 (as a point of reference, the decline in China's emissions over the past few months is equivalent to the amount of carbon dioxide that state of New York produces in an entire year.)
And while we can offer a small cheer for the momentary decrease in emissions from the world's largest polluter, economic disruption caused by catastrophe is not just heartbreaking, it's a fundamentally untenable way to implement and sustain long-term solutions.
No doubt, it's difficult to think too far into the future when the world is, understandably, myopically focused on containment and mitigation efforts. But it's important not to lose sight of the endgame, and as we look beyond our immediate struggle towards recovery, some interesting questions arise.
Will the disruption of our daily lives lead to large structural changes once the crisis subsides, ushering in new economic realities?
Companies of all sizes—from small professional firms to tech behemoths Facebook, Google, and Amazon—are encouraging (in some cases, requiring) employees to work from home. Will workers embrace the new model and ultimately choose to ditch the commute?
As Middlebury professor and sustainability activist Bill McKibben says, "The idea that we need to travel each day to a central location to do our work may often be the result of inertia, more than anything else. Faced with a real need to commute by mouse, instead of by car, perhaps we'll see that the benefits of workplace flexibility extend to everything from gasoline consumption to the need for sprawling office parks."
As the global pandemic spreads like wildfire, will it deepen our understanding that we are one integrated organism, that every action we take is just a ripple in a pond, affecting every other living species across the planet? Will it help us appreciate that we must take care of ourselves, our communities, and the only place that humans (at least at this point) can call Home?
And will that enhanced awareness then drive us to pivot our underlying financial system and social constructs accordingly?
Will we choose the path of least resistance and allow the outbreak to hinder our efforts to establish a sustainable economy in an effort to make up for lost time—and revenue—by offering stimulus dollars to polluting industries like oil, coal, steel, and cement for the sake of bottom line growth?
Or will we be bold enough to seize the moment, investing in clean energy solutions and electric vehicles to wean ourselves off fossil fuels; developing zero-carbon infrastructure and innovative water technologies; decreasing emissions; managing our plastic waste; developing new job opportunities; and prioritizing wellness over profits?
The climate crisis is an infinitely more enduring and lethal threat than the Coronavirus. Which makes me wonder, what if we were to treat the climate crisis with the same urgency as the Coronavirus?
What would be the impetus for us to do so? Uncontainable wildfires? Raging superstorms? Uncontrollable pestilence? We have those—here and now—and they haven't seemed to move the needle. How can we turn catastrophe into opportunity?
And when we look back on this moment in time, will we be overcome with the grief and regret that comes with lost opportunity, or will we be overwhelmed with the joy of knowing that we transformed ourselves into a glorious and powerful phoenix that rose from the ashes?
While these are all important questions to ponder, the top priority for now is that we all remain safe. On behalf of Green Builder Media, I wish you luck and Godspeed during this moment of crisis, and I hope that you and your families remain healthy and protected.
Want to read more? Follow me on Twitter and Facebook. For more information about green building and sustainable living, visit Green Builder Media at www.greenbuildermedia.com, like us on Facebook, and follow us on Twitter for regular updates and breaking news.