Here's how states, utilities and the auto industry can accelerate electric vehicle adoption.
By The Sierra Club, Acadia Center and Conservation Law Foundation
Automakers and auto dealers often say states need to create more electric vehicle (EV) consumer incentives. Government agencies and consumers often say automakers and auto dealers need to do more to advertise EVs and make them available in more states and at more dealerships. Many question why utilities are not taking a more active role in helping consumers switch to EVs. This report makes clear that we need an all-hands-on-deck effort from government, utilities, automakers, auto dealers, and it lays out a full range of priority actions and policies to accelerate EV adoption.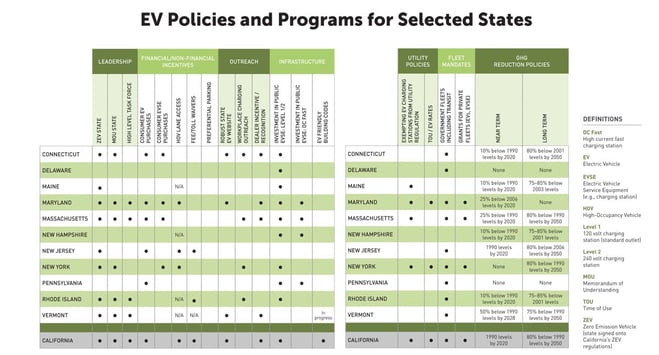 EVs Come of Age
Plug-in EVs are good for the environment and present a clear pathway to meet climate goals.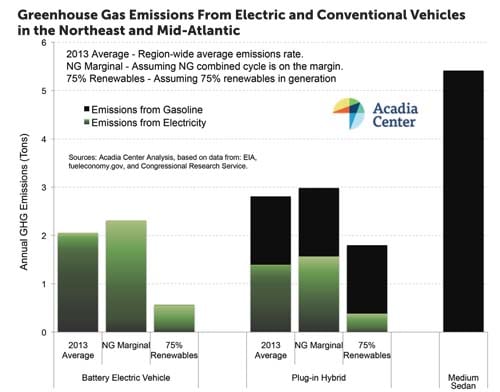 Purchasing an EV instead of a conventional medium sedan can reduce transportation greenhouse gas emissions by 60 percent.
Our current transportation system is unsustainable. The transportation sector is the second-largest source of U.S. greenhouse gas emissions, responsible for 33 percent of emissions nationally, according to the Acadia Center. To reach science-based greenhouse gas emission reduction targets, which require cuts around 80 percent over time, emissions from this sector will need to fall rapidly. In addition to walking, biking, car-pooling and using public transit, the clearest pathways to achieving these deep reductions include shifting energy sources for transportation from direct combustion of fossil fuels to electricity and continuing to clean the electricity sector with renewable resources.
EV Numbers in the Region are Growing, but Not Fast Enough
Recognizing the significant health, environmental and economic benefits associated with zero-emission vehicle (ZEV) deployment, the governors of California, Connecticut, Maryland, Massachusetts, New York, Oregon, Rhode Island and Vermont signed a memorandum of understanding (MOU) in October 2013 committing to work cooperatively to put 3.3 million ZEVs on the road by 2025, according to the California Environmental Protection Agency Air Resources Board. The MOU and subsequent Multi-State ZEV Action Plan identify specific measures that the states will take independently and jointly to build the market for electric and hydrogen fuel cell vehicles, in addition to specifying additional actions for each state to consider, according to the ZEV Program Implementation Task Force. These commitments marked a large step forward for the six participating states.
The automakers hold the keys to effective marketing and sales of their own products. In fact, they have good reason to do so. A recent survey by Ford Motor Company found that more than 90 percent of EV drivers love their cars and will make their next vehicle purchase another EV. But there are actions that states can take to support the automakers in accelerating the EV market. Together, the six Northeast and mid-Atlantic states participating in the MOU account for approximately 50 percent of the goal of 3.3 million vehicles by 2025, with the remaining 50 percent allocated to California and Oregon.
The graph below reflects approximately how many new EVs have been registered or reported in each of those six states as of August 2015, as well as how many will be needed cumulatively per state over the next 10 years to meet the 2025 goal, according to the Multi-State ZEV Action Plan. Registration numbers reflected here were reported to the authors directly from the states upon request in the summer of 2015. In some cases, registration numbers were reported as rounded or estimated figures and may not exactly reflect the number of vehicles registered as of the date of publication. The cumulative goals ramp up significantly in 2017. All of the states have significant work ahead to meet the 2025 goal.
Delaware, Maine, New Hampshire, New Jersey and Pennsylvania have thus far elected not to join the zero-emissions vehicle MOU. All of those states except New Hampshire, however, have adopted California's Clean Car Standards, although Delaware and Pennsylvania are not implementing the ZEV portion of the program. A key next step for those states is to join the rest of the region in fully adopting the California Clean Car Standards and joining the ZEV MOU. If the same modeling is used, adding those five states to the MOU would add 1.3 million zero-emissions vehicles to the 2025 target, bringing the total to 4.6 million on the road by 2025 among those eight MOU states in addition to the other Northeast and mid-Atlantic states.
In sum, there were approximately 31,834 ZEVs reported as of August 2015 in the Northeast and mid-Atlantic region, including MOU states and non-MOU states. In order to comply with the zero-emissions vehicle MOU, and to realize the full benefits available to the region from electrifying the transportation sector, Northeast and mid-Atlantic states need to take action to substantially increase that number over the next ten years.
In fact, according to one recent analysis commissioned by the Sierra Club, we actually need upwards of 10 million EVs on the road nationwide by 2025 to be on track to meet the 2050 climate goals cited in an analysis by the U.S. Energy Information Administration.
Because the market of electric vehicles relies so heavily on Northeast, mid-Atlantic, and western states to be early leaders, even the above trajectory is well short of what is necessary. While setting the MOU goal in itself does not guarantee EV deployment, it is a useful measure of the ambition and support levels necessary from the Northeast and mid-Atlantic states. It also provides a sense of how much more needs to be done: This goal is only ten years away, so we must pick up the pace to achieve success.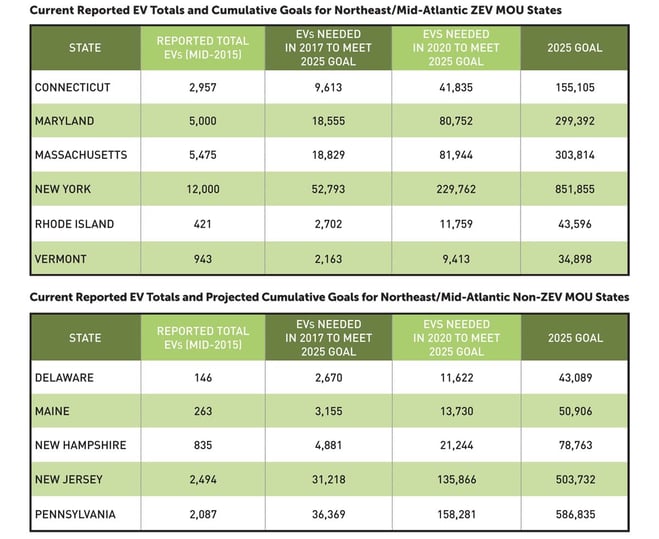 Utilities and Regulators Converge
Electric utilities and their regulators should help promote EV adoption and optimize the electric system.
Through their influence on electricity rates and investment programs, utility policies have significant power to affect how quickly EVs become widely adopted. To be most effective, any regulatory changes to benefit EVs must be pursued in conjunction with other trends in energy systems, such as the widespread adoption of solar and other clean distributed generation, micro-grids and energy storage.
Following are examples of reforms and programs that can incentivize EV adoption, allow for more charging infrastructure and decrease costs to ratepayers.
Time-varying rates, managed charging, demand response, and vehicle-grid integration programs can benefit EV drivers and minimize ratepayer costs.
Certain types of rate structures, including high demand charges, can inhibit otherwise sound investments in public fast-charging and other high-power-draw applications such as electric buses.
Planning and investments should improve opportunities to charge EVs and manage demand.
Criteria for evaluating utility investments should include benefits from reduced oil consumption, healthier air and lower greenhouse gas emissions.
Utilities should have incentives to promote a shift to clean distributed resources such as EVs.
Utilities should be notified of EV purchases.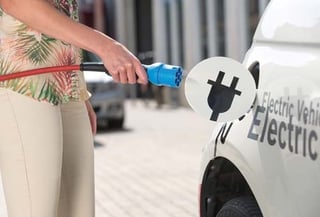 Ensuring charging stations are conveniently located is key to promoting EV adoption.
Policies Can Help Ensure Charging Stations Are Widely Available, Consumer-Friendly and Distributed Equitably
Reforms in a variety of other policy areas can promote the widespread availability of charging stations, allow easy access by the general public and minimize unnecessary installation costs.
Burdensome utility regulations shouldn't apply. Charging station owners and operators should be exempt from regulation as a public utility, and many states, including Maine, Maryland, Massachusetts and New York, have already taken this approach. In addition, weights and measures authorities should apply reasonable consumer protections, such as the requirements developed by the National Institute of Standards and Technology at the U.S. Department of Commerce.
Consumer-friendly policies can ensure access to the public. Signage should clearly identify charging locations and prices, and interoperability of charging infrastructure should be strongly encouraged. In addition, publicly accessible charging stations should not require memberships or subscription fees, must allow payment by credit card or mobile technology and should be included in public databases.
Building codes and permitting policies should be reformed to minimize long-run costs and encourage installations. If the necessary electrical capacity and wiring is included when the building is constructed, the cost of installing charging can be greatly decreased. In addition, reasonable requirements for EV-ready wiring for parking lots and garages should be included in planning processes and regulations, and permitting processes should be streamlined to encourage installations. Finally, unreasonable requirements on charging stations at multi-family developments should be forbidden.
Targeted incentives and programs should be implemented for high-priority charging categories and hard-to-reach market segments. Additional incentives and programs should be designed as needed to ensure that all communities have access to vehicle charging and other public policy needs are met.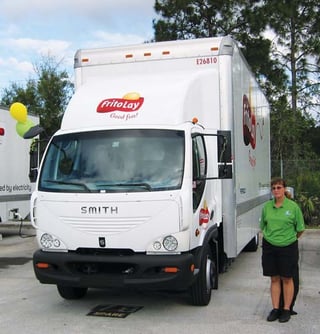 In 2011, Frito-Lay released all-electric fleet of 176 delivery trucks.
State and Local Governments Should Lead By Example
States, counties, cities and towns have a variety of opportunities to lead by example to promote vehicle electrification. A 2015 International Council on Clean Transportation report shows, for example, that when U.S. cities put in place key policies, they have EV adoption rates two to seven times higher than the national average.
Governments as fleet owners. Governmental bodies should change their procurement policies to ensure full consideration of EVs for suitable uses. They should also develop and adopt best practices to maximize electric miles driven. In addition, states should have fleet-wide fuel economy requirements and rules that a minimum percentage of purchased and leased vehicles, such as 25 percent, should be plug-in by 2025.
Governments as workplaces. Governments are major employers and should provide their employees with workplace charging stations and education on the benefits of EVs.
Governments as parking managers. Governments can install charging stations and designate preferential parking spots for EVs in publicly accessible lots and other public parking areas. Similarly, they could reduce or waive parking fees for plug-in vehicles. Additionally, communities can encourage EV car-sharing to give people first-hand experience driving an EV. Government agencies can help reduce the cost to private car-sharing companies of offering such a service by paying for designated parking spaces.
Auto Makers: Step It Up
Auto companies and dealers can accelerate EV sales— and states can help.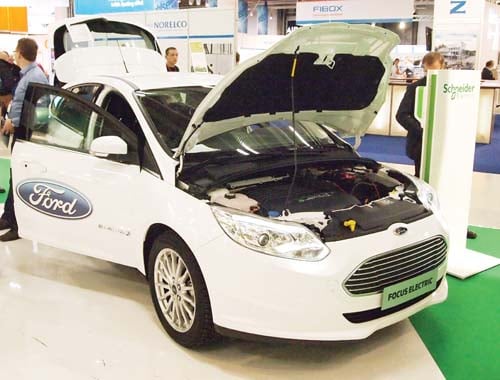 Dealers can increase EV sales by educating employees and keeping EVs in stock.
Automakers and dealers play an important role in how rapidly consumers are switching to EVs. Corporate sustainability goals and federal light-duty vehicle emissions standards, as well as zero-emission vehicle regulations in 10 states, have encouraged automakers to offer more than 20 plug-in models in the United States. However, it's important to note that automakers have chosen not to sell some of the most attractive EVs outside California. Instead, they manufacture only enough to meet that state's requirement that large automakers offer a certain number of ZEVs for sale. These "compliance cars" include Fiat 500e and Chevy Spark EV.
Automakers and dealers are missing out on a ripe opportunity to capture new business. However, EV buyers are often frustrated with their experience at dealerships, where they find EVs unavailable and dealer staff not knowledgeable about the products. In fact, UC Davis found only 21 percent of EV buyers said they would "definitely" purchase from the same dealer again, as compared to 35 percent of conventional vehicle buyers.
While companies such as Nissan, General Motors and Tesla Motors lead in monthly EV sales figures, all companies would be selling more EVs if automakers, dealers and government agencies took or accelerated specific actions.
For example, Consumer Reports found consumers looking for plug-in models often visit dealerships and find no plug-in models on the lot. Both automakers and dealers need to increase plug-in car inventory. If dealerships do sell EVs, they often place them at the back of the lot. The dealerships that are most successful at selling EVs are those that place EVs and charging stations prominently at the front of the lot. Some even get creative and place HOV lane stickers (in states that offer these for solo EV drivers) on the cars and/or signs about rebates to remind consumers of the types of incentives EVs will afford them.
Also, automakers spend a lot of money on nationwide print, online and television advertising. Dealerships advertise in local and regional radio, television, and print outlets. If automakers and dealerships increased their advertising efforts for plug-in models and showed off the cars at community events, consumers would be more aware of and eager to buy EVs.
While in some ways EVs are just regular cars, in other ways they are a new technology. Many shoppers report knowing more about EVs than the dealers they consult. In a 2014 investigation, Consumer Reports dispatched 19 mystery shoppers to 85 dealers across four states, and they found many dealers knew little about the EVs they sold. In some cases, dealers outright discouraged EV purchases.
Consumers appreciate knowing how and where the cars refuel, how fueling costs are significantly lower than for conventional cars, which rebates and incentives apply to them, etc. Promoting incentives like the federal tax credit (up to $7,500 per car) and certain state rebates (up to $3,000 per car) could be huge selling points to customers. Corporate automakers make some information and training available to dealerships about plug-in cars, but they could accelerate these efforts significantly. Dealers, too, could increase their own training efforts, including identifying key seasoned staff members and training them to become their EV experts.
State agencies should partner with and incentivize dealerships to sell more plug-in cars by offering monetary or promotional rewards, coordinating incentives and discounts, and educating dealers about state EV programs and policies.
An Opportunity for Leadership
A major switch to plug-in EVs will enable states to increase energy independence as well as slash air pollution and climate change emissions. Leaders with government, utilities, auto companies, and auto dealers all have tremendous opportunities to design bold, creative, and effective policies and programs that will accelerate growth in the EV market. The programs and policies described in this report offer leaders powerful examples and opportunities to improve and scale up. Now is the time for audacious and rapid action, leadership, vision, creativity and collaboration that will hasten the transition to a clean energy future.
Educating. What Works?
Widespread education builds public awareness and enthusiasm.
The vast majority of car buyers are still lacking the basic knowledge they need in order to even consider purchasing an EV, even though those who drive EVs love them. According to Consumer Reports, in 2014 the Tesla Model S was the best-loved car—of any car, not just electric—with 98 percent of owners saying they would buy one again. In addition, the more affordable Chevrolet Volt was the best-loved compact. Most people are unaware of these accolades. Automakers bear a large responsibility for advertising the benefits of their vehicles to consumers, but government agencies, utilities, nongovernmental organizations and others must play an important role as well.
Organize Fun and Educational Events, Including Ride-and-Drives A 2010 survey of 900 Southern California Edison residential customers who intended to purchase or lease a new vehicle in the next five years found that "the vehicle acquisition decision is influenced more by what co-workers, friends and neighbors drive than by dealers or promotional materials." For example, the Sierra Club, Plug In America, and the Electric Auto Association, as well as other local partners, have organized National Drive Electric Week events to educate the public about the benefits of EVs since 2010. Part of the draw of the events is that they are held in public, not at car dealerships. Government agencies and organizations like Plug In America also put on other educational EV events at workplaces, on college campuses and at conferences throughout the year.
Promote Workplace Charging When employers install charging stations, it helps reduce several barriers to EVs by providing employees, vendors and customers with a daily, visual reminder that EVs exist. A survey by the U.S. Department of Energy (DOE) found people are 20 times more likely to drive a plug-in vehicle if they have access to charging infrastructure at work. The DOE's EV Everywhere Workplace Charging Challenge provides technical support as well as recognition to companies, municipalities, universities and others that take basic steps to offer workplace charging to employees.
Create a Strong Website Some states have informative and easy-to-navigate websites about the benefits of EVs and the steps to purchase one.
DriveElectricVT.com is an excellent model of a website created through a public-private partnership.
The Massachusetts Offers Rebates for Electric Vehicles program has a user-friendly website, MOR-EV.org.
The Sierra Club has created an interactive online Electric Vehicle Guide that has information about all plug-in models on the market, how much people will save in fuel costs and emissions in their region of the country, and what government and utility incentives are available in their state. It also includes Pick A Plug-In, a quiz to help people figure out which EV, if any, is right for their lifestyle.
The Union of Concerned Scientists created a useful report titled State of Charge, which indicates the regions of the country that are "good, better, and best" for switching to EVs when it comes to reducing carbon emissions.
Create Compelling EV Ads and Outreach Automakers and dealers should invest more in ads for EVs that will reach a large audience. At government-owned buildings and other locations, the agencies should require EV parking spaces and signs. In addition, government agencies and utility companies should create public service announcements and mailings about the benefits and incentives regarding EVs.
This article consists of excerpts Charging Up, a report by the Sierra Club, Acadia Center and Conservation Law Foundation. To read the entire report, visit www.sierraclub.org.