Cooking with Glass at the Arc House
Efficient, flexible, and powerful, Miele's induction cooktops show why the technology is a popular choice for today's green homes.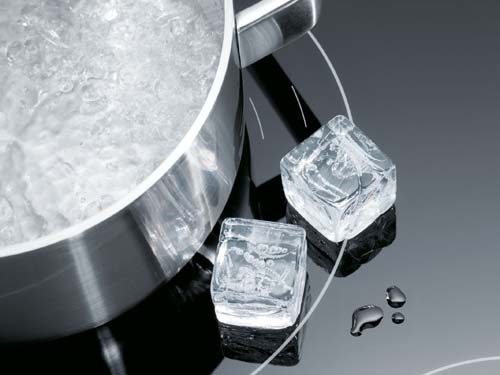 Miele's ceramic glass induction cooktops are available with a stainless steel frame, or they can be flush-mounted for seamless integration into the countertop.
German appliance manufacturer Miele includes several induction models in its suite of high-quality cooktops. Induction cooktops offer several advantages, and building professionals often specify them in cutting-edge green homes. Rather than heating elements, induction technology uses electromagnetic energy to directly heat cookware. With efficiencies above 80 percent, induction cooktops are more efficient than either gas or electric counterparts. Boiling and cooking times are much faster, and little to no excess heat is generated. If there is no pan on the burner, the surface does not heat up and stays cool to the touch – a great safety feature to have in the kitchen. The technology also enables precise control, including extremely low simmering. Induction cooktops are also flexible. Miele's models, for example, automatically adjust the cooking zone to the size of the pot, and PowerFlex zones can accommodate different types of cookware, from rectangular pans, casseroles and griddles to round pots. Induction cooktops are easy to vent and can be downdrafted. Finally, many prefer the ease of cleaning and streamlined aesthetic of ceramic glass induction surfaces.
Miele offers gas and electric cooktops or rangetops as well, all designed and manufactured to the company's high standards. One of the latest offering is its Gas on Glass cooktop—a gas range with dishwasher-safe grates and a sleek glass surface for easier cleaning.
For more information on induction technology, visit https://www.mieleusa.com/microsite/induction/index.html