Construction Vehicle Innovations
From high-performance trucks to efficient Euro-vans, there are more choices than ever for your next work rig.
WHETHER A FLEET manager, an electrician with a van or a truck-driving GC, building professionals rely on their work rigs to get them to the job, haul tools and materials and even serve as mobile offices. And for the typical American, there's more than a little identity tied up in one's vehicle. But for those of us involved in green building, there's also the irony of burning fossil fuels on the way to a job that's supposed to demonstrate sustainability. When it comes to purchasing your next rig, what's the most responsible choice?
First, evaluate your needs. What kind of volume, payload and towing capacity do you really need? If you manage a fleet, look at the numbers. Gasoline may be cheap now, but when it inevitably spikes again, are you going to be paying through the nose to keep those vehicles on the road?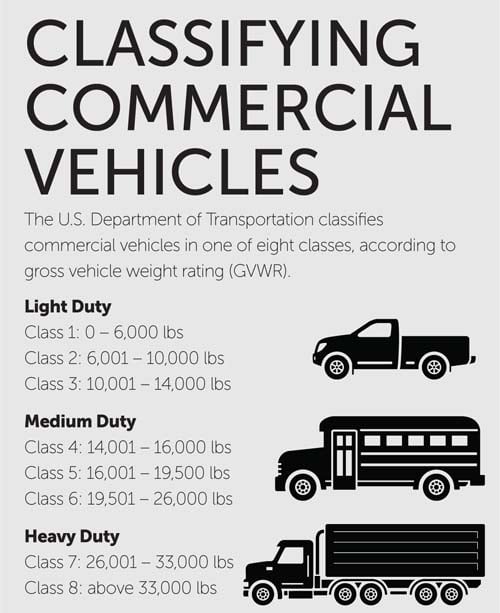 Fortunately, competition and demand are forcing manufacturers to provide better options: vehicles that perform and that boast decent fuel economy. The increasing availability of alternative fuels provides another avenue for cutting carbon emissions. And while there still aren't many options when it comes to electric or hybrid work vehicles, expect to see them in showrooms within the next five years.
The Van, Again
"We see a lot of change happening in commercial vehicles right now," says Dave Sowers, head of Ram Truck Marketing at FCA US LLC. He cites three trends marking the evolution of the commercial market: right sizing of vehicles; improving efficiencies; and growing capability.
"Businesses are taking a hard look at what they need and are choosing vehicles that are no larger than necessary," says Sowers. To that end, there have never been more available configurations for light commercial vehicles, especially for vans. And the plethora of choices is causing even truck devotees to take pause.
This trend was underscored at the Work Truck Show 2015 this spring, where vans took the spotlight. In his article on the show written for Today's Motor Vehicles, Robert Schoenberger wrote: "Automakers are in the midst of launching dozens of new van models at a time when many fleet managers are looking to cut costs by using relatively inexpensive light vehicles instead of multi-axle trucks."
For decades, there was only one basic model of cargo van. It was based on a pickup truck and featured rear-wheel drive and a V8 engine. Today's versions benefit from European innovation, where high fuel prices have driven increased efficiencies. These driver-friendly vans have V6 engines and front-wheel drive; many also offer the flexibility of multiple configurations.
Daimler's Mercedes-Benz Sprinter arguably started the trend. Introduced under the Freightliner brand in 2001 and as the Sprinter in 2010, it comes with a standard or high roof and two wheelbase options. Its enviable standing height and cargo volume, multiple configurations, clean diesel engines and fuel-saving features made it an attractive option over the standard cargo van offerings. But now the field is crowded with competition. Major manufacturers that have begun offering Euro-style vans in the U.S. in the past few years include Nissan, Chevrolet, Ford and and Ram, which is a division of FCA US.
Ram's ProMaster vans come with two roof heights, three wheelbase options and two engines, including the 3.0-L EcoDiesel. Choice is also the operative word for the popular Ford Transit van. The Transit comes with three engine options, including the 3.5-L EcoBoost (the same engine is in the top-selling F-150 truck) and a 3.2-L, third-generation diesel. In 2016, compressed natural gas (CNG) and propane conversions will be available, as well. With three roof heights, three wheelbase lengths and customizable "upfits"—drawers, dividers and storage bins—the Transit can be tailored to an almost endless degree.
Ford introduced the Transit in North America in 2014. The Transit, which replaced the E-Series vans, has been popular in Europe for decades.
"We said, let's take the best of both worlds to fit one platform that meets all the needs of our customers," says Yaro Hetman, brand manager for Ford Transit, Transit Connect and E-Series.
The Transit has won several awards this year, including six of the possible nine Vincentric Fleet Value awards.
Smalling It Down
Gone are the days when a contractor must remove the seats in passenger van to make it more practical. Along with the explosion of choices among large cargo vans, the introduction of Class 1 vans has transformed the market. These include Ford's Transit Connect, Ram's ProMaster City, the Chevy City Express and Daimler's Mercedes-Benz Metris.
"The ProMaster City was our entry into the Class 1 market," says Sowers. "In 2009, we sold zero. Six years later, we expect to sell 90,000 units." The van comes with one wheelbase, one powertrain and one roof height configuration. But its big claim to fame is its 29 mpg highway rating. The ProMaster City's cargo capacity is 131 cubic feet, but more importantly, there are 48 inches of space between the wheel wells—a "big deal," says Sowers, as the space can accommodate a pallet or sheets of plywood.
The new Mercedes-Benz offering, the Metris, slides neatly in between the larger cargo vans and the smaller Euro-vans such as the Transit Connect. Offered in either a cargo or passenger van, the Metris features a gasoline engine and a cargo volume of 186 cu. ft. Its fully loaded weight (GVWR: 6,724 lbs) puts it just outside of Class 1 and into Class 2 rating.
With so many choices, here is where right sizing can really make an impact in a big fleet, says Hetman. "ADT Security was one of the first to look and say, do we really need a full-size van? Now, the vans are smaller and more fuel efficient, and the drivers are happier."
According to Hetman, contractors are discovering another benefit of Euro-style vans over the more traditional truck: instead of crawling in, you can walk in to full height. Some are also converting vans to mobile offices.
While diesel engines are available and even preferred for larger vans and heavy-duty trucks, and though diesel engines are standard on small vans throughout Europe, they are still not available for smaller Euro-vans in the U.S. market. "I do see increased interest for diesel where it makes sense," says Sowers. "Diesel is more expensive in the U.S. because of the cost of refining and taxes, whereas diesel pays itself off faster in Europe because of the high cost of fuel."
Work Trucks
Rest assured; trucks are not going anywhere. According to a survey conducted in 2014 by Tools of the Trade, the pickup was the vehicle of choice for 56 percent of general contractors (new construction) and 49 percent of those classifying themselves as "handymen." The Ford F-Series pickup once again captured the prize for best-selling vehicle in 2014, selling nearly 744,000 throughout the year. The second and third top-selling vehicles were also trucks: the Chevy Silverado and the Ram truck.
There is one area where vans cannot compete with trucks: payload and towing capacity. Contractors love their trucks, and the major manufacturers are doing everything they can to appeal to their sensibilities and their wallets. Most manufacturers are offering high-tech features and luxury interiors along with competitive payload and mpg ratings.
Ford's F-Series includes models ranging from the Class 2 F-150 to the F-Series Super Duty (F-250, F-350, F-450). The company has revamped the F-150, touting its improved fuel economy and performance. It has shed 700 pounds, thanks to use of high-strength steel in the frame and military-grade aluminum alloys in the body and bed. Available engines include the 2.7-L and 3.5-L V6 EcoBoost engines; trucks outfitted with these engines have earned some pretty impressive numbers: city/highway/combined mpg for the F-150 4x2 is 19/26/22 with the 2.7-L EcoBoost and 17/24/20 for the 3.5-L EcoBoost.
A compressed natural gas (CNG)/propane fuel package is available for F-150s equipped with 5.0-L V8 engines. According to the company, it's the only light-duty pickup with the capability of running on these fuels.
Similarly, Ram has been upgrading its 1500 model. The company began offering a new package centered around the 3.6-L Pentastar gas engine about a year ago.
"In 2013, we put in a bunch of technology to increase efficiency," says Sowers. The new features included grill shutters (big grills rob the vehicle, aerodynamically) and an eight-speed transmission. The truck was rated at 25 mpg (highway), which Sowers says was "unheard of," for a full-size truck.
In 2014, Ram launched the 3.0-L EcoDiesel, which boosted the truck's fuel economy even further. "Now, we're up to 29 mpg on the highway in light-duty truck," says Sowers. "This has put pressure on our competitors."
On the Smaller Side
Toyota has updated the Tacoma, its popular mid-size truck, in part to ensure its industry-leading market share with the release of competition by GMC and Chevrolet.
"The 2016 Tacoma is a new truck from head to toe," says James George, marketing manager for the Tacoma. Most significant is the new 3.5-L V6 engine, which purports to be both more efficient and more powerful than the previous one, a 4.0-L V6. It can switch from the conventional four-stroke cycle to the more efficient Atkinson cycle, depending on demand. The Atkinson cycle improves efficiency by slightly delaying the intake stroke—the first of the four-stroke cycle—making the compression stroke shorter and the "power" stroke longer. This type of engine is used in virtually all hybrid gas-electric vehicles, including the Toyota Prius.
The new V6 will generate 278 horsepower, an increase of 42 HP over the previous V6, and 265 lb.-ft. of torque at 4,600 rpm.
FUEL FINDER
Locate alternative fuels, including electric charging stations, with this locator tool provided by CNG-One. You can search for a specific fuel type—biodiesel, for example—or for all alternative fuel stations, based on your location or planned route.
With the improved efficiency, Toyota "will have best-in-class city mpg and class-leading combined mpg," says George. The 2016 Tacoma is also available with a 2.7-L four-cylinder engine.
Other changes are the integration of high-strength steel, which makes the vehicles slightly lighter, and the addition of several high-tech features that George calls "first in segment." These include wireless charging and dual-zone auto A.C. GoPro camera mounts come as a standard feature, reflecting one of the biggest Tacoma markets: off-roaders.
Toyota has also revamped its truck packages in order to simplify the ordering process while still providing flexibility. Each of the five grades is targeted to a different customer, says George. The Work-ready SR is the entry-level "work truck," while the Iconic SR5 is the brand's volume leader. Each grade still comes with various configurations and two cab types. (In the past, 1,000 different configurations were available.)
Give It Some Gas…or Not
Low gas prices have put a damper on alternative fuels such as compressed natural gas (CNG), propane and biodiesel; nevertheless, some fleet managers are committed to diversifying their fleets. Some states also have mandates (Nevada, e.g.) or offer incentives (California, e.g.) for purchasing new vehicles that run on alternative fuels.
According to the Department of Energy, vehicles that run on CNG and LNG can produce fewer life-cycle emissions. Based on one model, natural gas emits approximately 6 to 11 percent lower levels of GHGs than gasoline throughout the fuel life cycle; this is in large part because of greater fuel leakage during the production phase of gasoline. CNG production uses less petroleum and emits fewer GHGs than LNG, because compressing natural gas requires less energy than liquefying it.
Renewable natural gas (RNG), also known as biomethane, is an even better option. RNG, which results from the natural breakdown or organic material, is chemically identical to fossil natural gas, yet yields far fewer GHG emissions during the production process. According to the DOE, blending relatively small quantities of RNG with fossil-based natural gas can provide significant life-cycle GHG emission benefits.
Vehicles can either be fully converted to CNG or propane, but some choose a "bi-fuel" option, installing two tanks so that the operator can switch to conventional gasoline when necessary. Converted vehicles require EPA certification. The upfront costs to convert fleet vehicles to natural gas can be offset by lower operating and maintenance costs over the lifespan of the vehicles.
Owners of diesel vehicles, especially older models, might consider switching to biodiesel. Made from vegetable oil, often recycled restaurant grease, biodiesel is nontoxic and biodegradable and far less polluting than fossil diesel. It can be run in any diesel engine.
"There's a misconception that you need to do something to convert your vehicle, but there's no modification required whatsoever," says Chis Anderson, a habitat restoration contractor based in Ashland, Oregon. Anderson has run biodiesel in his 1993 Dodge D250 for nearly a decade.
Like all vegetable oil, biodiesel gels at cold temperatures. In summer, Anderson uses B99 biodiesel (B99 consists of 99 percent biodiesel) from Rogue Biofuels, which sources all of its oil from restaurants. In winter, he switches to a 50:50 blend of biodiesel and what he calls "dino-diesel."
"Two things you should be aware of when using biodiesel," says Anderson. "One, is it certified? Two, what is the source of your fuel?" Fuel made from recycled oils has a smaller environmental footprint than virgin oil.
First-time biodiesel users, or those with engines made before 1993, may need to change fuel filters and/or rubber fuel system components shortly after switching to high-blend biodiesel.
Going Electric?
A few years ago, Ford partnered with Azure Dynamics on a Ford Transit Connect Electric vehicle. Unfortunately, the concept died when Azure filed for bankruptcy. Today, there still aren't many choices for electric or hybrid electric commercial vehicles. One company poised to offer them soon is VIA Motors. The company has earned EPA certification for both its full-size Plug-in Extended Range Electric (eREV) pickup truck and for its eREV van. The company will install its technology exclusively on GM platforms such as the Silverado truck and Express van.
Another company to look out for is Lightning Hybrids, which offers hydraulic hybrid "regenerative braking systems" for heavier-duty trucks and buses, including some Ford F-Series trucks, Ford Transit and Mercedes-Benz Sprinter. This "piggy-back" system, which stores braking energy for later use, is added to an existing drivetrain without modifying any major components. According to the company, hydraulic energy storage is both cheaper and more efficient than battery storage. For a full list of platforms for which the system is available, visit http://lightninghybrids.com/sales/vehicle-list.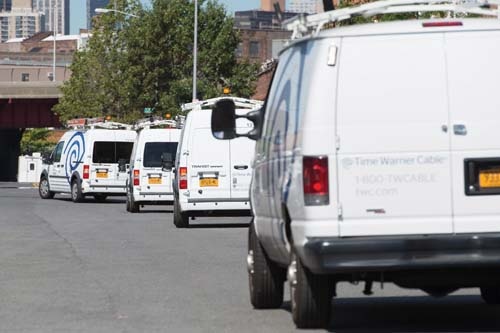 Ford Transit and Transit Connect vans are are replacing Ford E-Series and GM G-Series vans in Time Warner Cable's fleet.
Improving Fleet Economy
Time Warner Cable launched its Go Green initiative in 2012, with the goal of reducing carbon intensity by 15 percent by the end of 2014. As part of the strategy, the company began replacing vans in its fleet with more efficient diesel-model Ford Transit and the smaller gas-powered Transit Connect vans.
The company began by swapping 173 of its New York City vans with the Transit Connect. That change alone resulted in a monthly savings of 553 gallons of fuel, 5.35 tons of carbon and $2,245. Time Warner increased fuel efficiency by 14 percent across its fleet by the deadline and exceeded its carbon intensity goal by more than double, but it hasn't stopped there.
Since the beginning of this year, the company has added nearly 500 diesel Transits to its fleet, which totals 20,000 vehicles. The move is expected to improve fuel economy (mpg) by nearly 50 percent.