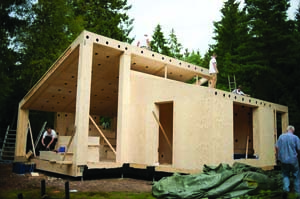 Building in a Snap. Danish company Eentileen and Facit Homes collaborated on Villa Asserbo, a digitally-fabricated cottage. Parts were "printed" from sustainably-harvested plywood using a CNC machine, then snapped together.

WITH DIGITAL FABRICATION, the updated version of pre-fabrication, the materials for a structure are designed, cut out on a CNC router (in as fast as 24 hours) and snapped together like a jigsaw puzzle, either on-site or in a factory. The entire process takes just several weeks. Examples of this technology include residential projects by London-based Facit Homes and, more recently, Ontario-based The Bunkie Co., which makes small pre-fabricated cabins.

Evan Bare, co-founder of The Bunkie, says digital fabrication is "a bit of a game-changer, to say the least." He sees several advantages of building in factories rather than on-site: "Building year-round will help reduce seasonal job swings. Controlled environments within which materials are processed will ensure high accuracy and yield while machining. Sharing data from one factory to another will be much easier, and standardizing on a simple set of tools like CNC routers can really simplify the construction process." Bare also believes construction technology such as digital fabrication presents an opportunity to shift away from our current model of production building, too: "With the thought of material yield maximization, increased material costs and need for greater efficiency, smaller homes should be the focus of this movement. Why build 3,000+ square feet when you can do so much with a well-planned 1,400-square-foot space? Our sense of entitlement to consume needs to change."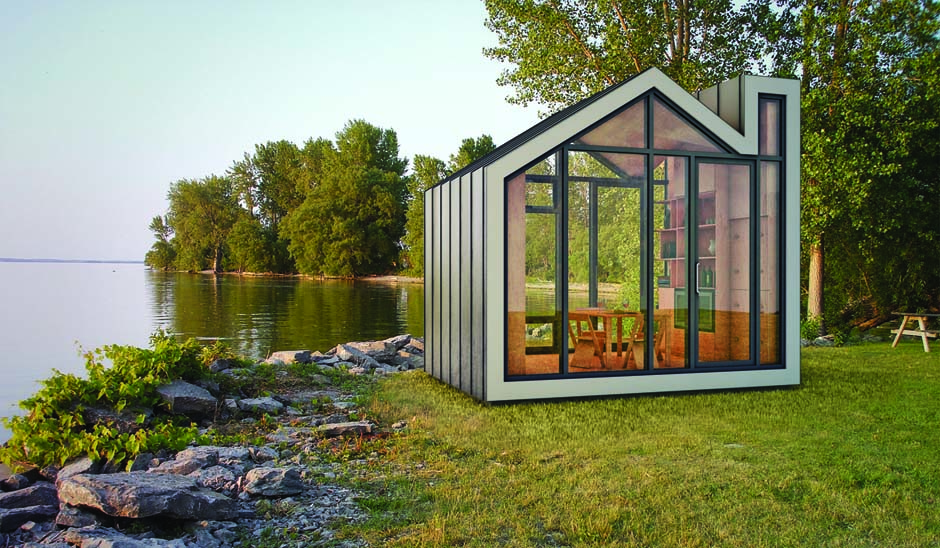 CNC Cabins. Computers cut out plywood parts that form The Bunkie's structure, optimizing materials and reducing waste. The 15 structural components bolt together; afterward, cladding, glass and shelving—including a Murphy bed—are added to complete the units.