Connected Living: The Next Frontier
Connected Living offers homeowners new levels of convenience, efficiency, and independence as our smart homes can now learn our behaviors and respond accordingly to enhance comfort and cost-savings. Thorough COGNITION Smart Data, Green Builder Media is closely tracking key trends, market drivers, and innovations within the exploding connected living sector.
The proliferation of the connected living space is mindboggling. Nearly 40% of Americans currently use smart technology in their homes. 65% of homeowners either own a smart home device or plan to purchase one this year. Americans will spend $90 billion on smart home devices by 2023. Once a homeowner purchases one smart home device, they are 70% likely to purchase another one. And 60% of homebuyers will pay more for a smart home.
Through COGNITION Smart Data, Green Builder Media's suite of market intelligence and data services (powered by a sophisticated, proprietary technology platform that uses Artificial Intelligence and the logic of IBM's Watson to mine web and social media content), we are able to track the mushrooming connected living sector.
There are two main audience segments that driving this ballooning growth: Millennials and Active Adults. Millennials, representing 83+ million individuals ages 18-38, have grown up with technology—it's in their DNA. Now that 37% of them are in the housing market (with 74% of those house seekers are looking for a smart home), it's no surprise that they're driving market demand for intelligent products, systems, and devices.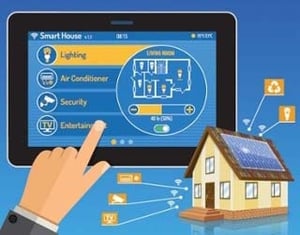 With respect to Active Adults, a record 46 million people are age 65 and older in the U.S. today, a number that is projected to grow to over 67 million by 2050. These Active Adults are embracing smart home technology that can help them age in place and stay in their homes longer, adopting a range of Assisted Living Technologies (ALT) like motion sensors, fall detection devices, health monitors, and prescription dispensers. While these technologies do require an upfront investment, that investment is only a fraction of what is costs to place an individual in an assisted living facility, so Assisted Living Technology is yielding net positive returns for Active Adults.
Convenience is a growing market driver for connected living technologies. 57% of Americans say that having smart products in their house saves them about 30 minutes per day, which equates to 182.5 hours a year, or roughly a week and a half. According to Green Builder Media editor in chief Matt Power, "There is a real quantum shift in smart home tech is underway—a move from the foreground to the background of our lives. As connected tech in the home evolves from novelty to invisible helper, the brands and products that flourish will genuinely free up time for things people actually care about."
According to COGNITION data, the most desirable use cases for connected living address security concerns. For example, homeowners want their smart home systems to protect their data and detect dangers in the house (fire, intruders, etc.) and send alerts. They're also looking for proactive systems that can protect their homes from things like poor indoor air quality, water leaks, and mechanical equipment malfunctions (with diagnostics that can alert a homeowner before an air conditioner or water heater breaks down.)
Homeowners purchase smart home devices to improve energy efficiency (47%), address security concerns (26%), allow remote check-in (23%), save money (16%), enhance comfort (12%) and improve the health and wellness of their homes (10%).
Consumers generally feel positively about connected living. Most say that smart home technology makes their lives easier and safer (38%), some feel good for now but the verdict is still out (37%), a smaller group are neutral on the subject (18%), and a few holdouts remain skeptical (6%).
And while the connected living sector marches on at a breakneck pace, it's not all smooth sailing. Consumers are frustrated with integration and connectivity issues, siting that smart home systems are not intuitive, difficult to use, and don't work as advertised.
37% of consumers have expressed dissatisfaction with the fact that their smart devices don't connect with each other or a central hub, and 34% have been stymied by unforeseen glitches.
The current level of fragmentation in the space—pertaining to both device integration as well as the lack of unified technology platforms, standards, and protocols, is an area that needs to be addressed by manufacturers, policy makers, and building professionals alike—and quickly.
Security is the #1 purchase consideration for consumers with respect to smart home devices, but it is also the elephant in the room. Metadata collection and privacy concerns are top of mind across all consumer audience segments. Only 18% of consumers believe that their smart home data is protected. 39% believe that their data is not protected, and 43% aren't sure.
Nonetheless, consumers can't get enough of smart home devices, and the exploding market offers manufacturers and building professionals an incredible opportunity to deliver creative solutions and advanced technologies that will enhance home performance, sustainability, comfort, and wellness.
Through COGNITION, we're keeping our eye on some pretty incredible innovations, like ambient/distributed computing (sensors integrated into spaces all around us rather than in just one device, tablet, phone or computer); artificial intelligence and machine learning; face recognition technology; demand-side energy management and peak load shifting systems; and geolocation services.
We're also watching advances in connectivity that will eliminate integration issues by allowing devices to talk directly to one another; enhanced intelligence systems that process behavioral patterns and create intuitive experiences for homeowners; local data processing (on a home level rather than in the cloud) to address privacy concerns; and a transition from personal computing (one person controls one device) to communal computing (several people can control devices in a shared space.)

While these advancements sound complex, the general market movement in the smart home space will actually be towards further simplification and unification of protocols, hubs, devices, and connectivity points to address today's integration issues.
The exploding connected living market represents a watershed business opportunity for building professionals and manufacturers. But a word of advice—to stay ahead in the connected living space, it's imperative to move quickly, as the ever-evolving sector charges full speed ahead into new frontiers of innovation and disruption.
For more information about COGNITION Smart Data insights about the quickly changing dynamics of the connected living sector, check out the webinar I recently presented on the topic.
And if you'd like to learn more about how you can unleash the power of COGNITION to enable your team to make more informed decisions about marketing, sales, competitive positioning, audience segmentation, product development, or strategic business development, email me at sara.gutterman@greenbuildermedia.com.
Save the date! Join us to celebrate our 12th annual Home of the Year and Sustainability Awards winners on January 19, 2020 in Las Vegas, as well as for our Sustainability Symposium 2020: Improving the Human Condition on January 20. Click here for more information—we'll let you know when registration opens!
Want to read more? Follow me on Twitter and Facebook. For more information about green building and sustainable living, visit Green Builder Media at www.greenbuildermedia.com, like us on Facebook, and follow us on Twitter for regular updates and breaking news.