Community of Passive Homes Becomes Reality in Maine
This 36-unit community may be the nation's first planned development built around Passive House green building standards.
By Sarah Lozanova
Even from the layout of the homes, visitors can tell something is unique about Belfast Cohousing & Ecovillage. "Where are the driveways?" one guest asks. "How strange, these houses don't have any driveways!"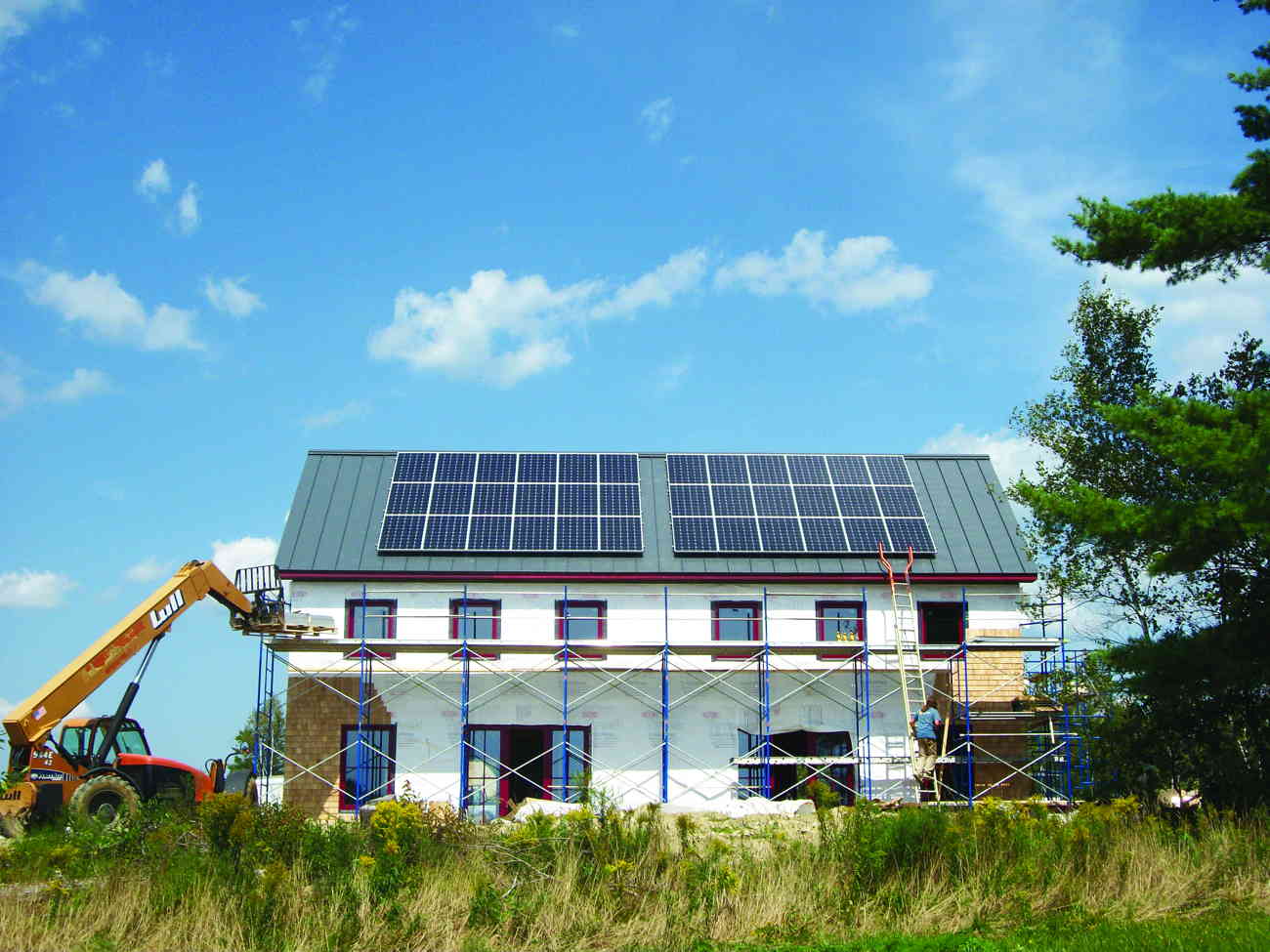 Belfast Cohousing & Ecovillage (BCE) is a 36-unit intentional community on 42 acres in Midcoast Maine. Members designed the community from 2008 to 2011, before breaking ground in 2011; GO Logic, a Belfast-based design-build firm that specializes in sustainable building, designed the units and site plan and served as general contractor.
The homes are clustered, and a pedestrian path, not a road, runs through the six-and-a-half-acre built area. Despite being a rural property, all the homes are located in two- to four-unit buildings and range from 500 to 1,800 square feet with one to three bedrooms. The community layout encourages social interaction, offers safety for children, and provides open space for food production, wildlife and recreation. With PV solar systems, these highly efficient homes are near net zero.
PASSIVE HOUSE DESIGNS
When one enters the homes, it becomes obvious that the lack of driveways is only one of many differences between these houses and the average code-built home. Despite being located in Midcoast Maine, the houses have no furnaces.
What is Passive House?
From the ground up, the emphasis is on super-efficient systems and products.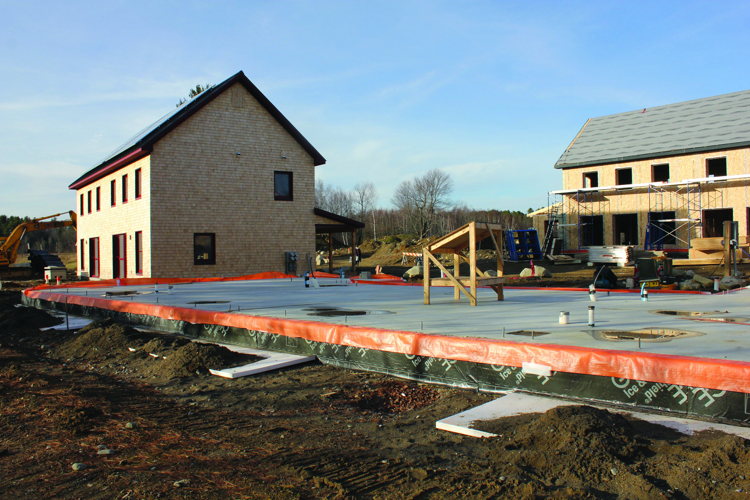 PASSIVE HOUSE is a rigorous, voluntary standard for new and existing buildings, that requires little energy for space heating and cooling. Passive House construction can result in a 90 percent reduction in heating and cooling demand, when compared to a typical built existing home, or a 75 percent reduction compared to a typically built new home. Passive House buildings are designed, optimized and verified using the Passive House Planning Package (PHPP). For new buildings, meeting the standard requires the following performance characteristics:
* Airtight building shell, as measured by a blower door test. The test must yield 0.6 ACH @ 50 pascals of pressure or better.
* Annual heat requirement ≤ 15 kWh/m²/year.
* Primary energy (space heating, domestic hot water and household electricity) ≤ 120 kWh/m²/year.
* Thermal comfort. Temperature of living areas must not exceed 25 degrees C for more than 10 percent of the year.
The Passive House concept was refined in Germany, building on ideas explored in the United States in Canada during the 1970s by pioneers like Wayne Schick and Mike McCulley. German-born architect Katrin Klingenberg built the first Passive House in the U.S. in Urbana, Illinois, in 2003. She co-founded the Passive House Institute U.S. (PHIUS) in 2003; in 2011 a rift between the international German-based Passive House Institute (PHI) occurred, causing some confusion among people seeking to build and certify Passive Houses in this country. Since then, PHIUS has launched the Passive House Alliance U.S. (PHA-US) and partners with RESNET to certify raters versed in the standard. The Alliance website includes a library, project database and networking opportunities. For info visit www.passivehouse.us or www.phaus.org
The solar orientation, triple-pane windows and doors, extensive southern glazing, airtight construction and generous amounts of insulation dramatically reduce the space-heating needs of the homes. Body heat and daily activities, such as cooking and bathing, provide a significant amount of the space heating. Although the homes aren't certified, the Passive House Standard guided the design process (see Sidebar); this results in a 90 percent reduction in energy for space heating compared to the average house. GO Logic had previously built two certified Passive House buildings.
When designing BCE homes, architect Matthew O'Malia used the Passive House Planning Package (PHPP), a spreadsheet-based design tool for architects and designers to assist in designing to the Passive House Standard. "The Passive House standard is revolutionary in that it has spawned a new way of thinking around high-performance buildings," says Alan Gibson, principal at GO Logic and BCE co-founder. "You have a section of wall with certain properties, and you can tell how much heat is going to move through that wall over time," he explains. "If you put that all together and determine every way a building can gain or lose energy, you come up with a comprehensive model for how a building is going to perform." Gibson estimates a 1,500-square-foot BCE home uses $300 to heat using electric baseboard heat, while a standard Maine home costs over $2,500 to heat and uses an estimated 680 gallons of oil.
CONSTRUCTION DETAILS
Well-insulated, tight envelopes are key to these homes' performance.The walls consist of 2' x 4' stud walls filled with dense pack blown cellulose. Structural insulated panels, or SIPs, are attached to the outside of the stick frame, with sealant applied to gaps and penetrations. This framing system results in walls with an R-value of 46, including the drywall, cellulose, SIPs and cedar siding (.45+13+32+.5). The wall system and a vapor barrier from the slab are integrated by running the sub-slab vapor barrier under the SIPs. Triple-pane Unilux windows and doors complete the wall assembly. The house foundation consist of reinforced concrete slab-on-grade in an insulated rigid foam system over a sub-base of compacted stone and flowable fill. The thermal mass of the insulated cement slab regulates the temperatures in the homes, releasing heat when the air above it is colder than the slab and storing heat when the slab is cooler than the air temperature. The roof consists of a scissors truss and is insulated to R-80 with loose-fill cellulose.
During the construction phase at BCE, a blower door test is performed on all units to ensure airtight construction. The test determines how many air exchanges occur in a dwelling per hour at 50 pascals pressure. To meet Passive House standards, the blower test must yield a result of 0.6 ACH or less. "We've beat the Passive House standard by far in all these houses," explains Brian Hughs, a carpenter for GO Logic and a BCE member. "The triplex got less than 0.2; that's three times [more airtight] than the Passive House standard, which is a high standard to hit." BCE residents often comment on how comfortable the homes are. Even during windy winter nights, there are no drafts when sitting in front of the windows. The sun and the baseboard heat provide gradual sources of heat, and every separate room has its own thermostat. "Because the heat loads of the buildings are so low, it really doesn't argue for anything but the cheapest heating system you can get, which is electric resistance baseboard heat," says Gibson. "We saved a lot of money there. The other factor is that we didn't want to truck in deliveries of fossil fuels, so oil and propane were out. The theory is that if you can afford solar panels relatively easily, [electric heat in a super-efficient house] is a greener alternative."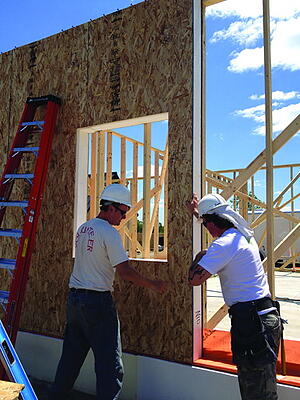 Smart Structure
Projects striving to meet Passive House standards often require some type of curtain wall assembly to accommodate extra insulation. The BCE project relies on structural insulated panels, or SIPs. These consist of an insulating foam core sandwiched between oriented strand board (OSB).
To reduce labor costs, SIPs arrive to the construction site precut with window and door openings in four-foot-wide panels.
The panels are screwed to 2' x 4' load-bearing stud walls using 10-inch screws and adhesive along all edges of the panel.
Seams of the SIPs are sealed with weather flashing tape to create a continuous air barrier.
The panels contribute R-32 to the wall assembly and provide a thermal break.
Interior 2' x 4' walls are filled with dense-pack blown-in cellulose insulation made from recycled newsprint (R-13).
Gibson estimates that the replacing of the heating system for electric baseboard saved $15,000 in the 1,500-square-foot homes, but other energy-saving components added to the construction costs: air sealing at $2,200, a heat recovery ventilation system (see sidebar) at $3,000, improved insulation for $17,000 and triple-pane windows and doors at $8,000. Gibson estimates that the cost of this 36,000-square-foot project was $160 per square foot and that there were cost efficiencies in a building project of this scale, such as buying materials in bulk and sharing construction equipment. After building so many high-performance houses with a similar design, the GO Logic crew has become very adept. "Because we've been doing this for so long, we know that if we follow certain methods that we have established, we're going to get a good number [on the blower door test]," says John White, a foreman for GO Logic. "It's not a fine art. You've got to have people who know the process, follow the steps and aren't taking shortcuts, and you're going to get a good final product."
A LOW IMPACT COMMUNITY
BCE experienced a five-day power outage last winter, giving the high-performance homes the opportunity to shine. Cloudy, below-freezing weather prevailed during the outage. The homes lost an average of two degrees daily on cloudy days, for a total drop of 8 to 10 degrees, with no supplemental heat. Nearby homes, by contrast, dipped to below freezing after 24 hours. A common water storage system enabled residents to have water for three days of the outage. Some families manually ventilated homes because the HRV system wasn't running, especially if they were using camping stoves indoors. Shared amenities are a hallmark of cohousing communities. The last of the homes at the Ecovillage were recently completed, and construction of the 4,900-square-foot common house—which includes a large dining room, commercial kitchen, guest bedrooms, laundry room and playroom—is underway.
Once it is complete, voluntary shared meals will be served each week. The common house allows individual homes to be smaller, because all members have access to this shared space.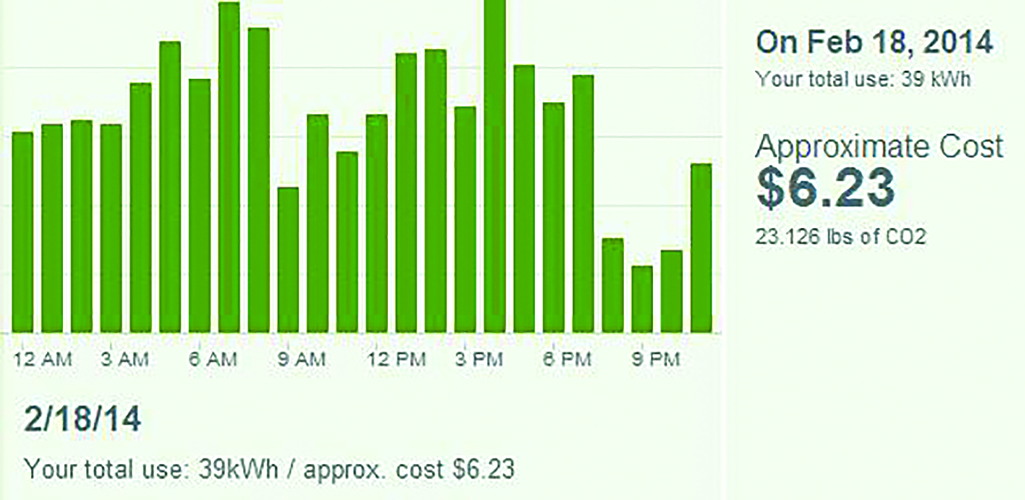 Typical Energy Usage. The chart shows average energy use in a 1,000 sq. ft. Passive House for a family of four.

There are tentative plans to install a generator and a masonry woodstove, thus making the common house more resilient than the all-electric homes during a power outage. The Ecovillage is located on the edge of Belfast, a town of 7,000, just a few miles from Penobscot Bay. And while automobile access may be limited to the periphery, community life is front-and-center at BCE. Three acres are dedicated to Little River Community Farm, a worker-share farm where members plant, maintain and harvest crops. Individual households can also have large garden plots; ducks, honeybees and chickens have joined the community, as well. GB