Coming Soon: An All Electric Vehicle Future
Countries like France, Britain, India, and China are implementing sweeping clean vehicle regulations, driving demand for electric cars and innovative mobility solutions. Automotive companies are responding with dramatic plans to shift their portfolios and phase out gas and diesel powered motors.
In July, Volvo rocked the automotive industry with the unveiling of a plan to completely phase out combustion engines, shifting fully to electric and hybrid motors by 2024.
While prophetic Tesla had already transformed electric vehicles from crunchy to sexy, Volvo was the first traditional manufacturer in the automotive sector to electrify its entire portfolio, wagering that the electric vehicle market will grow quickly as battery technologies advance, costs decrease, and public charging stations become commonplace.
Earlier this week, American-based manufacturers GM and Ford followed suit with striking announcements. Although not as far-reaching as Volvo's commitment, GM has pledged to roll out 20 new electric vehicle models by 2030, and Ford has promised 13 new models by 2022.
Ford has also launched "Team Edison", an internal working group that will focus exclusively on accelerating the company's development of electric cars, including an EV that can travel 300 miles by 2020.
Clearly, the electric vehicle market is heating up, as memorialized by Ford's selection of its development team's name: Nikola Tesla and Thomas Edison were famous rivals in the field of electrical engineering with divergent ideas about alternating current (AC), preferred by Tesla, and direct current (DC), preferred by Edison (Ford's unmistakable gauntlet throwing is probably, in part, due to the fact that Tesla now has a larger market capitalization.)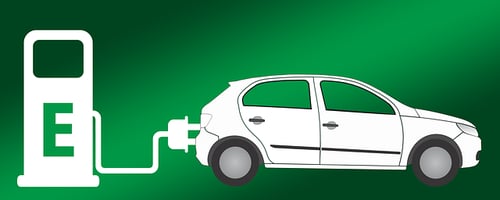 Given that GM and Ford sell more pickup trucks and SUVs than the rest of the global industry combined, their commitment to develop such a wide spectrum of new electric and hybrid vehicle models is particularly remarkable. It's evident that automotive companies see the writing on the wall: the end the era of gas-guzzlers.
As electrification continues to expand, so will the global market for batteries, autonomous driving technologies, and smart mobility solutions, moving us towards what GM CEO Mary Barra calls a world with "zero crashes, zero emissions, and zero congestion." It is predicted that, with dropping prices for battery solutions, EVs could reach price parity with gasoline vehicles sometime in the 2020's.
While it's nice to think that consumer demand is driving these shifts in automotive business strategies, the reality is that the purchase of electric vehicles and plug-in hybrids only amount to about 1% of the total global automotive market, although China's voracious appetite for EVs is quickly changing that equation: experts predict the sale of over 400,000 EVs in China alone by 2019, representing two-fifths of the global market.
Rather, it's changes in the regulatory environment that are transforming the automotive landscape, led by countries like Norway (which will only allow the sale of electric or plug-in hybrid cars by 2025), France and Britain (which have both pledged to end sales of gas and diesel vehicles by 2040), India (which has set a goal of going all EV by 2030), and China (which has committed to halt gas and diesel vehicles sales, but hasn't set a date yet),
Not surprisingly, California is leading the charge in the U.S. California legislators are seriously considering a ban on all gas and diesel powered vehicles by 2050, a move that would enable the state to meet its long-term climate and air quality goals. California has already implemented aggressive policies to boost the EV market, including consumer rebates and incentives, investments in charging infrastructure, the Low Carbon Fuel Standard, and the Zero Emission Vehicle program (which requires automakers to offer electric vehicles to California buyers.)
California, always the harbinger of change in the U.S., is ground zero for this debate, which will likely spread like wildfire as cities and states across the country set rigorous sustainability agendas, despite infighting in Washington, flaccid national policy, and lagging regulations.
And it's not a minute too soon—when it comes to dealing with our changing climate, playing the long-game is no longer a viable solution. It's much too late to be conservative.
If you'd like to take part in developing an actionable plan for developing smart, clean, efficient, and resilient solutions, please join Green Builder Media and the City of Orlando at our upcoming Sustainability Symposium: Champions of Change on January 8, 2018 at the University of Central Florida campus in Orlando, Florida. The event will directly and honestly confront the reality of climate change—the challenge of our generation, and the opportunity of a lifetime.
Click here for more information about the Sustainability Symposium 2018: Champions of Change. Space is limited, to be sure to reserve your seat today!
What do you think is the most effective way to influence policy related to clean mobility solutions? Write to me at sara.gutterman@greenbuildermedia.com.
Want to read more? Follow me on Twitter and Facebook. For more information about green building and sustainable living, visit Green Builder Media at www.greenbuildermedia.com, like us on Facebook, and follow us on Twitter for regular updates and breaking news.