The need for affordable homes has never been so urgent, particularly as low-income families are getting pummeled by both climate change and the coronavirus.
For many years, builders and developers shifted away from entry level homes because the economics just didn't pencil out, mainly due to soaring land costs and hefty permit, water, and infrastructure fees. Higher-end homes have been a more profitable, and therefore more feasible, offering. Now with coronavirus, the need for affordable housing is crucial.
According to COGNITION Smart Data, Green Builder Media's suite of market intelligence services, the coronavirus is widening racial and economic disparities with respect to home ownership.
Climate change has put frontline neighborhoods, many of which are low-income communities of color, in peril, thrashing them with superstorms, extreme weather, wildfire, flooding, and rising sea levels.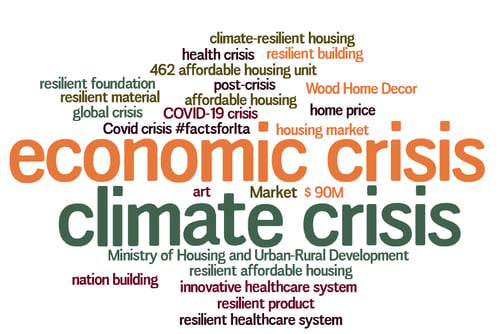 This housing insecurity has been exacerbated by the coronavirus, which is disproportionately impacting these disadvantaged communities with high virus contraction and unemployment numbers.
Housing disparities are widening between ethnic groups, as Black and Hispanic communities are struggling with mushrooming costs of living. Last year, a larger percentage of Black and Hispanic renters had difficulty paying rent than white households, and the homeownership gap between Black and white families reached record highs at a whopping 30%.
The deficit in affordable entry-level and move up homes has become particularly evident over the past few months. But solving for this shortfall isn't easy—it will take an integrated effort between builders, developers, lenders, municipalities, and communities to ensure that costs and risks are mitigated, and that newly developed communities meet today's resiliency, sustainability, and affordability needs.
For more information about the urgent need for affordable housing, sign up for a COGNITION subscription.
---
About COGNITION Smart Data:
COGNITION Smart Data offers advanced intelligence and insights about market trends and important customer information like behavioral patterns, purchase drivers, buying preferences and sentiment. COGNITION enables clients to make informed business decisions, yielding specific deliverables and tangible results. COGNITION provides a definitive competitive advantage by allowing companies to stay a step ahead of their competitors.
For more information on how you can tap into the power of COGNITION Smart Data, visit www.greenbuildermedia.com/cognition or contact Sara Gutterman at sara.gutterman@greenbuildermedia.com.