COGNITION Hot Take: P is the New V
It has been said that 'V' has been the missing link in the HVAC equation, but no longer—since the onset of the pandemic, consumer interest in ventilation solutions has exploded, and the definition of proper ventilation has expanded.
According to COGNITION Smart Data, Green Builder Media's suite of market intelligence services, there has been an astonishing surge in consumer interest in healthy homes, indoor air quality, and ventilation solutions this year, with much of the online conversation focused on keeping spaces safe and protected from COVID.
Consumer conversation about ventilation is balanced fairly equally between men and women, and is occurring evenly throughout the country.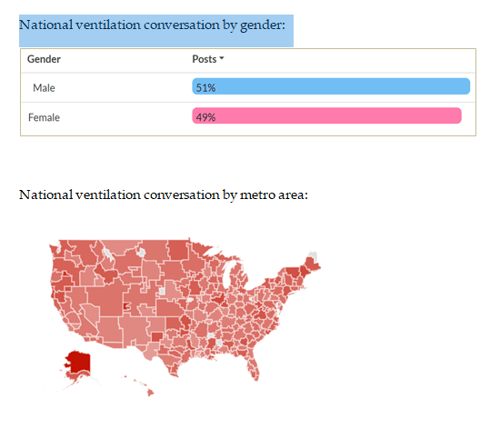 One of the most striking findings about the ventilation conversation is the dramatic increase in dialogue about air filtration and purification, driven by concerns about the pandemic as well as smoke infiltration from wildfires raging throughout the Western United States.
While HEPA filters have dominated the residential air purification market and are expected to remain dominant, other trending filtration and purification technologies include:
Activated carbon filters
Electrostatic precipitator and ionic filters
Ozone-based purifiers
PCO cleaners that use UV light to react with a catalyst to oxidize bacteria, viruses, fungi, odors, and volatile organic compounds and break down pollutants into harmless carbon dioxide and water molecules.
Trending ventilation conversation focuses mainly on:
Airborne transmission of COVID.
Keeping air fresh and homes safe through proper airflow
Creating pandemic-proof homes.
Reducing disease transmission.
Purifying wildfire smoke from interior spaces.
Consumers are looking for easy, fast, and cost-effective solutions, namely air purifiers and UV light. They are also looking for guidance on how to filter COVID-19 from Indoor Air.
For more information about homeowner trends, sign up for a COGNITION subscription.
---
About COGNITION Smart Data:
COGNITION Smart Data offers advanced intelligence and insights about market trends and important customer information like behavioral patterns, purchase drivers, buying preferences and sentiment. COGNITION enables clients to make informed business decisions, yielding specific deliverables and tangible results. COGNITION provides a definitive competitive advantage by allowing companies to stay a step ahead of their competitors.
For more information on how you can tap into the power of COGNITION Smart Data, visit www.greenbuildermedia.com/cognition or contact Sara Gutterman at sara.gutterman@greenbuildermedia.com.