COGNITION Hot Take: COVID's Impact on the Labor Force
Here's what savvy companies are doing to maintain a robust workforce as coronavirus continues to create labor troubles.
Even before coronavirus, the building industry was struggling with a tight labor market. Data generated by COGNITION Smart Data indicated that labor shortages, lack of skilled labor, and unreliable contractors were the top challenges that builders grappled with. Unfortunately, these struggles have been exacerbated by the pandemic.
According to COGNITION Smart Data, Green Builder Media's suite of market intelligence
services, the coronavirus is aggravating an already labor-stressed building industry, impacting the speed, quality, and performance of projects across the country.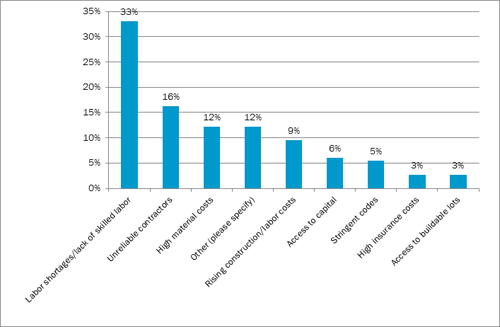 To attract skilled workers, building professionals and manufacturers are getting
Creative. They are offering:
Flexible hours
Performance-based pay
Signing bonuses, and
Attracting younger workers with the promise of advanced technologies, enhanced digitization, and augmented training opportunities.
The operational risk of infectious disease has compelled builders to modify their jobsite practices, limiting the number of contractors on a jobsite at any given time, further delayingprojects.
Companies throughout the building industry are pondering worker protection policies, including cleaning and social distancing protocols, as well as the safest methods for bringing employees back to the office.
About 75% of people who have worked remotely during the pandemic say that they don't want to return to an office full time. In response, many businesses are rethinking the need for a central office or corporate campus. It's likely that, when current commercial leases expire, many companies will downsize or shift to a shared office model.
As more people work from home on a long-term basis, there will be corresponding impacts on population density, public transportation, and technology infrastructure.
For more information about the impacts of the coronavirus on the labor force, sign up for a COGNITION subscription.
---
About COGNITION Smart Data:
COGNITION Smart Data offers advanced intelligence and insights about market trends and important customer information like behavioral patterns, purchase drivers, buying preferences and sentiment. COGNITION enables clients to make informed business decisions, yielding specific deliverables and tangible results. COGNITION provides a definitive competitive advantage by allowing companies to stay a step ahead of their competitors.
For more information on how you can tap into the power of COGNITION Smart Data, visit www.greenbuildermedia.com/cognition or contact Sara Gutterman at sara.gutterman@greenbuildermedia.com.