North Carolina Studies Repetitive Flooding Risk
The Tar Heel state decides to stop relying on FEMA maps and identify flood zones itself.
Officials in North Carolina are taking proactive measures to ensure homes don't keep getting destroyed by flooding, let alone repetitive flooding. The need to act is being driven by the fact that over 77% of homes damaged by Hurricane Matthew in 2016 were not located in federally designated flood zones.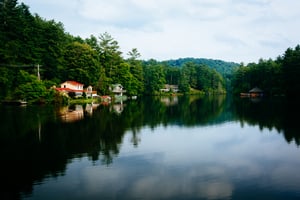 "Flood maps are always catching up, they are always behind," said Laura Hogshead, chief operating officer of the North Carolina Office of Recovery and Resiliency (NCORR). "So, when you're relying on base flood elevation, you're relying on old information. We can't ignore what happens to these homes regardless of what the flood maps say should have happened."
As the state uses federal disaster recovery money to rebuild hurricane-damaged homes, NCORR is trying to make up for the shortcomings of the federal flood maps. When they replace a home, the state officials are not only considering the block grant program's requirement that homes be elevated two feet above FEMA's base flood elevation, but also the high-water mark that inspectors find in the homes. If the high-water mark is higher than the base flood elevation, that is the point from which the home is raised two feet.
The loss of faith in the FEMA flood maps is well-founded. According to a 2017 report by the Department of Homeland Security's Inspector General, 58% of flood maps nationwide were either outdated or inaccurate. North Carolina's approach should be applauded, but it's not really on the cutting edge, either. According to the Weather Channel, "at least 22 states and hundreds of local communities already require new construction to be elevated higher than federal requirements."