After two weeks of somewhat frustrating and sometimes heated negotiation, delegates representing 196 countries at the COP20 meetings in Lima reached a climate change agreement on Sunday that, if enacted, would commit every nation across the globe to reduce its rate of greenhouse gas emissions.
The appropriately named Lima Accord creates the much anticipated framework for a global treaty that can be signed next year in Paris by global leaders, requiring countries to submit to the UN over the next six months a detailed domestic policy plan to limit their greenhouse gas emissions, with transparent metrics, identifiable methods of verification, and measurable milestones.
Delegates reported that the recent agreement between the U.S. and China, whereby the U.S. committed to cut emissions by 28% by 2025 and China pledged to reach peak emissions by 2030, served as the impetus for the Lima Accord.
The agreement represents a breakthrough in the climate action stalemate that has plagued the UN climate summits for two decades, as countries clashed over required action and financial commitments from developed versus developing nations.
Developing countries have historically pushed back against a global climate accord, avowing that they shouldn't be forced to take action that would affect their precarious financial position or further impoverish their citizens. However, as renewable energy has reached price parity with fossil fuel-based solutions and innovative technologies are demonstrating net positive financial results, this line of argument has become moot.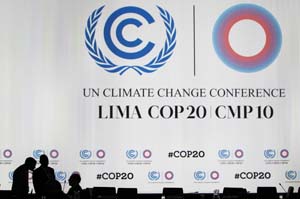 Photo courtesy of parismatch.com
For better or for worse, the Lima Accord leaves room for developing and developed countries to approach targets and milestones differently: developed countries will be expected to create strategies for reducing total emissions, while developing countries will be charged with the task of reaching peak emissions. The poorest, hardest hit countries may even be allowed to continue to increase emissions, but at a lower rate.
While negotiators can certainly celebrate a small victory, in reality, the agreement represents the bare minimum for what we need to address our urgent environmental needs. Scientists affirm that the agreement is not aggressive enough. After crunching the numbers, experts estimated that, in its current form, the agreement would only lead to approximately half of the emissions reductions needed to stave off the effects of climate change, including rising sea levels, melting glaciers, super storms, intense flooding, expansive droughts, mass extinctions, and a global temperature increase of 3.6 degrees Fahrenheit—the threshold temperature that will enable us to maintain life as we know it.
And, of course, the main outstanding issue—and, not surprisingly, the largest dividing factor between rich and poor countries—is money. Countries that are suffering the greatest impact of climate change, namely island states and African nations, are calling for wealthy countries not just to set emissions targets, but also to commit to providing funding for restoration, adaptation, and conversion to low-carbon solutions.
The Lima Accord is no silver bullet and the real work is still ahead of us, but at least the agreement advances the conversation and puts every country on the line to develop strategies and policies for emissions reductions. Hopefully, governments across the globe will take the obligation seriously.
What do you think about the Lima Accord? Write to me at sara.gutterman@greenbuildermedia.com or follow me on Twitter or Facebook.
For more information about green building and sustainable living, visit Green Builder Media at www.greenbuildermedia.com, like us on Facebook, and follow us on Twitter for regular updates and breaking news.