The politicization of climate change is distressing at best, tragic at worst. Changes in our environment and corresponding extreme weather, rising sea levels, denuded forests, wildfires, flooding, and other such events will affect everyone, everywhere.
In this case, jocund fortune stands tip toe with joyless misfortune—the increasing frequency and severity of natural disasters is forcing people to put political agendas aside and develop solutions for our urgent environmental needs.
As an example, in Virginia, members of Congress and Mayors from both parties are confronting rising sea levels, paving the way for new policies that will protect individuals, businesses, and communities throughout the state.
Southeast Virginia is on the front line of climate change—a combination of rising sea levels and sinking land has resulted in a 14-inch sea level rise since 1930, the fastest rate of such change on the eastern seaboard. Republican Mayor of Virginia Beach, Will Sessoms, summed up the region's general sentiment nicely: "We cannot afford to do nothing," he said. "It's time to act."
Other states, like Massachusetts, are cultivating unprecedented bipartisan alliances. Massachusetts recently released a grid modernization plan, paving the way for increased microgrids, renewable energy, distributed generation, and electric vehicles. The plan encourages utilities to update existing infrastructure and create innovative solutions to reduce power outages, lower peak demand, optimize distributed generation, and improve asset management.
In New Jersey, Republican Governor Chris Christie is proactively developing risk mitigation strategies to protect his state from future super storms by allocating $25 million to enhance distributed energy generation systems and develop a dedicated renewable energy microgrid for public transportation systems.
A bipartisan group of stakeholders in New York has developed a plan called Reforming the Energy Vision (REV) that will create an open market for distributed energy, similar to Germany's, where regulated and competitive distributed providers buy and sell energy, enabling the monetization of energy efficiency, renewable energy generation and storage, and demand response.
In California, Governor Jerry Brown has all-hands-on-deck attitude, directing individuals from both sides of the aisle to develop innovative economic, environmental, and energy solutions as his state suffers from crippling drought, raging wildfires, and substantial infrastructure inadequacies. To bolster California's energy security and reduce the state's carbon emissions, Brown has allocated nearly $500 million dollars to install wind turbines, waste-heat-to-power technologies, fuel cells, and advanced energy storage systems. These efforts will help the state meet its landmark energy storage mandate, which requires investor-owned utilities to add 1.3 gigawatts of energy storage to their grids by 2020.
There are even some cross-party initiatives in gridlocked Congress to thwart the negative effects of climate change. A few weeks ago, Senators Chris Murphy (D-CT) and Susan Collins (R-ME) introduced the Super Pollutants Act of 2014 to reduce short-lived climate pollutants (SLCPs). These "super pollutants", including hydrofluorocarbons (used in air conditioning and refrigeration), black carbon (soot from wildfires, cook stoves, and natural-gas fueled power generators), and methane (emitted from natural gas, petroleum, and agriculture), have the shortest atmospheric lifespan of all greenhouse gases but are responsible for nearly 50% of global warming, making them the second largest contributor after carbon dioxide.
The Act aims to reduce super pollutant emissions and replace them with clean alternatives. In so doing, it is expected that the United States could cut the rate of sea level rise by 25 percent, prevent over 2 million premature deaths each year, and avoid over 30 million tons of crop losses annually.
Communities across the country are uniting in urgency as they grapple with the localized threats posed by a changing climate. Their concord is, by necessity, shifting the debate from diagnosis to prescription.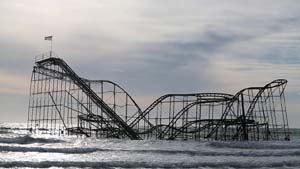 And their actions couldn't be timelier. According to "Risky Business", a new report commissioned by the nonpartisan Risky Business Project (led by former US Treasury Secretary Henry Paulson, former New York City mayor Michael Bloomberg, and billionaire philanthropist Tom Steyer,) that integrates scientific data with economic projections to forecast the risks that the United States will face, climate change will undeniably take serious a toll on the US as sea-level rise eats up coastal properties and rising temperatures disrupt farming and labor.
The report predicts that the Southeast, the Midwest, and the East Coast will suffer the hardest hits from global warming, with the southeast, lower Great Plains, and upper Midwest facing up to 70% loss in average annual crop yields.
If emissions continue unabated, the report forecasts that up to $106 billion worth of coastal property will be below sea level by 2050. By 2100, up to $507 billion worth of property could be underwater.
And across the country, particularly in the already-scorched Southwest, temperatures will rise, curtailing the labor productivity of outdoor workers like those employed in construction, agriculture, and landscaping. According to the report, "by the middle of this century, the average American will likely see 27 to 50 days over 95°F each year—two to more than three times the average annual number of 95°F days we've seen over the past 30 years. By the end of this century, this number will likely reach 45 to 96 days over 95°F each year on average."
The fuse is lit, and citizens, elected officials, business, and communities across the nation are banding together to take action. Now all we can do is wait and see if our actions are swift and sweeping enough to successfully confront the impacts of our changing climate.
What kind of bipartisan initiatives are being implemented in your state? Write to me at sara.gutterman@greenbuildermedia.com or follow me on Twitter or Facebook.
For more information about green building and sustainable living, visit Green Builder Media at www.greenbuildermedia.com, like us on Facebook, and follow us on Twitter for regular updates and breaking news.
---