With the outcome of the elections last week, it seemed that any meaningful advances in climate action in the U.S. would come to a screeching halt. That is, until President Obama and Chinese President Xi Jinping announced an historic agreement yesterday to cut carbon emissions, with the goal of impeding climate change and encouraging other nations to take similar ambitious action.
If it were up to the 114th Congress, climate policy would be tabled at best, annihilated at worst. 10 newly elected Senators either outright deny that our climate is changing or have a longtime record of voting against environmentally beneficial legislation.
Several of the newly elected politicians are still hiding behind the question of whether humans have caused climate change. But that line of reasoning has become irrelevant—as stated by author Kathleen Dean Moore, "Debates about the causes of climate change have become distractions. If your house is burning down, you don't stand around arguing about whether the fire was caused by human or natural forces. You do what you can to put out the damn fire. You throw everything at it, and then you hold your breath, because there are people inside that house."
At the end of the day, it really doesn't matter how politicians, or the general public, feel about climate change (with that said, recent surveys show that 97% of Americans actually endorse the position that humans are causing global warming.) There is a mountain of research that proves that climate change is here, now, irrespective of its source.
And, as it happens, our house is burning down. The urgency and precariousness of our environmental situation was poignantly verified last week by the final installation of the Intergovernmental Panel on Climate Change's (IPCC) multi-year study on our changing climate. The report clearly stated that in order to combat climate change, we need to cut all fossil fuel investments by 2029, divesting the money into renewables and clean technology.
Loaded with words like "severe, widespread, and irreversible," the report implied that the extreme weather and environmental upheavals that we're about to experience would make a zombie apocalypse look like Sunday in the park.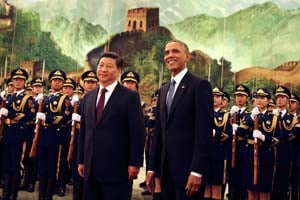 Photo courtesy of New York Times
Which makes it all the more fortuitous and timely that Obama and Xi Jinping—leaders of the two most polluting nations across the globe—were able to find accord. As a part of the agreement, the U.S. committed to reduce emissions 26-28% by 2025 (compared to 2005 levels), and China made its first-ever commitment to reach peak carbon by 2030, generating 20% of the country's energy from renewables.
The agreement between the U.S. and China doesn't just benefit the planet, it's a smart economic bet, particularly for China, which is the largest producer of clean energy technology today. The commitment to double down on pollution reductions and renewables will assuredly bolster the ever-growing clean technology and renewables sectors in both countries.
Climate advocates are hopeful that this agreement, quietly crafted over the past nine months, will galvanize international efforts to develop a badly needed global climate strategy by the end of 2015 and encourage other major emitters, such as Japan, Brazil, South Africa, India, and even Russia, to set similar goals. But it won't be smooth sailing. Senator Mitch McConnell of Kentucky has already criticized the U.S.-China agreement as "unrealistic," tying it to what he believes is Obama's ideological war on coal.
For the next two years, Obama will face resistance at every turn for any attempt to advance climate policy as the GOP remains as staunch as ever in its opposition of environmental protection. While the agreement with China needs no congressional ratification, there are plenty of ways that Congress can undermine efforts to reach emissions reduction targets.
From a climate standpoint, political stalemate would feel like a blessing compared to the alternative—complete overhaul of environmental safeguards, particularly considering that Congress' most notorious climate skeptic, Jim Inhofe, author of "The Greatest Hoax: How the Global Warming Conspiracy Threatens Your Future," is expected to head the Senate's Environment and Public Works Committee.
The EPA has become Public Enemy #1 for the GOP, so we can expect firm opposition to the Clean Water Act proposal and emissions limits on coal-fired power plants. While the Senate cannot repeal enacted regulations, they can extensively defund, delay, and undermine the EPA's plans.
It's also likely that progress on the Keystone Pipeline will get approved, at least by Congress if not by the President, and U.S. fossil-fuel exports will expand. Investments, subsidies, and incentives to further spur the renewable energy and clean tech sectors will likely be dropped like a hot potato.
It's unfortunate that the protection of the planet has become a high-stakes game of political chess, with our air, our water, our soil, and our very lives on the line. If Congress denounces climate action, refuses to ratify climate treaties, and defunds UN climate initiatives, our nation's credibility will be quickly eroded. If the U.S. is not at the helm of an international climate action plan, we risk losing our leadership position and influence on the global stage, not just in the environmental arena, but the economic one as well.
Ultimately, neither the push of U.S.-China agreement nor the pull of Congressional opposition will determine our fate relative to climate change. After all, the price of solar panels hasn't plummeted by 90% over the last 25 years because of global sustainability strategies, supportive national policy, or financial incentives. Rather, increased market adoption and international competition have driven down prices and made clean technologies accessible. I suppose that we can take solace in the fact that we still hold the ultimate power—to vote according to our conscious, to purchase wisely, and to live authentically—in our own hands.
How do you think we can encourage our elected officials to collaborate on and enact appropriate climate policy and action? Write to me at sara.gutterman@greenbuildermedia.com or follow me on Twitter or Facebook.
For more information about green building and sustainable living, visit Green Builder Media at www.greenbuildermedia.com, like us on Facebook, and follow us on Twitter for regular updates and breaking news.