On Tuesday, Attorneys General from 17 different states launched an unprecedented effort to prosecute the "high-funded and morally vacant forces" that have allegedly thwarted environmental awareness and climate action for decades, with ExxonMobil at the forefront of the attack.
Attorneys General from California, Connecticut, District Of Columbia, Illinois, Iowa, Maine, Maryland, Massachusetts, Minnesota, New Mexico, New York, Oregon, Rhode Island, Virginia, Vermont, Washington state and the U.S. Virgin Islands have launched fraud investigations into ExxonMobil and other fossil fuel industry stalwarts for withholding critical information for decades and deliberately duping the general public about the environmental and health dangers of burning fossil fuels for energy production.
Climate hawks claim that these investigations represent a turning point in the climate battle, asserting that, for the first time, the door is open to hold fossil fuel companies accountable not just for their pollution, but also for their proactive suppression of information and intentional duplicity.
According to Massachusetts Attorney General Maura Healey, the aligned Attorneys General are on a crusade for "facts, and science, and transparency," none of which they believe Exxon and others have upheld. "Fossil fuel companies that deceived investors and consumers about the dangers of climate change should be, must be held accountable," said Healey. "There is a troubling disconnect between what Exxon knew, what industry folks knew and the company and industry chose to share with investors and the American public."
The legal team is placing Exxon and other fossil fuel companies under intense scrutiny for ostensibly suppressing vital information about the environmental effects of burning fossil fuels and orchestrating a falsified debate about the legitimacy of climate science.
According to the allegations, while Exxon employed climate scientists and produced cutting-edge research throughout the 1970's and 80's, in June 1988, when NASA scientist James Hanson addressed Congress about the urgency of the issue, the company quickly changed its tune.
As Exxon executives realized that their own science held enough burden of proof to result in regulatory changes, they decided that it was a better business strategy to protect the company's bottom line as opposed to creating a balanced strategy to tackle climate issues. Exxon soon thereafter launched its campaign against reason, fabricating climate denial in the interest of profit, using its most effective weapon—money—to foster uncertainty among the masses, transforming itself from climate leader to deceiver.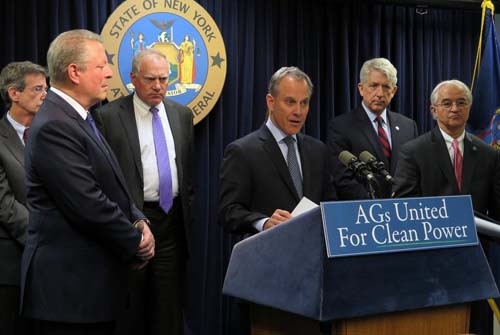 New York Attorney General Eric Schneiderman and a coalition of attorneys general, supported by former Vice President Al Gore, vowed on March 29, 2016, to hold fossil fuel companies accountable if their words and deeds on climate change had crossed into illegality. Credit: David Sassoon/InsideClimate News
As summarized by Exxon's own hometown paper, the Dallas Morning News, "Exxon had the opportunity to lead the world toward a measured, manageable…solution." Instead, "with profits to protect, Exxon provided climate-change doubters a bully pulpit they didn't deserve and gave lawmakers the political cover to delay global action…. It reminds us of the days when Big Tobacco adamantly insisted that science was inconclusive about the cancer-causing effects of cigarettes."
According to New York Attorney General Eric Schneiderman, "The scope of the problem we are facing, the size of the corporate entities and alliances and trade associations [working against science and public interest] is massive and it requires a multi-state effort."
As powerful legal teams unite with environmental groups and climate activists, it's certain that no stone will remain unturned, and it's possible that the investigation will result in one of the largest corporate scandals in history.
No doubt, the oil companies will not go silently into that goodnight—they're already launching vicious attacks against everything and anyone who stands in their way. They're waging a futile and Outrageous War on Solar to quell the industry's growth. They're putting big bucks behind Presidential candidates that sing their climate denial tune. And, despite mountains of scientific evidence, they're still trying to confuse the general public about climate change.
But climate advocates hold fast that the combination of increasing clean energy mandates, snowballing international commitment to climate action, shifting economics, and growing public disenfranchisement will bring the dirty energy industry to its knees once and for all.
How do you think the fossil fuel industry fraud investigations will unfold? Write to me at sara.gutterman@greenbuildermedia.com or follow me on Twitter or Facebook.
For more information about green building and sustainable living, visit Green Builder Media at www.greenbuildermedia.com, like us on Facebook, and follow us on Twitter for regular updates and breaking news.